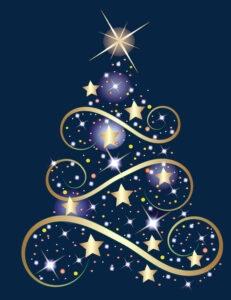 Whether it's choristers rejoicing, the band filling the auditorium with musical joy, or actors sharing the magic of Santa Claus, "A Woods Christmas" at Saint Mary-of-the-Woods College will delight you with the sounds of the season. The Department of Music and Theatre brings together rich and diverse vocal, instrumental and theatrical performances in a joyful celebration.
On December 9, gather around the Christmas tree as the SMWC Madrigals sing holiday favorites as well as a few angelic and ethereal selections chosen specifically for the reverberant and inspiring space of the rotunda in Guerin Hall. Experience the opulence of the Conservatory of Music while listening to heartwarming melodies by the Chorale, Woods Vocal Ensemble and band. Relish in the nostalgia of the reader's theater performance of "A Visit from St. Nicholas," the well-known poem about the magical night before Christmas.
Share the holiday season with family and friends for this memorable event. Refreshments will be available.
Tickets
Pre-concert featuring the SMWC Madrigals
Also included with this ticket are performances by the SMWC Chorale, Woods Vocal Ensemble, Band and Reader's Theatre.
Purchase tickets
Performances by the SMWC Chorale, Woods Vocal Ensemble, Band and Reader's Theatre