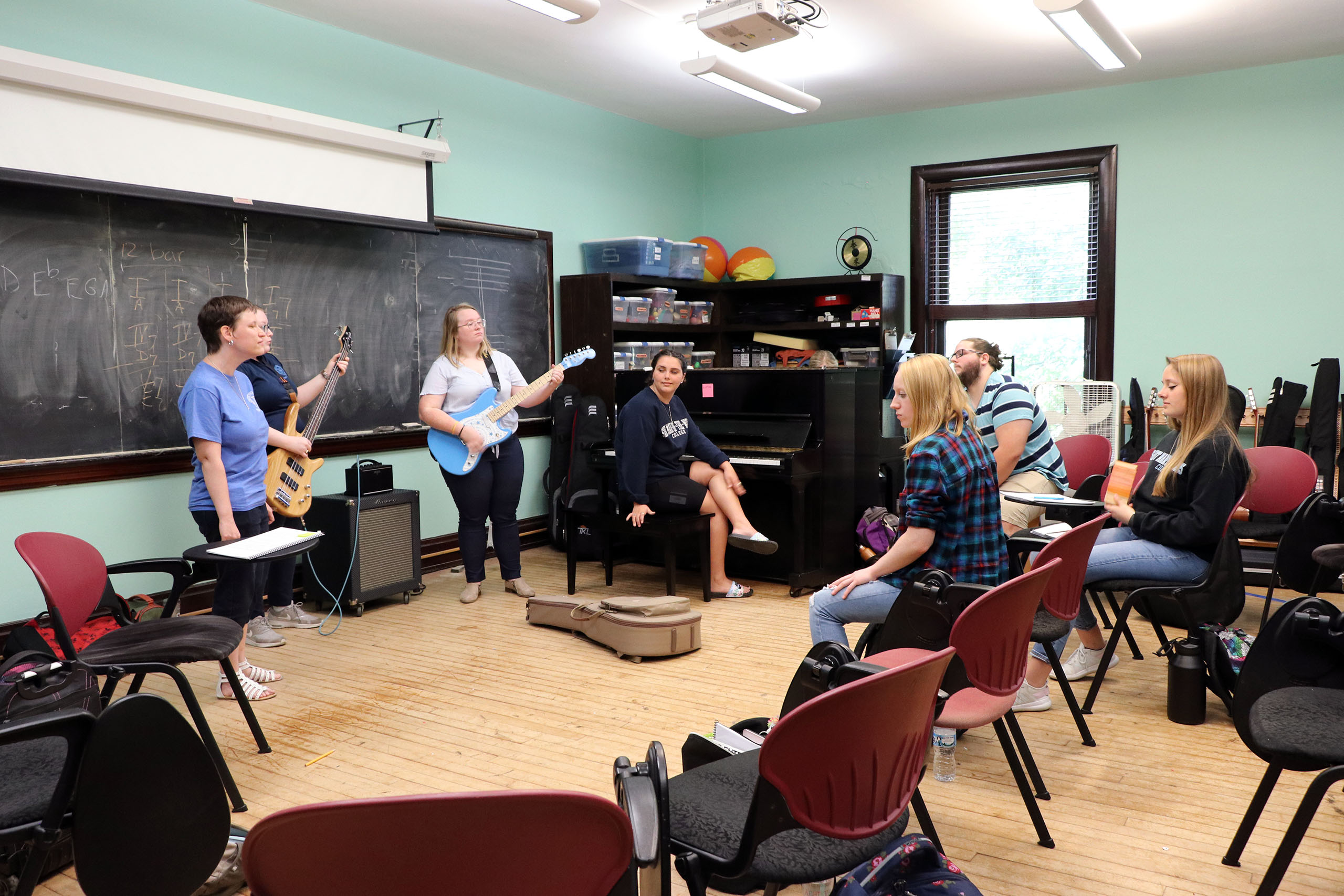 Music Therapy Degree Program
Become a music therapist with a music therapy bachelor's degree at SMWC in our on-campus program.
Bachelor of Music Therapy Overview
Do you love music? Do you have a genuine interest in helping people empower themselves? If you answered "yes" to those questions, then our unique music therapy degree program may be for you.  Hands-on learning is important here. Beginning as early as your second semester freshman year, you will be able to begin clinical experiences in the community with the supervision of the faculty. The small class sizes at SMWC mean you'll receive continual support from your professors, all of whom have extensive clinical experience.
Once you've successfully completed the academic and clinical requirements, you will be eligible to take the music therapy board examination administered by the Certification Board for Music Therapists. Passing the examination leads to the professional credential MT-BC (Music Therapist-Board Certified).
What is Music Therapy?
Music therapy is a healthcare profession that uses music and musical experiences to maintain or improve a person's functioning level and quality of life. This is a great career for people who think of themselves as creative musicians, abstract thinkers, supportive listeners, problem solvers, responsible communicators and energetic leaders.
A music therapist is an allied health professional trained to use musical, clinical and personal skills to help meet a patient's needs. Additionally, a music therapist uses many instruments and techniques to help patients in a variety of settings including schools, hospitals, nursing homes, rehabilitation centers and psychiatric facilities.
Rooted in liberal arts education, the bachelor's degree in music therapy prepares you for a career enabling you to help others while surrounded by music you love. At SMWC, you don't have to wait until graduation to start getting practical experience. During the second semester of your freshman year, you are able to begin practicum experiences in the community and receive weekly supervision with faculty. In addition to general education courses and the following course requirements, students must also complete 1,200 hours of clinical experience (approximately 200 hours in practicum experience and approximately 1,000 hours in internship).
Auditions are required for prospective music therapy students.
Proficiency Examinations
Music therapy majors must demonstrate music skills as outlined in the American Music Therapy Association Professional Competencies. In addition, music therapy majors must pass the Piano Proficiency Examination Part I and Part II, the Guitar/Voice Competency Examination Part I and Part II, and Professional Characteristics and Dispositions Gateway Assessment before beginning internships. Students are responsible for scheduling the Guitar/Voice Competency Examination with the music therapy faculty on the specified Music Therapy Proficiency Days offered twice a semester. Each examination can be taken no more than three times. Additional details regarding proficiency and competency examinations are located in the Music Area and Music Therapy Student Handbooks.
Music Therapy Career Paths
What Does a Music Therapist Do?
According to the American Music Therapy Association, music therapists assess a person's "emotional well-being, physical health, social functioning, communication abilities, and cognitive skills through musical responses". In addition, music therapists design music sessions based on client needs. Applications and techniques may include:
Instrumental or vocal improvisation
Receptive music listening
Song writing
Song lyric discussion/analysis
Music and imagery
Music performance
Learning through music
Music and movement
Music and other expressive arts
Who Does a Music Therapist Help?
A music therapist can work with a wide range of population and in a myriad of facilities. Music therapy can be used with individuals with:
Developmental disabilities
Mental health needs
Substance abuse problems
Physical disabilities
Chronic or terminal illnesses
Alzheimer's Disease
Dementia
Autism
Music Therapy Jobs
A music therapist is trained to work in individual, small group, or large group settings at a myriad of facilities, including:
Medical Hospitals
Schools
Nursing Homes
Assisted-living Facilities
Psychiatric Facilities/units
Pediatric Units
Rehabilitation Units
Private Homes
Check out our blog Careers you can have with music and music therapy degrees