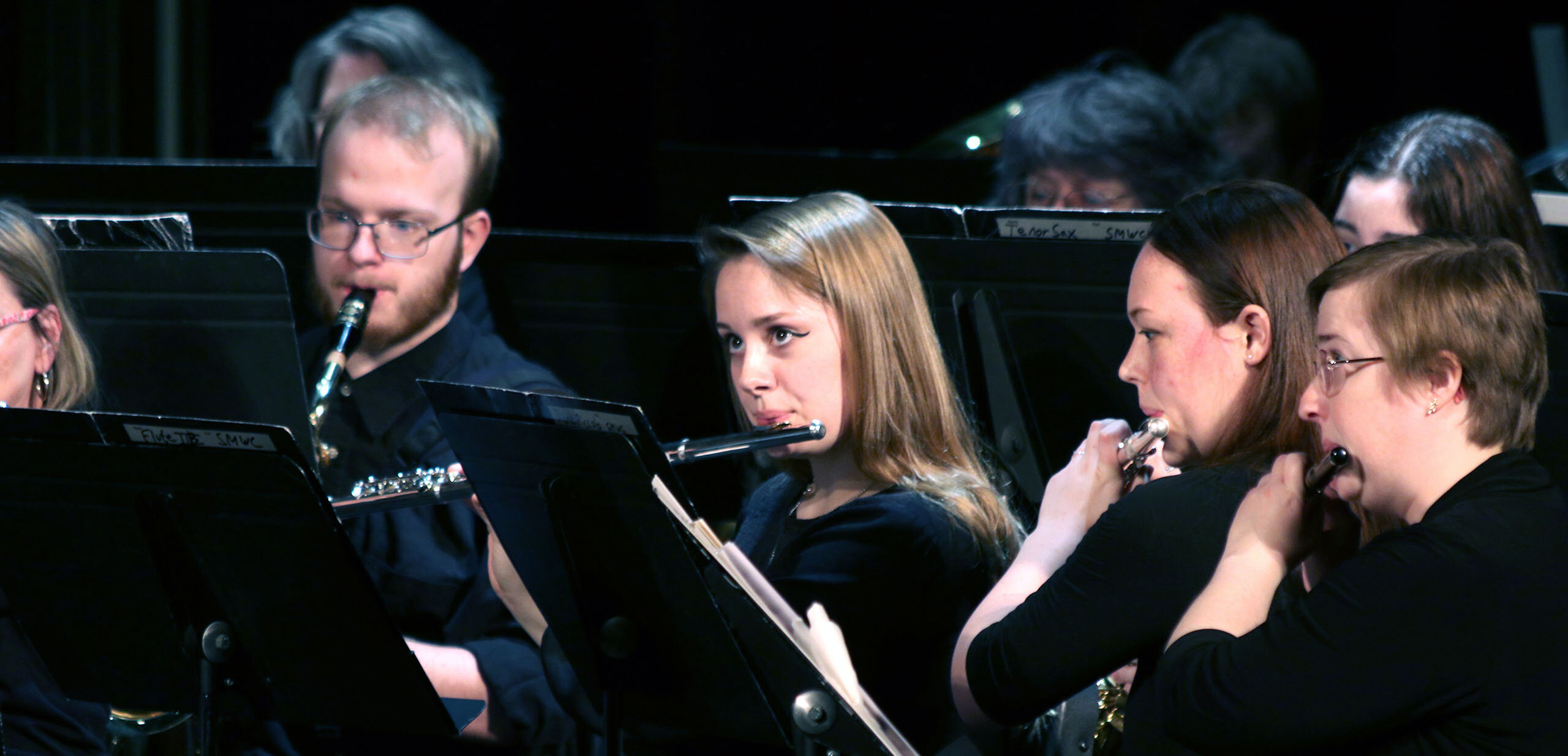 A bachelor's degree in music from SMWC prepares you for a meaningful career as a well-rounded musician.
Bachelor of Arts (B.A.) in 

Music Overview
Let your musical talents grow in a music program with a tradition of excellence. As a music major, you'll enjoy small class sizes and plenty of opportunities to hone your craft.
 You'll spend most of your time in the stately Conservatory of Music. Built in 1913, the Conservatory is home of the Music and Theatre Department. It combines the beauty of the past with current technology and equipment necessary for a comprehensive education in music. Marble halls and staircases surround the elegant 720-seat Cecilian Auditorium.  Practice facilities, studios and classrooms are spacious and numerous, with windows overlooking the natural beauty of the SMWC campus.
All music programs at Saint Mary-of-the-Woods College are accredited by NASM (National Association of Schools of Music).
Auditions are required for this major.
The aim of the core music major is to produce well-rounded musicians with:
Skill in music theory and aural perception
Knowledge in the field of music history and literature
Competence in their chosen performance area
A basis for every other music major offered at SMWC such as music therapy.
Applied Music Exams for Music Majors
Applied music examinations (juries) are held at the end of each semester. Each student must perform at least one composition for each hour of primary-level credit undertaken. Memorization is required of piano and vocal students. Attendance at all music programs and Convocations is required.
Each music major must demonstrate piano proficiency in the areas of:
All major and minor scales, as well as other scales and modes deemed appropriate by the music faculty
Harmonization of melody
Transposition
Accompanying
Sight playing.
Each music major is required to register for applied or class piano each semester until they pass the piano proficiency examination. Any requested substitutions for on-campus study of applied or class piano have prior approval by the piano faculty and the student's advisor.
The piano proficiency exam must be passed before a student is eligible to begin an internship (music therapy). All components of the piano proficiency exam must be passed before a student receives a degree in music.
Music therapy students must also pass the guitar/voice competency exam prior to starting an internship. This exam is typically given in the second semester of junior year. Guitar study is included in the music therapy curriculum.
All major music programs are accredited by the National Association of Schools of Music.
Music Career Paths
The Bachelor of Arts in Music at SMWC is a comprehensive, liberal arts degree program that prepares students for various careers in music and allows them to choose among many paths of graduate study. The coursework is structured to allow students to combine a music major with a degree in another field. The courses in the music degree make up the music core of studies for Music Therapy.
Two of the more obvious music career paths for graduates are maintaining a private teaching studio or working as a freelance performer. But, many other options for music careers are available. Some of the full-time musical organizations that are continually looking for high-quality musicians to fill their rosters include:
Military bands and choirs
Symphony orchestras
Professional choirs
Churches
Other settings which offer viable music jobs for the graduate with a music major:
Music libraries
Music retailers
Arts administration
Many of these positions require non-specific degrees, but the person holding a music degree will have an advantageous knowledge of the subject matter. Some employers in the general workplace also prefer to hire those with a music degree, knowing the discipline and work ethic one must possess to complete such music programs.
Check out our blog Careers you can have with music and music therapy degrees