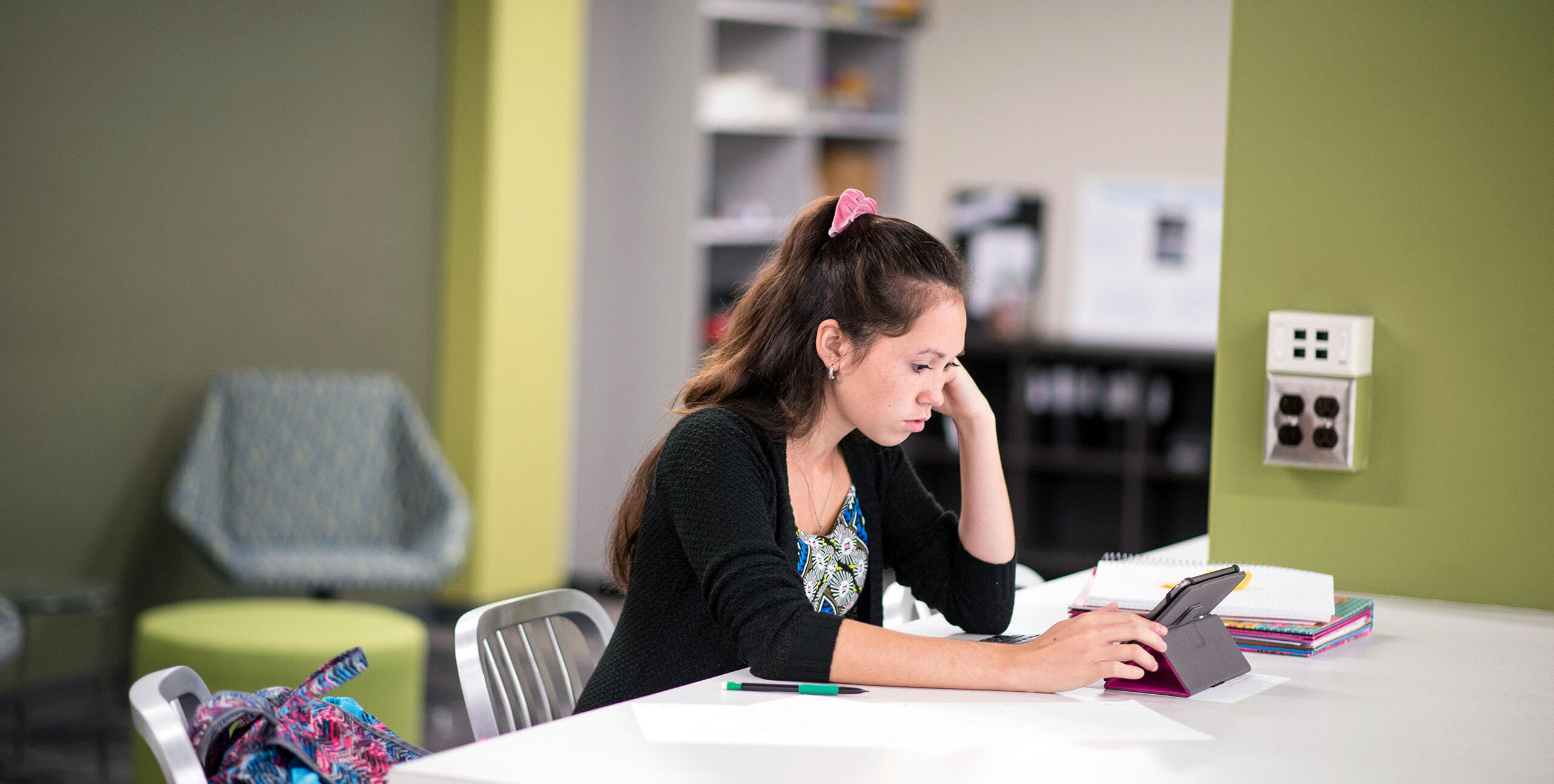 Paralegal Studies Degree Program
Prepare for a legal profession through a paralegal studies degree from SMWC. The degree program is delivered online.
Bachelor of Arts (B.A.) in Paralegal Studies Overview
Channel your talents as a problem-solver, creative thinker and multi-tasker to a rewarding paralegal career. As a paralegal, you can assist lawyers in case preparation through investigation, research, interviews, organization of case materials, writing reports, and drafting of briefs, wills, contracts and other documents.
Paralegal studies at SMWC, within the context of liberal arts education, focuses on the study of law in its relation to politics, society and history. Offered through our renowned Woods Online program, a paralegal studies degree goes beyond what constitutes law and explores the mutual impacts of law and society.
Saint Mary-of-the-Woods College is an Institutional Member of the American Association for Paralegal Education (AAfPE). This membership has been continuous since 1989.
If you already have a bachelor's degree, you can pursue a paralegal studies certificate.
Why Study Paralegal Online?
An online paralegal degree from SMWC can propel you to the next level in your career. We have high expectations for you. Here's what you can expect from us:
Support: Our professors are more than just teachers. They are advisors, cheerleaders and friends. We offer online academic support so you're never alone and career services specifically tailored to individual student goals.
Dedication: Our faculty and staff have stood in your shoes before. We know about the homework, class projects and presentations. We're here to help, advise and encourage you through all of your classes.
Convenience: We understand you're busy—you're a student, a parent and an employee. We know that you have many responsibilities to balance, so we work with you to ensure that you graduate with a paralegal studies degree that breaks down the barriers in your career.
Results: More than 90 percent of our grads land a job right when they graduate. You have the drive to aspire higher. The professors, mentors and staff at SMWC will help you get there.
Paralegal Studies Career Paths
Paralegals work just about everywhere, because everyone deals with the law. Careers in paralegal studies can be found at law offices, legal departments in financial institutions, real estate offices, government and corporations. Some paralegal graduates work in general practice law firms and others choose family law or legal aid. Others are drawn to the excitement of the court room and choose to enter litigation. Additional focuses include, personal injury, medical malpractice, and criminal law. Your job opportunities as a paralegal are vast and expanding.
The paralegal studies profession has grown rapidly in recent years.  According to the Bureau of Labor Statistics, this trend will continue beyond 2018. Paralegal jobs are in diverse areas including, but not limited to:
Law offices
Banks
IRS
Law enforcement agencies
Private investigating firms
Insurance companies
Libraries
Arbitration
Retail stores
Courts
State and federal government
Colleges
Legal aid societies
Corporations
TV, radio and newspaper media
Title companies
Administrative agencies
Freelance paralegal business
Check out our blog 5 careers you can have with a paralegal studies degree
FAQ
Will a paralegal studies degree prepare me for law school?
There is no magic major which will insure your acceptance into law school. Law school classes are composed of students from all traditional college majors. Each law school has its own criteria for admission. The commonalties for all law schools are grade point average, LSAT scores, letters of recommendation, work experience and state of residency. Other criteria are also considered, such as extracurricular activities and personal essay.
Admission committees are usually impressed with applicants who can demonstrate that their thinking and reasoning skills have been challenged in a diverse curriculum emphasizing writing, speaking, synthesizing, analyzing, advocating and negotiating. A broad liberal arts curriculum provides these skills.
Paralegal studies majors reinforce these skills in the legal specialty courses. The major is small enough to allow students to pursue other courses of interest which also emphasizes thinking, writing and speaking. The paralegal studies major gives students a decided edge in the first year of law school because of the students' knowledge of the basics of law, the terminology, the initial research and computer skills, as well as some work experience in a legal setting.
What are some tips for students considering paralegal studies?
First, do your best, academically. Attend class, be alert and engaged with class materials, be on time with assignments and show initiative. The Mentor Program and Practicum can provide you with experiences in actual work settings and many courses in the major require projects that get students into the community. These real-life situations allow you to make important community contacts. Participate and show leadership in various extra-curricular activities.
Second, pick an area of interest to you for a second major or a minor. Because paralegal studies majors learn skills that are useful in a variety of employment settings, many major or minor areas will create good combinations. For example:
Business (any major): a career in accounting, personnel, human resources, management, or marketing.
Computer Information Systems: support in any employment scene that is continually being transformed by computers and their impact.
Art and Graphic Design: a career in any area that is based in visual matters.
Equine Studies: a career in the legal/management aspect of stables and buying and selling of horses.
History/Political Science: work in government, as a lobbyist, or use as a basis for law school.
Human Services: a career in shelters, social service agencies, or senior centers.
Professional Writing: careers as writers or editors in the publishing industry.
Psychology: a career in law enforcement, investigation, shelter settings, or the juvenile justice system.
Sociology: an understanding of group behavior, the structure of society, organizational systems and for public-interest advocacy work.
Spanish or French: careers in firms that deal with Hispanic or French communities, have overseas offices, or perform in consulate work.