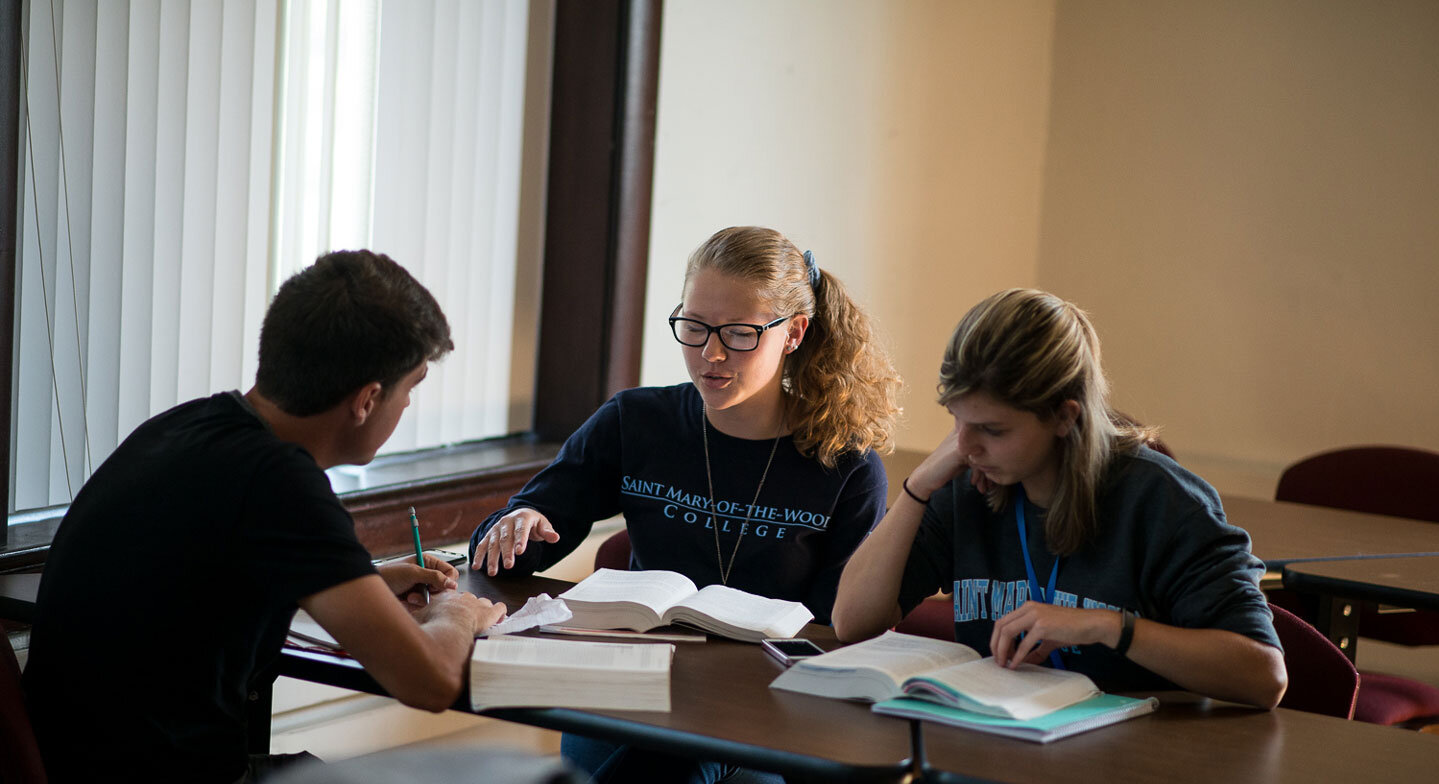 By earning an on-campus or online theology degree, you could gain a deeper understanding of your faith and prepare yourself for a future of service and leadership.
Bachelor of Arts 

(B.A.) 

in Theology Overview
Do you want to gain a deeper understanding of your faith? Do you want to prepare yourself for an intelligent and informed dialogue about faith and religious matters? The theology degree program at SMWC is built on the understanding of theology as "faith seeking understanding," and equips students with the knowledge to pursue that process. Courses in the theology degree program are designed to deepen your understanding of your faith, examine it critically, and learn the language and ways of thinking necessary to articulate it in a clear, coherent and meaningful manner.
Theology is a truly integrative discipline that draws from many other disciplines as tools for its methodology: philosophy, psychology, sociology, cultural anthropology, history, art, music, literature and the natural sciences.
A theology degree prepares students for a future in
Lay service and leadership: Because the Catholic Church and most Protestant denominations now need and want greater lay involvement in the ministries of their churches, it is important that those who desire to offer themselves for service in today's world have a strong theological foundation.
Ministry preparation: If you feel called to service or ministry in your church, the theology major will prepare you for graduate study in theology or seminary studies.
Theology Career Paths
Theology graduates have found careers in a variety of areas including:
Service ministry: counseling; hospice work; pastoral care in health care facilities; soup kitchens and thrift stores; retreats; youth ministry; campus minister.
Religious education: Director of Religious Education; leaders of the Rite of Christian Initiation for Adults; faith development; religion teacher; curriculum designer.
Publishing: writing and/or editing diocesan or denominational newspapers; editing magazines and journals; book and magazine reviews; religious education materials.
Liturgical ministry: office of worship; music and choral directing; parish liturgy planning.
Church administration: parish associate; Church tribunals; denominational headquarters; personnel management.
Check out our blog 7 careers you can have with a theology degree