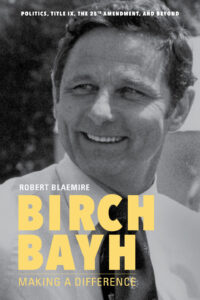 Wednesday, November 13
3 p.m.
Woods Student Center
Saint Mary-of-the-Woods College invites you to a program by author Robert Blaemire. His book "Birch Bayh: Making a Difference," features the life of Birch Bayh, U.S. Senator from Indiana. A lifelong resident of Terre Haute, he made a big impact on local and national government.
Bayh authored Title IX of the Higher Education Act of 1965, which bans gender discrimination in higher education. He was also the only non-Founding Father to have authored two constitutional amendments.
Free and open to the public