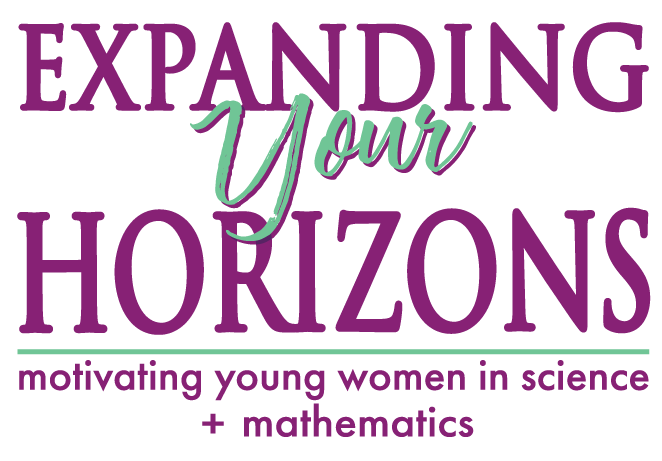 The Expanding Your Horizons in Science and Mathematics™ conference nurtures girls' interest in science and math courses to encourage them to consider careers in science, technology, engineering and math.
This conference at Saint Mary-of-the-Woods College (SMWC) is open to 6th, 7th and 8th grade girls and parents, teachers or troop leaders.
Through exciting and interactive hands-on workshops, young women like you learn that studying math and science can be fun. By using local volunteers to lead workshops, you will meet with mathematicians, engineers and scientists who live and work in the Wabash Valley. They will show you how they use math and science in their careers, and may serve as possible mentors to you in the future.
Conference Details
Who: All young women in middle school, grades 6-8
What: A hands-on science and mathematics conference
Where: Saint Mary-of-the-Woods College, Hulman Hall
When: 9 a.m. – 2:30 p.m., September 14, 2019
Why:
Investigate science and mathematics careers
Talk with women in science and math careers
Attend science and math workshops
Participate in hands-on activities
Meet other girls interested in science and mathematics
Sign up
Register online by September 11, 2019


Sponsored by Duke Energy
Contact Us
For more information about the Expanding Your Horizons conference at Saint Mary-of-the-Woods College please contact:
Maria Sellers and Janet Clark, Ph.D.
Program Directors
(812) 249-9640
maria.sellers@smwc.edu
jclark@smwc.edu
Schedule
9 a.m.
Welcome
9:15 – 9:45 a.m.
Keynote Speaker
10 – 10:45 a.m.
Workshop I
10:55 – 11:40 a.m.
Workshop II
11:45 a.m. – 12:15 p.m.
Lunch, O'Shaughnessy Dining Hall
12:30 – 1 p.m.
Tour 1
1:10 – 1:40 p.m.
Tour 2
1:45 – 2:15 p.m.
Chemistry Demonstration Show
2:30 p.m.
Depart
Keynote Speaker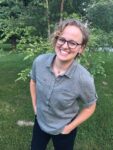 Emily Wood is the executive director of the Indiana Wildlife Federation – a non-profit, grassroots affiliate of the National Wildlife Federation that promotes the conservation of Indiana's wildlife and wildlife habitat. Emily holds a Bachelor of Science in Wildlife Biology from Ball State University and has worked in the field of public horticulture for 15 years. Her work has focused on utilizing native plants to create landscapes that are beneficial and supportive of wildlife and pollinators.
---
Hands-on Workshops
Choose your top three. Every effort will be made to consider your preferences.
Make a place for nature
Students will learn the important science behind native plants, wildlife and habitat. Participants will make two native seed packets; one to have and one to share!
Emily Wood – Executive Director, Indiana Wildlife Federation
It's O.K. to be basic: acids and bases in our everyday lives
Participants will construct a pH scale of household substances using pH probes. Included in the investigation will be items that are regularly consumed by teens- sugary drinks, sweets, etc. How might acidic or basic substances we consume impact our health?
Morgan Dezsi, Science Teacher – South Vermillion Middle School
Robots are for girls
Come try your hand at this year's VEXIQ Robotics Challenge "Squared Away". You'll also get a chance to collectively code and program the robot to complete a simple task. Find out how to get a robotics team started at your school with a Girl Powered grant.
Rachel Porter – Digital Curriculum Integration Specialist, Southwest Park Community Schools
Don't let a sports injury "cramp" your style
Participants will discuss the common injuries found in athletes, how those could be prevented with proper stretching, and how massage therapy increases healing.
Briana Lawson – Massage Therapist, Hometown Chiropractic Center
Fizz it up
Participants will discover what makes their bath fizz magic happen! They will create their own bath bomb to take home and use!
Jessie Moore – Science Teacher, South Vermilion High School
When "meow" or "woof" means "ouch, that hurts"
How do doctors treat patients who can't tell them in words what is wrong? In this workshop find out what a typical day is like for a vet and have a chance to evaluate some furry patients!
Beth Brown – Brown Veterinary Hospital
Sunny science
Participants will discuss ultraviolet radiation and test the effects of various sunscreens using UV beads. Each participant will get to create and keep a UV bead bracelet.
Bridget Ireland, Ph.D. – Assistant Professor, SMWC
Horse guts: intake to output
You will learn how digestion works in the horse's stomach and will assemble a life-sized model of the horse's digestive system, observing what goes in to what comes out and everything in between.
Debra Powell, Ph.D., P.A.S., Associate Professor of Equine Studies, SMWC
Get pumped about heart health & blood pressure
In this workshop students will learn about all aspects of blood pressure readings from the heart that creates it to the technology used to measure it. Students will take real blood pressure readings using sphygmomanometers!
Roberta Delp, DNP, ANP, RN, Wabash Valley Health Center
Afternoon Tours
After lunch all participants will split into two groups and rotate through each tour.
Visit the Mobile Health Center
Take a tour inside the Valley Professionals Community Health Center on wheels. See firsthand how the mobile unit makes it easy to access quality and affordable health care.
Take a Tree Walk
The SMWC campus is home to a variety of species of trees. During the walk you will identify and learn about some of our favorite trees.
Parents/Troop Leaders/Bus Drivers
Take a private backstage tour of The Woods! This unique experience will allow you to explore some of the special places on campus as well as discover the ins and outs of a small college founded by a Saint.
You will have a chance to take a picture with our famous Saint Mother Theodore Guerin sculpture. Adult program cost is $10.