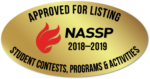 The Indiana Junior Science and Humanities Symposium (JSHS) will be held on the campus of Saint Mary-of-the-Woods College on March 8, 2019. There will not be a poster show this year. All oral presentations will take place March 8, 2019.
Registration
Potential Oral Presenters MUST register online through CVent by February 1, 2019. The application for Oral-Presenters must include the abstract and research paper, submitted through CVent. Those not selected to be oral presenters will still be able to attend the Indiana Regional JSHS as a student attendee – no further registration will be needed.
Potential Oral presenters must submit Abstract and Research Papers in WORD format only during Registration by February 1, 2019.
All non-presenting students, teachers, aids, chaperones, judges, parents, and other guests MUST register through CVent. All attendees, other than potential Oral Presenters, must be registered by February 25, 2019.
Register Online
What is JSHS?
JSHS (www.jshs.org) is a science, mathematics, and humanities research competition open to high school students in grades 9-12 who are U.S. citizens or permanent residents of the U.S.
It is funded by a grant from the Research Offices of the U.S. Army, Navy, and Air Force; the grant is administered by the National Science Teachers Association.
We encourage groups of students to attend as observers and will invite approximately 20 students to make oral presentations. Presentations are given before a group of peers, teachers, and judges. This year the Indiana Regional may also have a poster session for any student who would like to present their research in a poster format.
General Schedule of Symposium
Friday: Check-in, 3rd floor of Rooney Library at Saint Mary-of-the-Woods College; Morning and afternoon oral presentations; Student activities/tours late afternoon; Dinner; Guest Speaker.

Lunch and dinner provided.
Submission Guidelines
Guidelines for InJSHS are the same as those required of the National JSHS. Please refer to the submission guidelines.
Awards
Indiana Regional JSHS
Teacher Award
The Teacher Award may be granted to the actively participating teacher of the 1st place regional winner. The $500 reward may be used for supplies in the classroom or to assist in supporting the teacher's attendance at the National JSHS.
National JSHS
1st Place National Finalist – $12,000 scholarship
2nd Place National Finalist – $8,000 scholarship
3rd Place National Finalist – $4,000 scholarship
There are eight categories at the National competition. The top five Regional winners will travel to the National JSHS (www.jshs.org) as the Indiana delegation. The first and second place Regional winners will compete for the national scholarships. The third place winner will be presenting a poster at a separate competition at Nationals. Plans for the 57th National JSHS are progressing. The dates for nationals are April 25-27, 2019 in Albuquerque, New Mexico.