Reading, performance and book signing.
Thursday, September 21 at 7:00 p.m.
Cecilian Auditorium, Conservatory of Music
This event is free and open to the public.
Sharon Ammen, Ph.D., professor emerita of theatre, returns to Saint Mary-of-the-Woods College to discuss her acclaimed new book "MAY IRWIN, Singing, Shouting, and the Shadow of Minstrelsy" (University of Illinois Press). May Irwin was one of the biggest names in vaudeville from the 1880s to the 1920s. Ammen's book is the first full length study of Irwin and focuses on the strategies Irwin employed to remain a successful star for a long period of time. Irwin also composed song lyrics and became a successful cookbook author, real estate entrepreneur and suffragette.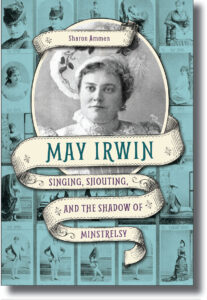 Irwin gained fame when, combining minstrel and ragtime, she popularized the "Negro song" genre. Ammen will discuss versions of a few songs, American culture of the time and how audience received the performances.
Ammen will read excerpts from her book, and perform songs and monologues popularized by Irwin.  A discussion with the audience and book signing will occur after the performance.