About President Dottie King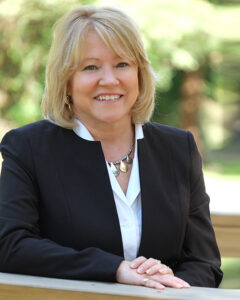 Dottie L. King, Ph.D., a distinguished scholar and an influential leader, serves as the 16th president of Saint Mary-of-the-Woods College. King combines solid academic credentials with an exceptional blend of experience in teaching, research, service, and administrative leadership to advance the mission of the College and lead the community to aspire higher.
During her tenure, the college is ranked among the 2016 Best Regional College in the Midwest by U.S. News & World Report. In addition, SMWC is listed among the top programs nationally in U.S. News and World Report's 2016 Best Online Undergraduate Programs and 2015 best online graduate business programs rankings.
King places special emphasis on collaboration and has strengthened the college's local and statewide presence with involvement in many organizations and initiatives. Appointed by Congressman Larry Bucshon, King serves on the Indiana 8th Congressional District Higher Education Advisory Committee. She is a member of the Indiana Chamber of Commerce's Business-Higher Education Forum, a committee of business and postsecondary leaders that serves as both the chamber's policy committee on higher education issues and an opportunity for collaboration between these two constituencies. She was appointed to the National Association of Independent Colleges and Universities (NAICU) Board of Directors, which sets the association agenda on federal higher education policy; actively encourages support of association priorities and initiatives; and oversees the organization's financial administration.
In addition, King serves as the chair of the Independent Colleges of Indiana. On behalf of the College, King is an active member of Association of Catholic Colleges and Universities (ACCU) and the Council of Independent Colleges (CIC).
President King led SMWC through an $11 million capital campaign to build a sports and recreation center. The facility opened in November 2014 and enhances the college experience for students and provides multiple opportunities to collaborate with the local community through health and wellness initiatives and other programs.
Under King's leadership, recent academic expansion highlights include restructuring the undergraduate core curriculum, developing nursing and online RN to BSN programs, adding new majors including criminology, environmental science, healthcare administration and renovating science laboratories.
King received the Sagamore of the Wabash, the highest civilian distinction in Indiana in 2016, from Lt. Governor Eric Holcomb and Indiana Senator Jon Ford on behalf of Governor Mike Pence. King was nominated for her leadership and strategic vision for the College providing many transformative opportunities to grow and remain a vibrant institution.
In 2015, King received the Indiana Torchbearer Award from the Indiana Commission for Women. She was selected for this prestigious award due to her leadership and strategic vision for the College providing many transformative opportunities to grow and remain a vibrant institution.
King is the recipient of the 2012 ATHENA Award. The Terre Haute Chamber of Commerce presents the ATHENA Award annually to an individual who demonstrates excellence, creativity and initiative in their business or profession; provides valuable services by contributing time and energy to improve the quality of life for others in the community; and actively assists women in realizing their full potential.
Since 2002, King held many leadership positions at the College including an associate professor of mathematics, chair of the sciences and mathematics department, assistant dean and vice president for academic affairs. She was a recipient of the college's highest teaching honor, the Sister Mary Joseph Pomeroy Award for Faculty Excellence for teaching and another for service.
King holds her bachelor's and master's degrees in mathematics and a Ph.D. in curriculum and instruction/educational leadership from Indiana State University. She has delivered numerous presentations and published research on factors that encourage women to persist in their study of mathematics.
Service is an expectation embedded in the mission of the College. King personally embraces this in her service to the local community. She serves as the chairperson of the United Way of the Wabash Valley. She is an active member of the Terre Haute Chamber of Commerce and in her church. King is an avid reader and volunteers in many activities that serve the needs of children. She and her husband Wayne have six children and seven grandchildren.