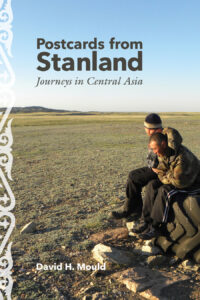 Across the vast steppe and mountain ranges, to fabled Silk Road cities, the Soviet rust belt and the futuristic architecture of Astana, Kazakhstan's capital, author and international media expert David Mould takes you to a remote, diverse and strategically vital region — the former Soviet republics of Central Asia — which includes Kazakhstan, Kyrgyzstan, Tajikistan, Turkmenistan and Uzbekistan.  Those jumble of countries with names ending in -stan: Stanland.
Enjoy the stories from Stanland without the dangerous flights and bad hotels. Meet teachers, students, politicians, entrepreneurs, journalists, cab-drivers and market sellers to learn about their history, culture and struggle to survive in the post-Soviet era. This interactive presentation will take place 6:30 p.m. Nov. 15 in the Woods Student Center.
This event is part of International Education Week at SMWC. 
About David Mould, Ph.D.
Born in the United Kingdom, Mould worked as a newspaper and TV journalist before moving to the United States in 1978.  He retired from Ohio University in Athens in 2010 after a 30-year academic career. He has traveled to more than 40 countries in Europe, Asia and Africa and currently works as a communications consultant and freelance writer. He has directed grant-funded projects for the U.S. Department of State, USAID, UNESCO and UNICEF. His first book on travel, history and culture, Postcards from Stanland: Journeys in Central Asia, was published in 2016 by the Ohio University Press; his second, Monsoon Postcards: Indian Ocean Journeys, will be published in 2018.
About International Education Week
A joint initiative of the U.S. Department of State and the U.S. Department of Education, International Education Week (IEW) is an opportunity to celebrate the benefits of international education and exchange. It is a nationwide effort by the two federal agencies to promote programs that prepare Americans for a global environment and attract future leaders from abroad to study, learn, and exchange experiences.