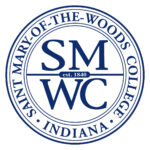 Saint Mary-of-the-Woods College (SMWC) will keep its academic year 2020-21 tuition the same as its 2019-20 rate and provide a tuition guarantee to all undergraduate degree-seeking students, the administration announced today.
Next fall, SMWC will offer all undergraduate students in a degree-seeking campus or online program the advantage of paying the same tuition rate for four years as the fall 2019 rate. This new tuition guarantee will provide eligible students with a set tuition rate from freshman through senior years allowing students and families to better plan for their higher education expenses.
"We want to convey to students and families that a college degree from The Woods is affordable," said Brennan Randolph, vice president for enrollment management and institutional technology. "We hope this guarantee brings comfort and ability for families to map out college expenses knowing that there won't be a surprise down the road with a change in tuition."
SMWC set the tuition for the 2020-21 academic year with no increase, a move demonstrating the College's commitment to its mission and values. "We pride ourselves in being a college that meets students and families where they are and goes above and beyond to help them achieve their goals," said SMWC President Dottie L. King, Ph.D.
"We strive to remain as affordable as possible while continuing to offer an outstanding educational experience for our students. We've made these decisions in an effort to increase students' access to quality education with some predictability," she said.
The SMWC tuition guarantee enhances the value of a Woods educational experience that is already touted as one of the best in the region by "U.S. News & World Report." At SMWC, every student benefits from an academic environment enhanced by service, mentorship, leadership, spirituality and values in the Catholic tradition. Because the tuition guarantee offers students the benefit of paying the same tuition rate for four years, it is an additional incentive for students to complete their degrees on-time. Indiana's private, non-profit colleges such as SMWC have the state's highest four-year, on-time graduation rates, according to Independent Colleges Indiana.
The College is enjoying a placement rate of 95 percent, which indicates a high success rate for the percentage of graduates who obtain employment in their major area or admittance to graduate school within six months of graduation.
To apply for admission, visit www.smwc.edu/admission