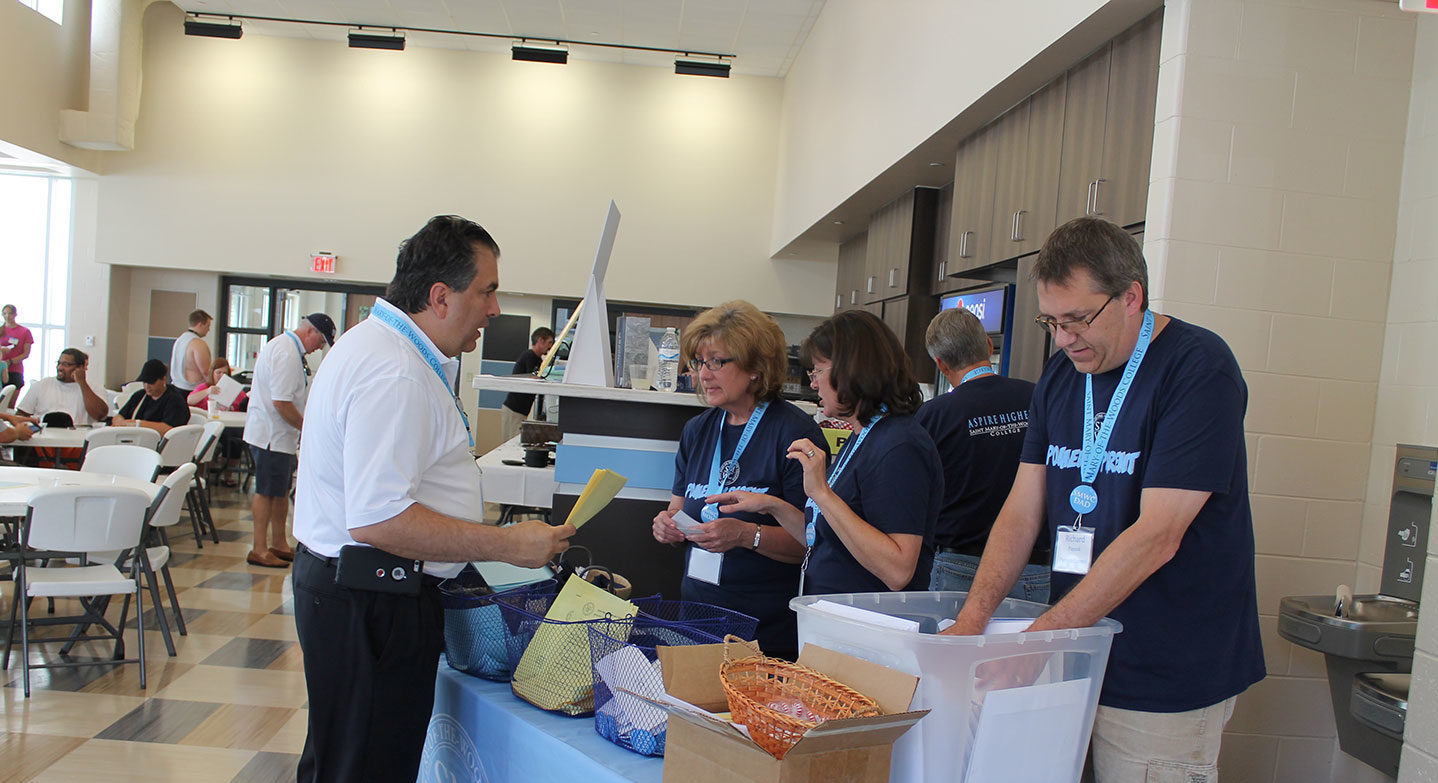 Pomeroy Parents Association
Proud to be SMWC
Be an active participant
The Parents Association at SMWC invites all our parents and families to be engaged in the life of the College and that of their students. Whether you are a current parent, a lifetime parent, or a prospective parent, or a family member we share the same treasure: our students. We are grateful to you for supporting their decision to attend SMWC, and we share your pride in their success. We welcome your commitment to, and involvement with, the College and the Parents Association.
There are several ways to get involved:
Sign up to receive emails and information or to volunteer and get your free Pomeroy Parents window cling
Follow the Parents Association and SMWC on Facebook
Download the Parents Association ByLaws
Pray for your daughter or son
Prayer for your Child
God of growth and learning, I give thanks for the opportunities that await my child as we take this next step in the pilgrim journey together. I come to you with a heart full of love and concern but with the utmost confidence that they are in the right place.

Please be with my child this year. Above all, may they recognize Your presence in their life. Surround them with good friends and intelligent, compassionate faculty who can provide wise guidance during times of uncertainty. May they find the discipline and the understanding necessary to succeed in studies and the determination to remain focused on their education and goals.

Give them the space to strengthen themselves. Inspire them to believe in themselves, to always look for the goodness in every situation, and to trust in your loving Providence. May they delight in each new day, in every new relationship, and in the beauty and sacredness of The Woods. Help them grow in kindness and generosity so they may live joyfully and respond to each challenge with courage.

I give thanks for Saint Mary-of-the-Woods College, an institution that allows them to follow their heart while informing their mind and conscience to effect positive change in a spirit of service and social responsibility. Send your angels to protect them while they are away from home as I entrust them to your Providential care. Please, God, be with my child this year.

I ask this through the intersession of Saint Mother Theodore Guerin. Amen.
Pomeroy Parents Council
The Pomeroy Parents Council is the executive board of the Pomeroy Parents Association.
The mission of the Pomeroy Parents Council is to help you and your family throughout your student's undergraduate career. We welcome your active participation and invite you to support our programs and services. The Parents Association will keep you informed of happenings on campus and what opportunities are available to help enhance your student's experience at SMWC. In addition to developing a strong relationship to the campus community, you will be connected to other parents.
The Council members are devoted to providing an enhanced experience for students. If you would like to get involved in one of our many events such as Homecoming, Christmas or Family Weekend, please contact Council co-chairs Kymberli Payonk or Lynn Dust.
2017-18 Parent Council Members
Kymberli and Richard Payonk
Terre Haute, IN
Lynn Dust
Terre Haute, IN
Teri and Mark Bennett
Terre Haute, IN
Christy and Kal Ellis
Terre Haute, IN
Judy and John Sonderman
Jasper, IN
Romala and Kevin Kumpf
Brazil, IN