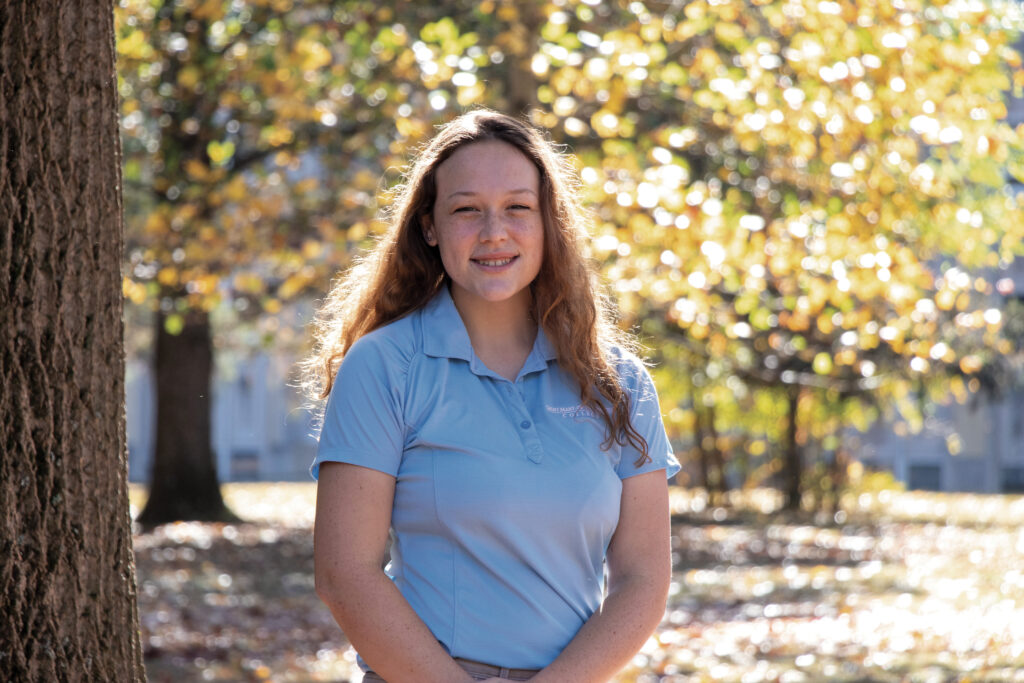 What is your hometown?
Berwyn, Illinois
What high school did you attend?
Westmont High School in Westmont, Illinois
What is your major?
Music
Why did you choose The Woods?
Ultimately, I found it was the only choice for me. I was so happy just visiting. The music faculty were incredibly kind and welcoming, the equine facilities are beautiful, and the community is so supportive. I am also a fourth generation legacy student here at SMWC.
What do you do for fun on campus?
Jam sessions in my suitemate's room with the other music majors, eating lunch in Doherty Dining Center with my friends, and just spending time with everyone.
What do you like about living in Le Fer?
I live in Le Fer Hall on 2C. It's become a home away from home for me, and I value every moment I have here. I love the community.
What advice do you have for freshmen?
Cherish the relationships you will build here. There is something to learn from every connection, every person, every conversation. Be grateful and gracious for those around you and especially yourself.
Reflect on your time at The Woods:
It's my last semester here, so I'm being very intentional with all of the things that I accomplish, attend, organize, participate in… It all matters very much to me right now. The time I have left here is very short in comparison to the long journey I set out on freshman year. I've grown very much – I've made a lot of mistakes and learned to own up to my actions. I'm so grateful for everything I get to do here.
One of my favorite things about The Woods is the auditioned women's ensemble, Madrigals. My mother was a Madrigal, and while it was never quite said out loud that I would be too, it certainly was implied. It's an honor to sing with those women. I am so very blessed. Though our rehearsals are long and arduous and the journey itself is grueling, I am grateful for the time spent with my very best friends and Michael Boswell, director of choirs at SMWC, and our fearless leader.