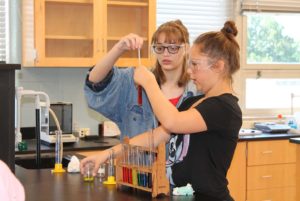 Learn leadership skills. Discover new interests. Make new friends. Build confidence. These are the benefits of summer camps at Saint Mary-of-the-Woods College. The camps are designed to inspire girls and boys in grades 2-12 with hands-on learning experiences.
Led by expert instructors, camps are scheduled for 9 a.m. to 4 p.m. on June 18-22 and June 25-29. Before-and after-camp care, lunch and snacks are provided. This year's camps are:
Equestrian Beginners
Equestrian Intermediate
Equestrian Advanced
Music Theatre
Photography
The Oakley Academy – Environmental Science
STEM Enrichment Camp for Girls
Enrollment is limited so register early to secure a spot. Register today at www.smwc.edu/summercamp, or call (812) 535-5131.