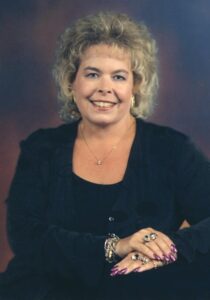 The Saint Mary-of-the-Woods College community is mourning the loss of a beloved faculty member and alumna.
Kathryn Myers '86, associate professor of paralegal studies, passed away on Saturday after a long illness. She is remembered as a brilliant and strong Woods woman who not only made an impact on Indiana's legal community but also shaped the lives of many SMWC students for more than three decades.
Myers' career was marked by many accolades including the Distinguished Hoosier Award presented to her by Indiana Governor Mitch Daniels in 2010 for her years of service to the legal community. She was named Legal Assistant of the Year by the Indiana Legal Assistants in 1988 and was awarded the Alumnae Faculty Leadership Award by the SMWC National Alumnae Board in 2006.
Myers' career at The Woods started in the early 1980's when she was hired as a part-time instructor. She was hired full-time in 1983 as lecturer in the paralegal studies program and would go on to serve as coordinator for paralegal studies for 34 years. She was granted instructor status in 1987 and assistant professor status when she completed her master's degree in 1992. She was promoted to associate professor and was awarded tenure in 1997. She taught in both the campus program and Woods Online.
Myers served as a consultant and instructor during the development of SMWC's paralegal program and was instrumental in its establishment in 1985. Her reputation as an outstanding practicing paralegal in Terre Haute and her status as president of the Indiana Legal Assistants contributed to her becoming the coordinator of the newly developed program, which was noted for creating a curriculum focused on the professional needs of paralegals instead of attorneys. In 1986-87, Myers was asked to install the WESTLAW computer research system and begin steps toward starting a computer research service for local law firms. Thanks to Myers' leadership, SMWC was recognized for excellence in paralegal education by becoming accredited by the American Bar Association (ABA) in 2010 through 2017.
Besides leading the paralegal program, Myers helped create two criminology programs, and taught a variety of courses: women in the law, women's leadership, political science, and the first year seminar course for new students. Myers is known for her rigor in the classroom and large amounts of writing. However, her alums prove her excellence with a high employment rate in the field. She was also director of the Honors Program from 2013 to 2017.
Myers was an engaged faculty member with years of continued service on the Faculty Assembly's curriculum, budget and compensation committees. She served as Faculty Assembly President in 1995-96. For many years, she coordinated Law Day on campus and was awarded the American Bar Association's Outstanding Law Day Program in 1998. Most recently Myers advised and coached SMWC's Ethics Bowl team. In 2015, in just its second year, the team earned second place in the state, earning a spot at the national competition.
Active in her field as an educator and scholar, Myers was a member of the American Association for Paralegal Educators and its regional and national committees. She served as national secretary (1997-1999) and national president (2000-2001). She published three textbooks in the paralegal field about legal research, writing and analysis; she contributed articles in the Paralegal Educator and the Journal of Paralegal Practice; and she spoke at local and national conferences.
Myers earned an associate's degree in paralegal studies from Vincennes University in 1997 and a bachelor's degree in paralegal studies from SMWC in 1986.
The viewing is 10 a.m. to 1 p.m. on Saturday, August 11 at DeBaun Funeral Home. Services will immediately follow the viewing. The address for the funeral home is 85 East Springhill Drive, Terre Haute, IN 47802. For more information, visit: www.debaunfuneralhomes.com/notices/Kathryn-Myers