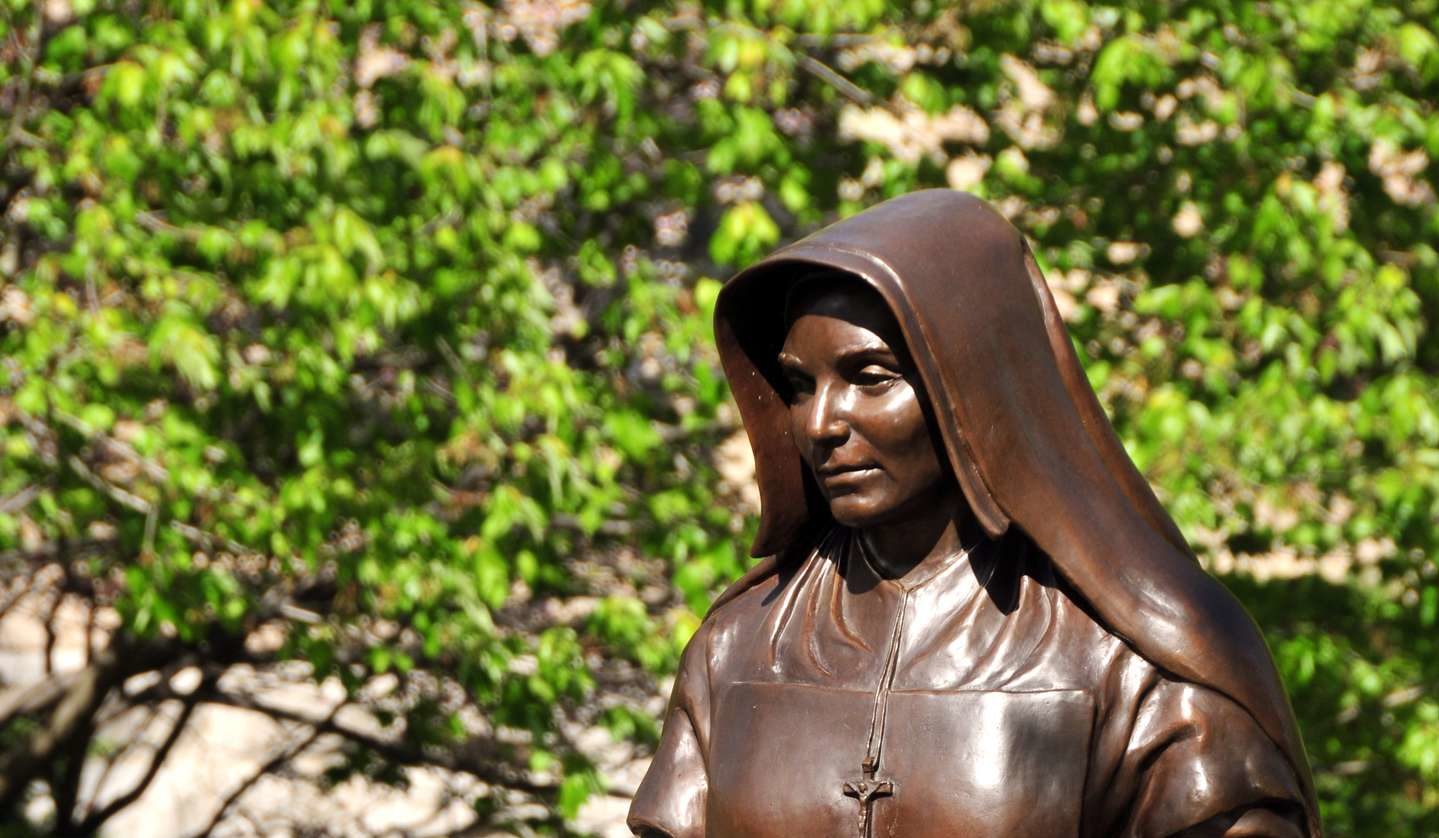 Saint Mary-of-the-Woods College, the oldest Catholic College in Indiana, expanded its mission to include men in all programs in 2015, yet continues to embrace its rich history as a women's college. Before women fought for equal pay, before women secured the right to vote, before the women's rights movement even began, there was Saint Mary-of-the-Woods College.
For generations, SMWC has been empowering students to make a difference in their lives and in their world. It all started with a holy woman's faith in divine providence.
"Grant, O my God, that all who dwell in this house may love thee much, may love one another and may never forget why they came here."
Founding Saint Mary-of-the-Woods College
SMWC has helped shape the fabric of both women's education and early Catholic education in America. A closer look at its early days — during a period of limited opportunities for women and widespread discrimination against Catholics — shows that its founding was precipitated by a commitment to helping students "Aspire Higher."
In 1840, Saint Mother Theodore Guerin and five other Sisters of Providence journeyed from their convent in Ruille-sur-Loir, France, to the wilderness of Indiana, to establish an academy for women. It was a response to a request from the bishop of Vincennes, who asked the Sisters for help in educating Catholic immigrants growing in numbers in the area. Through many obstacles along the way, Saint Mother Theodore Guerin and her companions persisted in each step of the journey.
During the 40 days of the stormy ocean crossing, they were robbed of a good portion of the money meant to finance the rest of their trip. They arrived in New York and traveled half a continent by train, canal, stagecoach and ferry in a foreign land where they could barely speak the language. Finally, on Oct. 22, 1840, more than three months after leaving France, the women crossed the Wabash River. They settled on the woods northwest of Terre Haute.
In the spirit of true adventurers, Saint Mother Theodore's journal indicates that the source of their initial disappointment upon arrival was not that they had no home but that they did not know where they would find students. Despite this uncertainty, students came to them seeking an education even before the College's first buildings were erected. Saint Mary's Female Institute (the former name of SMWC), informally known as the Academy, opened on July 4, 1841, 29 years before 4th of July became a national holiday in the U.S.
In 1846, the College was granted the first charter for the higher education of women in the state of Indiana; It conferred the first Bachelor of Arts degree in 1899. In 1928, the Academy was incorporated as Saint Mary-of-the-Woods College.
Creating Opportunities for Women
In the tradition of seeking to "Aspire Higher" by creating groundbreaking opportunities in women's education, SMWC was the first women's college to offer journalism courses and the first to offer degree work in secondary education, home economics and secretarial science. These programs are evidence of an early commitment to preparing women for professional roles.
As an early leader in distance education, the College introduced one of the first independent study programs in the nation, the Women's External Degree Program, in 1973. This program served adult women who needed flexible schedules to balance earning a degree, important family responsibilities and career obligations.
"Profit by the experience of the past for the future." -Saint Mother Theodore Guerin
Educating Women and Men
In 2005, the College expanded access to its undergraduate distance program to men. Today, through the renamed Woods Online program, both women and men earn college degrees in a wide variety of majors, at a pace that works for their lifestyles.
SMWC's bold vision to educate students of all ages with an appetite for knowledge is evident in the delivery of its other distance programs. Since 1984, SMWC has offered coed graduate programs. Current graduate programs accepting new students are Master of Arts in Art Therapy, Master of Arts in Music Therapy and Master of Leadership Development.
In the fall of 2015, Saint Mary-of-the-Woods College expanded its mission and opened its doors to women and men in all of its programs including the traditional, undergraduate, campus-based programs in Saint Mary of the Woods, Indiana.
Achieving Success and Innovation
SMWC has continued to reach beyond expectations and provide innovative and unique programs based on liberal arts tradition — to students. It boasts the only equine program in Indiana, and one of approximately 20 in the U.S., to offer a Bachelor of Science in equine studies. Additionally, it is the first in the nation to offer a Music Therapy Equivalency Distance program.
SMWC is consistently recognized by U.S. News & World Report as one of the Best Regional Colleges in the Midwest. The College was also ranked in the top programs nationally by U.S. News & World Report's Best Online Undergraduate Programs, as well as best online graduate business programs for the Master of Leadership Development (MLD) program. In 2017, the Saint Mary-of-the-Woods Historic District, home of SMWC and the Sisters of Providence, was listed in the National Register of Historic Places.
Continuing to Grow
SMWC strives to constantly evaluate student needs and evolve to meet those needs. It remains rooted in the past but is always focused on the future. There have been multiple exciting additions to the College in recent years.
In December 2013, it announced the new RN to BSN completion program for current registered nurses seeking a Bachelor of Science in Nursing, a degree program also offered at the college. Today, nursing continues to be one of the largest programs on campus and has been nationally ranked by US News & World Report. In the last five years, the College has added more than 15 academic programs, including recent additions of paramedic science, healthcare administration and the Ph.D. program in Global Leadership.
Recently SMWC has had multiple new additions on campus. In 2021, the College opened its new residence hall, Les Bois Hall, including the new dining hall, Doherty Dining, for students. Since the completion of the Jeanne Knoerle Sports and Recreation Center in 2014, it has and continues to be, used by students and athletics teams every day. The Knoerle Center was the first new building on campus since Hulman Hall was built in 1969. As SMWC continues to grow, an expansion plan is being created to add to the 45,000-square-foot facility.
In 2017, construction began on a walking trail, environmental habitat and outdoor classroom at Lake Le Fer. By the 2021-2022 school year, these projects were complete. The Mary and Bayless Butler Classroom was also completed and dedicated in Fall of 2021. Campus programs, including environmental science, use the space for class. The walking trail is used daily by students and campus visitors.
As the student population grows, so does SMWC Athletics. The College currently has 16 intercollegiate programs at the varsity level. Men's sprint football and volleyball began play in Fall 2022. In 2020, SMWC Athletics was approved for membership in The National Association of Intercollegiate Athletics (NAIA). As it transitioned from USCAA to NAIA, the College was eligible for postseason competition and had more opportunities for community involvement through the Champions of Character program.
Although much has changed since 1840, SMWC remains dedicated to empowering young women and men to emerge as strong leaders prepared for life's opportunities. Here, students choose to Aspire Higher.