Saint Mary-of-the-Woods College is accredited by the
Higher Learning Commission
.
Accreditation matters. Here's why:
It ensures that your degree is recognized by employers, professional associations, and other accredited institutions of higher education.
It is an assurance to students and the public that we meet or exceed standards for quality of curriculum, fiscal stability, faculty and learner services.
Saint Mary-of-the-Woods College is authorized by name by the Indiana Commission for Higher Education to administer Indiana financial aid. The College is also approved for teacher training by the Indiana Department of Education.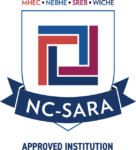 The College participates in the National Council for State Authorization Reciprocity Agreements (NC-SARA) as an approved member of Indiana SARA. Through NC-SARA, the College may engage in interstate educational activities, including enrolling students in other SARA states.
Approval and accrediting organizations include: