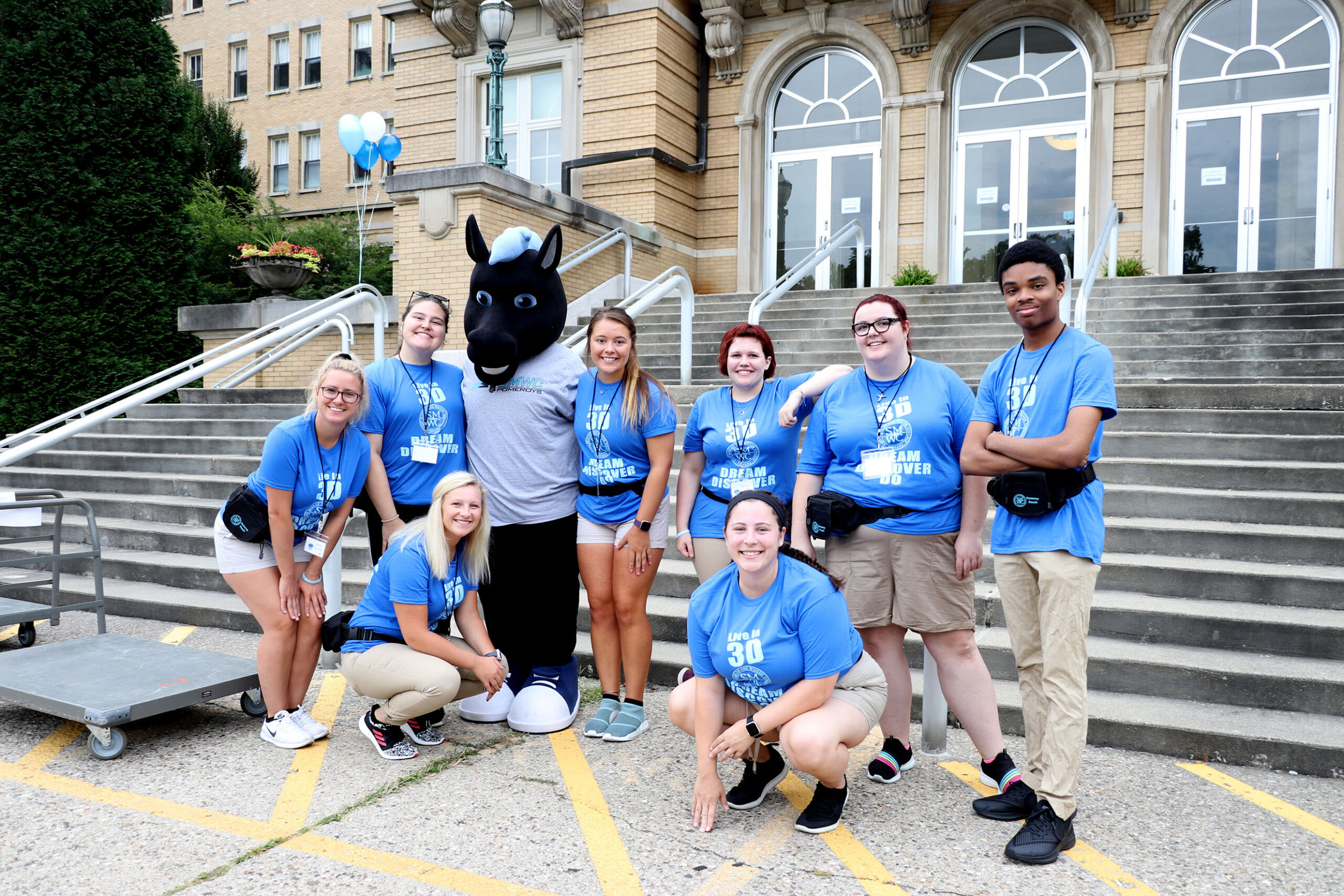 Feel at home at The Woods.
Orient yourself amidst the hustle and bustle of moving. See what you have to do, step-by-step, for a successful move:
Limit the number of people attending Move-In. To help us maintain social distancing we ask that not more than 2 guests assist attend Move-In with students.
Face Covering Required. The required use of face coverings in all residence hall pubic areas (i.e. main level spaces and hallways, centers, kitchens, and laundry areas).
Arrive on time. Do not arrive any earlier than your designated move-in time. Move-in times are to facilitate social distancing and to avoid long waiting times.
Don't arrive in a motor home, moving van, trailer or RV. Large vehicles take up too much space in our parking lots and are difficult to navigate on narrow campus streets.
Know what to pack and what to leave home. Check our What to Bring and What Not to Bring lists when you are packing.
Arrive on the Avenue. There will be unloading spaces in the front and back of Le Fer Hall. After you unload your belongings onto the carts provided and move your car to the parking lot behind Hulman Hall.
Check in at the lobby of Le Fer Hall. All students will check in on the first floor of Le Fer to receive their room key, Student ID, and parking permit.
Check out a moving cart. Carts are available in Studio '64 on the lower level of Le Fer Hall. Residents are limited to one cart. You may also bring your own carrier or moving cart.
Meet your RA. Meet your RA on your wing and complete your room condition report.
Return the cart to Studio '64. Promptly return your cart to Studio '64 for cleaning and available for another student to use.
Review your Housing and Residential Life Policies to learn about your community, and stay informed about your rights and responsibilities.
Can't Make It to Move-In/Check-In Day?
If you need consideration for an early or late Move-In/Check-In Day due to a critical reason, contact the Department of Student Affairs 812-535-5281 or CampusLIfe@smwc.edu. The sooner you contact us the better accommodation we can provide.
Move-In Dates Fall 2020
PLAN AHEAD! These dates are firm. Please plan travel arrangements accordingly.
Returning Students: Le Fer Hall will be open from 9 a.m. – 6 p.m. on Sunday, August 16 for returning students. Go directly to the Lobby of the First Floor of Le Fer to check-in with Campus Life and sign your housing contract then proceed to your wing to meet with your RA to obtain your key and complete your room condition report.
New Students: New students will move in on Friday, August 14 and will begin participation in our New Student Orientation. See NSO for details.
Move-In Crew: The move-in crew will be available on August 14 from 8 a.m. to Noon and August 16 from 9 a.m. to 6 p.m.
*Please note that there will be no arrivals permitted prior to August 16 unless students are returning for a specific College-related reason that has been approved by the Associate Vice President for Student Affairs. Students cannot request early access; the request must come from a faculty/staff member.
Campus Map and Driving Directions
What to Bring
Roommate Information
As exciting as it can be to move into a residence hall, it can also seem nerve-wracking to live with someone new for the first time. That being said, having a roommate can be a wonderful chance to learn about others. Here are some tips for creating a great roommate relationship!
Be honest and be yourself! Like any new relationship, you'll want to start off on the right foot and be true to who you are. This way your roommate can get to know the real you. If you are open about your own personality, wants, and needs, it's likely that your roommate will open up as well.
Have an open mind. Not everyone is coming from the same background that you are, in fact, most people that you meet while in college will have come from walks of life that are vastly different from your own. Try to be understanding and considerate of others' identities and experiences.
Set clear expectations from the beginning. You and your roommate will never know exactly what each other is thinking, so you need to be clear about what your expectations are for the shared space. Consider this: who is going to be responsible for taking out the garbage? How late can you leave the lights on at night? Can you borrow each other's belongings? These are important questions, so we recommend discussing these with your roommate soon after you move in. Roommate contracts can be super helpful!
You don't have to be best friends with your roommate, or even friends at all. We could never expect you to force a friendship with someone when it's not meant to be. However, we do expect that you can build a respectful relationship and share the space that you both pay for. Some roommates do become good friends, others just chat every now and again. Either type of relationship is fine, so long as you are able to communicate with and respect each other.
When in doubt, talk it out. Just like how you and your roommate are likely to have different lifestyles, you're also likely to have different ways of addressing conflict. No matter what your relationship is with your roommate, conflict is bound to arise at some point. The best way to make sure you get through it is to talk about it.
Remember, there's always someone here to help! Make sure you get to know your Resident Assistant, as they can help when conflict becomes too tough to handle. RAs are specially trained in mediation and conflict management and are always happy to help you work it out.
Please note: we do not make changes prior to move-in weekend based on a student's social media presence.
Mail and Packages
There is daily U.S. Postal mail service delivery. Our mail service operates similarly to pharmacy pick-up. Student mail is delivered to the front desk of Le Fer Hall and is available for pick-up during normal front desk hours. Students will receive an email notifying them when they have a package that has been delivered.
Packages will be held at the Le Fer front desk during regular business hours. Please note: Guaranteed express or other timed early delivery packages are independent of SMWC. The front desk regular hours can be found here.
Your mailing address should be formatted as follows:
[Student Name]
Le Fer Hall
1 St Mary of Woods Coll
Saint Mary of the Woods, IN 47876
Safety
Residence hall floors are locked 24/7 and are accessible only to residents of the building with an SMWC Student ID card.
Guests signed-in and escorted on the residential floors.
Security is available to assist students and can be reached at 812-535-6400.
Other safety tips:
Everyone is encouraged to sign up for text alerts.
Don't hold the door open for strangers entering the building, they must use their SMWC Student ID. We know it seems rude, but it's okay!
If you see anything suspicious, report it to Campus Security.
Never lend out your room key or SMWC Student ID.
Lost Keys & Lost Student IDs
There is a $25 fee for lost keys and a $15 fee for SMWC Student IDs. Keys take up to 2 business days to be cut after payment is made – so please make sure you always know where your key is!
If you have lost your room key, please contact Campus Life immediately.
If you have lost your SMWC Student ID, please go directly to Student Affairs office on the first floor of Le Fer Hall.
Always keep your door locked!
Other Services
Saint Mary-of-the-Woods College also offers some other amenities around campus.
Club '64 is located in the Knoerle Center and is a total fitness center with up-to-date equipment such as an elliptical machine, treadmills, stationary bicycles, a full nautilus circuit and free weight area.
Studio '64 is located on the garden level of Le Fer Hall. It is a multi-purpose space for student events, programs, and organization meetings. Additionally, yoga is offered on Mondays and Wednesdays at 4 p.m. and a self-defense/karate class is offered on Tuesdays at 6 p.m.
The Oakley Student Center (OSC) is located on the garden level of Le Fer Hall. Breakfast, snack and Friday and Saturday dinner are served here. Additionally, there is a pool table, ping pong, and a wealth of games and puzzles for students to use.
The E-Sports Lounge is coming soon to the garden level of Le Fer Hall and is open to all SMWC students.
Sacred Heart Chapel is located on the first floor of Le Fer Hall and is open to all SMWC students every day. Throughout the year Campus Ministry hosts services in the chapel and it is the location for the International Ring Ceremony.
Food
Sodexo is focused on providing the campus community with quality services and products in a fiscally responsible fashion. They offer a variety of food choices including healthy, vegan, and vegetarian options. If you live on campus, the meal plan is included in your room and board fees. There is only one meal plan.
The meal plan includes: breakfast, lunch, dinner, and snack Monday through Thursday; breakfast, lunch and dinner on Friday; brunch and dinner on Saturday and Sunday.
SMWC Student ID: Your SMWC Student ID is your meal card, prox card for accessing Le Fer Hall and access to printing and copying services on campus. Be sure to carry it with you at all times. If you lose your ID, please contact Student Affairs at 812-535-5281 or stop by the Student Affairs Department on the first floor of Le Fer Hall.
You can visit the Sodexo website to learn more about the dining options on campus.
Meal plans for new students begin on Friday, August 14 with dinner and with brunch on Sunday, August 16 for returning students!
Parking
Parking is free for students!
Please register your vehicle online by August 14, 2020. Please take the time to ensure that your vehicle registration information is accurate and complete. You will annually pick up your parking hangtag during First Monday check-in. The hangtag must be properly displayed on your vehicle.
Be advised that Security will begin ticketing unregistered vehicles on Monday, August 24, 2020.
Should you have any questions regarding this process, please feel free to contact the Security Department at 812-535-6400 or visit their offices on the garden level of Le Fer.
Laundry
Laundry rooms are provided on each residential floor near the north elevators and in the garden level of Le Fer Hall. These rooms are open and available 24 hours a day. Laundry facilities are included in the room rate and require no currency to operate with the exception of the machines in the garden level of Le Fer Hall. These facilities are to be used by resident students only.
How to operate a washing machine at SMWC
IT Helpdesk
Information Technology provides technology support for students, faculty, staff and guests. IT provides Help Desk support services at the main desk of Le Fer Hall Monday – Friday from 3-5 p.m.
WHAT CAN WE HELP YOU FIND?
SHARE