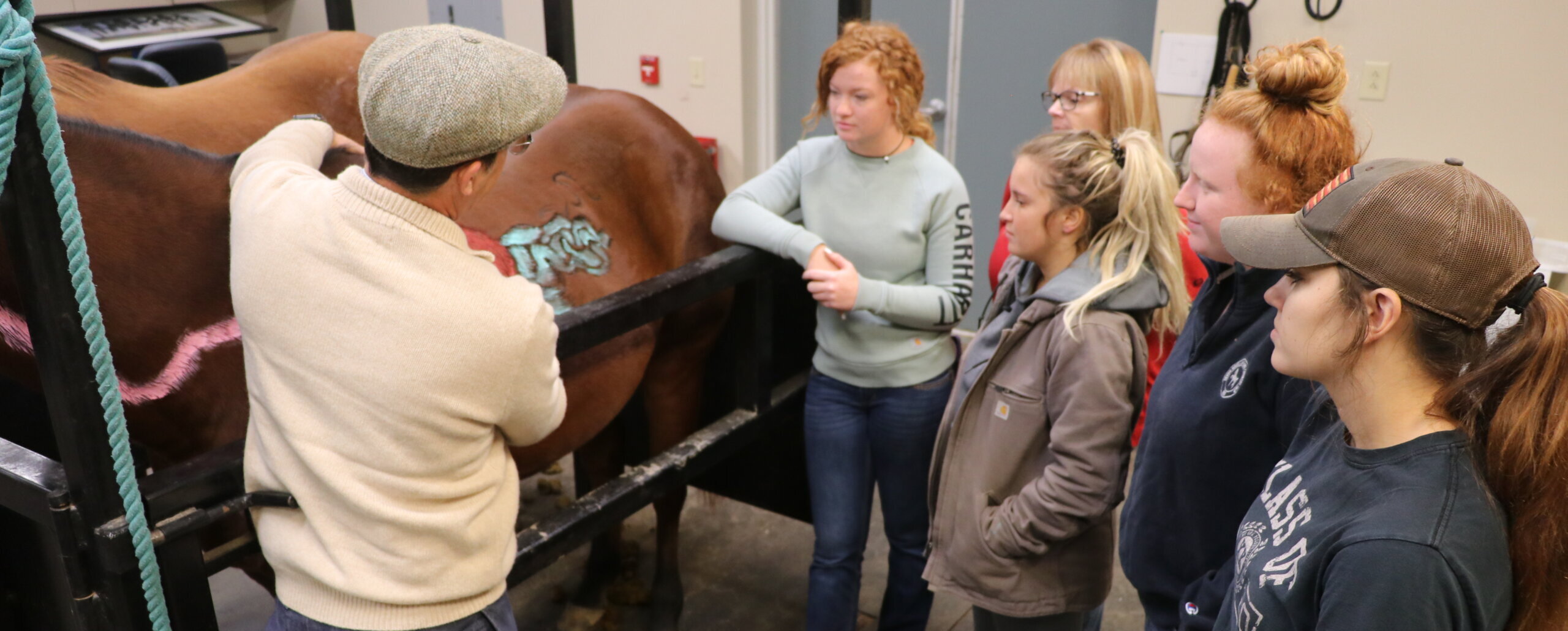 Equine Studies Degree Program
Earn a bachelor's degree or associate's degree in equine studies to prepare for a career in the equine industry. SMWC's Mari Hulman George School of Equine Studies is one of 20 equine colleges in the U.S. to offer this degree.
Bachelor of Science in Equine Studies Overview
Are you ready to turn your love of horses into a rewarding career? The Mari Hulman George School of Equine Studies at Saint Mary-of-the-Woods College (SMWC) prepares students to meet the challenges of an expanding equine industry. As an equine studies major, you will experience a solid academic foundation for your career by choosing from four equine concentrations.
---
Concentrations
Equine Business Management
Equine Business Management is essential for students wishing to own or work in an equine-related business. In addition to horse care, you will focus on business management skills including business plans, marketing strategies, financial and legal initiative, management and professional development.
Equine Training and Instruction
Equine Training and Instruction prepares students for a rewarding career teaching equitation and for those interested in working as a professional instructor in the Western and Hunt seat disciplines. While the primary emphasis is on training the instructor, students may also avail themselves of a variety of courses designed to develop the foundational skills in training and schooling horses in a variety of disciplines.
Equine Science
Equine Science educates students in the scientific aspects of the equine industry. Students can pursue a variety of different careers such as veterinary technology, pharmaceuticals, nutrition, breeding management and barn management. This concentration will also prepare students for graduate school in the science-related industries.
Equine Communication
Equine Communication prepares students to enter fields of journalism, photography, mass/digital media, advertising or public relations as they relate to an equestrian career. Courses include digital imaging, digital video and audio production, photography, advertising, professional writing and public speaking.
---
Minors
If you are interested in combining equine with another career field, you may consider one of these minors.
Equine Studies
Equine Studies provides courses in areas of general equine health, stable management, equine nutrition and feeding, and equine operations.
Equine Science
Equine Science minor provides a foundation for the pre-veterinary student wishing to specialize in equine practice.
Equine Assisted Therapy
Equine Assisted Therapy combines elements of education, mental health and organizational leadership. This helping profession minor is applicable to a wide variety of careers in health and human services.
Equine Studies Career Paths
Careers in the equine industry are diverse in nature and requirements. In a small privately-owned facility with only a few employees, equine jobs typically require considerable versatility. Whereas in large elaborate operations, positions can be specialized. Some students are in line to take over a family business; others are hoping to start a business of their own.
Check out our blog, 10 Careers you can have with an equine studies degree
Employers of Some of our Graduates
Alpha Equestrian Center, Georgia
Double Run Farms, North Carolina
Equine Country, North Carolina
Hoosier Park Race Track, Indiana
Love Way Therapeutic Center, Indiana
Maple Ridge Sport Horses, Indiana
Pine View Farms, Ohio
Reins of Life, Indiana
Rood and Riddle Equine Veterinary Hospital, Kentucky
Equine Internships
We assist you in finding educational internships for the summer and during school breaks. Previous internships have included work at breeding farms, lesson and show barns and summer camps. Internships are a valuable learning tool and we strongly encourage students to take advantage of this experience even before you begin your college education.
---