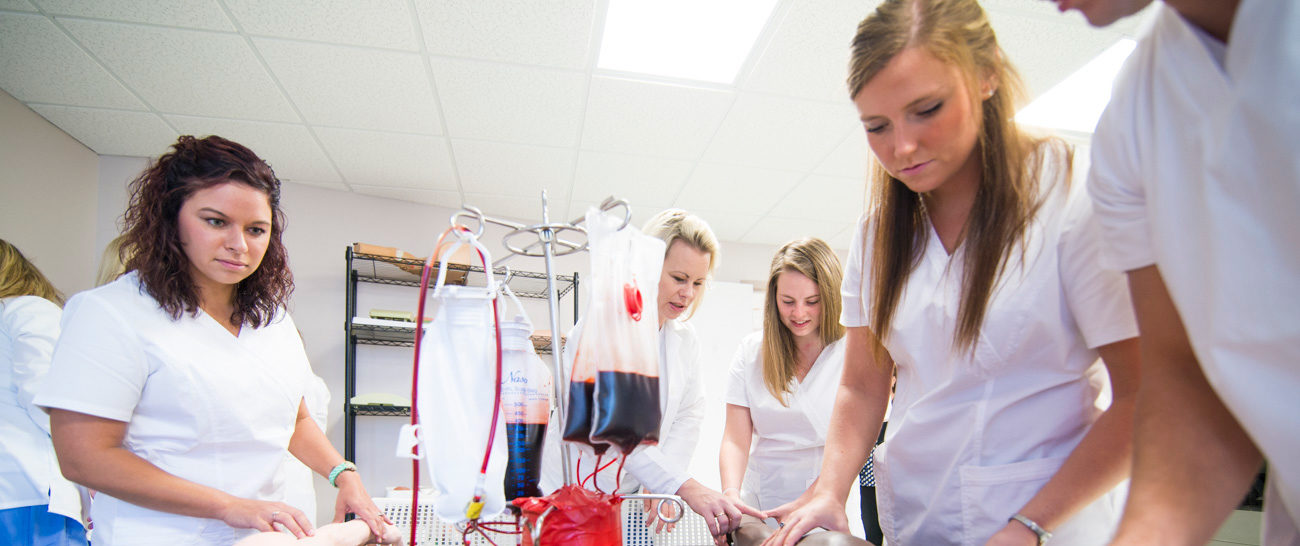 Prepare for a career in healthcare with a nursing degree from SMWC in our on-campus degree program.
Bachelor of Nursing Overview
As a nursing student at The Woods, you will be prepared to assume a role in professional nursing or advance to graduate education. As healthcare changes, you will be ready to integrate technology, utilize data, apply evidence-based findings, communicate and collaborate effectively and creatively plan solutions for the best client outcomes. Nursing graduates are expected to demonstrate the following:
Advocacy of holistic health
Communication and collaboration skills
Culturally sensitive nursing care practices
Leadership and management abilities
Professionalism
A strong awareness of client safety
Support for social justice
At SMWC, you will benefit from a variety of simulated and real-world educational experiences. The nursing skills lab and modern chemistry labs provide students with state-of-the-art equipment and a simulated hospital learning environment. Thanks to our partnerships with local healthcare organizations, students also have access to off-campus simulation centers and opportunities for clinical experiences.
Admission Information
Are you ready to become an SMWC nursing student? Here's what you need to know.
The fall 2020 application deadline is August 11, 2020
High school diploma or its equivalent, such as a general equivalency degree (GED).
Successful completion of the pre-nursing core course work with a grade of "C" or better and can only be repeated once for grade improvement, including BI 231 Anatomy and Physiology I and BI 232 Anatomy and Physiology II.
All attempted cognate courses must be completed with a "C" or better and can only be repeated once for grade improvement once admitted to the program, these include:

PS 111 Psychology
CO 111 Intro to Communication
CH 121 General Organic Chemistry
MA 117 Quantitative Reasoning
BI 252 Intro to Micro
BI 330 Bioethics
KHS 275 Nutrition

If a student does not earn a C during the second attempt for prerequisite, cognate, or nursing courses, they are dismissed from the program for a period of three years.
The Nursing Admission Committee review all previously earned college credit, and students must have earned an overall 2.5 GPA.
Students need to score a 65 percent on the Assessment Technology Inc. entrance examination identified as the Test of Essential Academic Skills (TEAS) within the last two years of the admission deadline. Regardless of the location of the testing site, a student may only attempt this exam twice per admission cycle. If students attempt this exam more than twice, regardless of the location, the Department of Nursing will only look at the first two scores.

The dates to take the exam will be in March, 2020
For information on additional dates please contact Morgan Reardon

Current criminal background check within the last 30 days of application.
Negative Drug Screen within the last 30 days of application.
If a student is ineligible for the nursing program they must wait a full year to reapply the following fall. If the student is ineligible for two consecutive years in a row, the student is not eligible to reapply for a period of three years.
A student cannot have failed out of another nursing program within the last three years.
Incoming college freshman are eligible to apply for direct admittance into the nursing major if they have successfully completed duel credit Anatomy & Physiology I/II, or an equivalent, and have earned an ATI TEAS score of 65% or higher. Please contact our Program Support Specialist, Morgan Reardon, for more details.
Curriculum
All students are required to meet admission standards and take required courses.
Accreditation
Our program is accredited by the following organizations:
FAQ
Is there a required entrance test for the BSN program?
Yes, the TEAS (Test of Essential Academic Skills) is required with a score of 65%. Students who have passed the TEAS within the last two years may request an official transcript from ATI. A student is allowed to take the TEAS examination twice during an admission cycle. But if a 65% score is not attained for two consecutive admission cycles a student in eligible to apply for the SMWC nursing program for a period of three years.
How are students selected for the program?
The pre-nursing first year is open to any student. Acceptance into the major occurs June 1 of each year. The program is authorized to admit 32 students per year. Students are selected based on meeting the admission requirements such as overall college GPA, science GPA and TEAS score. A clean criminal background check and drug screen are also required.
Is there a waiting list for the BSN program at SMWC?
Not at this time.
What are the prerequisite courses I must take before beginning nursing courses?
Students are required to complete Anatomy and Physiology I and II with a grade of C or higher with two attempts maximum per course along with 30 hours of college credit to be eligible for the major. Students are also required to have earned a C or higher in all cognate courses if they have already been taken.
Where will I attend class and clinical?
Nursing students will spend most of their class time in Hulman Hall. This building houses the chemistry and biology labs as well as the nursing simulation laboratory. Clinical courses take place at our partner locations including Providence Healthcare, on campus; Union Hospital, Regional Hospital, and Hamilton Center in Terre Haute, Indiana. You may also complete clinical courses at other approved sites. Approval will be determined by Marcia Ann Miller, Ph.D., R.N., department of nursing chairperson.
Is the BSN program offered online?
No. The Bachelor of Science in Nursing program is not available online.
What if I am an out-of-state student? Will I be licensed in my home state?
Our B.S. in Nursing curriculum allows students to be eligible for licensure in all 50 states and U.S. territories.
What is the estimated cost of the BSN program?
The cost of a credit hour is the same for nursing as any other course at SMWC. There is an additional $225 cost for each clinical course. There are ten clinical courses in the program. This fee pays for your ATI testing package, your licensure review course, malpractice insurance, nametag and consumable products. Students must pay for their own uniforms, shoes and textbooks. All of these costs are included in the financial aid calculations.
Is financial aid available for nursing students?
Currently, nursing students are able to apply for any campus scholarships for which they meet the criteria.
I am a licensed RN, can I still complete my BSN?
If you are a licensed RN interested in completing your BSN on campus please contact us. We accept RN-BSN students on a case-by-case basis if space is available.