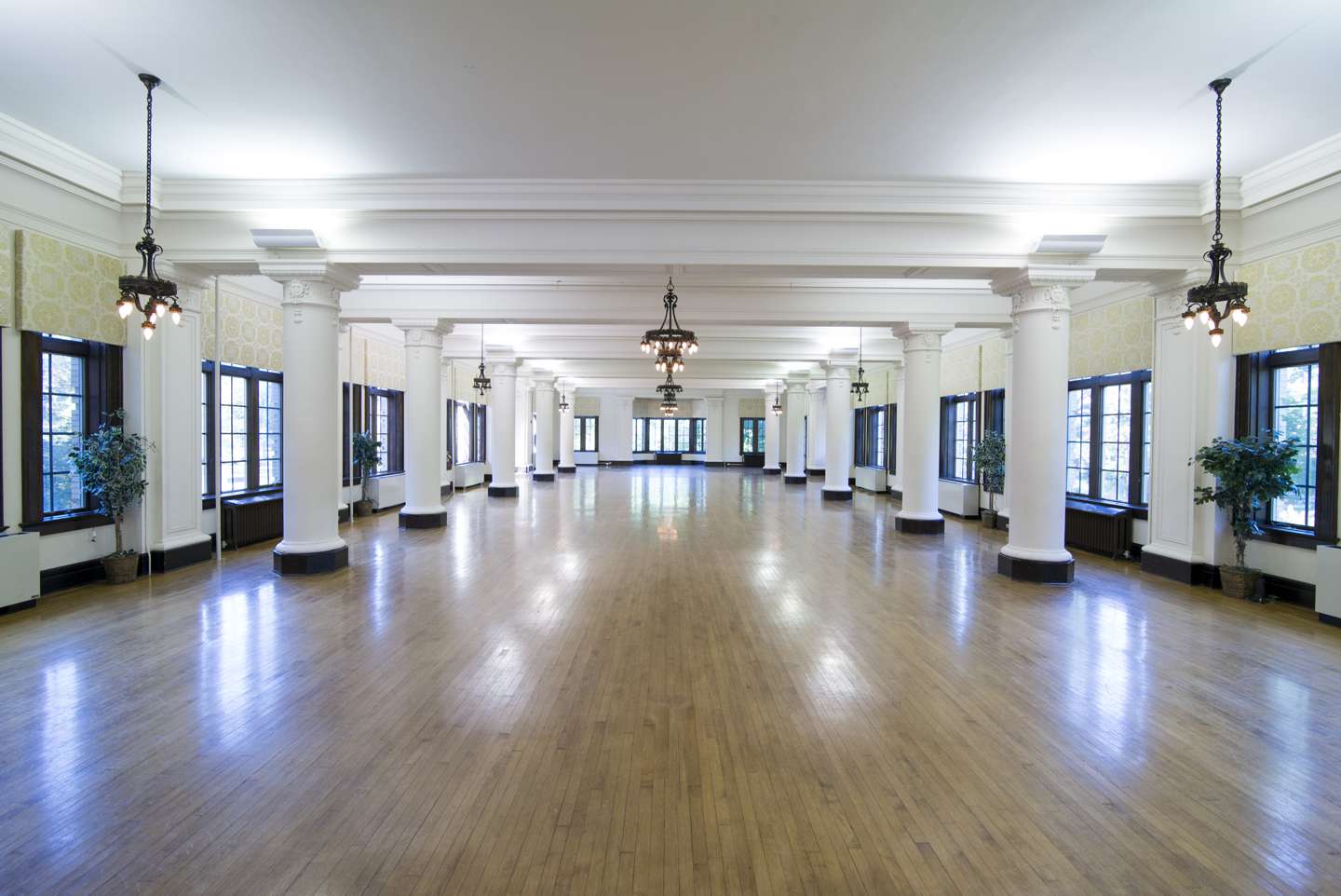 Some spaces require an additional technology fee. Most spaces have technology capabilities.
McMahon Ballroom, Le Fer Hall
Capacity: 250, Rate: $1,000
The elegant Italian Renaissance ballroom in Le Fer Hall is luxuriously spacious, featuring high ceilings, ornate columns, hardwood floors and antique lighting that creates a sophisticated setting. It accommodates up to 250 guests with a dance floor, head table or podium.
---
Cecilian Auditorium, Conservatory of Music
Capacity: 690, Rate: $850
Located in the Conservatory of Music, Cecilian Auditorium seats 690 people on the main floor and balcony. Recently renovated with updated seating, the Cecilian is a beautiful theatre with a proscenium stage, stage curtains, and spot and stage lighting. This space is perfect for lectures, performances and speakers with ADA capacity. This space offers a full range of technical, audio and sound capacities.
---
Hayes Auditorium, Hulman Hall
Capacity: 250, Rate: $350
Designed as a large lecture hall, Hayes Auditorium seats 250 people at individual chairs/desks. The seating is raked, making sightlines clear for the audience. The space includes two large Apple TVs with wireless internet with access to a podium and microphone.
---
Main Gym, Sports Center
Capacity: 1,000, Rate: $1,500
Hamilton Arena, the home court for the Pomeroy basketball team, can be perfect for a formal event or provide a unique setting for your special celebration. The collegiate regulation-sized arena can seat 1,000 spectators in the bleachers or 500 at tables on the gym floor.
---
Auxiliary Gym, Sports Center
Capacity: 500, Rate: $1,000
Connelly Court, the practice gym, can accommodate dinners, parties or a unique ceremony setting. The arena can seat 500 spectators in the bleachers or 250 at tables on the gym floor.
---
Ariens Atrium, Sports Center
Capacity: 120, Rate: $500
This flexible 3,600 square foot space is located within the Jeanne Knoerle Sports and Recreation Center. It houses a large concession area with sink, counter space and food-prep area as well as four large flat panel TVs. There is plenty of natural light and views from the arched windows that surround the space as well. Ariens Atrium is directly connected to the outdoor space, Anne's Terrace, and these spaces can be reserved together for a discounted price.
---
Meeting Room 1, Rooney Library
Capacity: 70, Rate: $200
This large meeting space is perfect for presentations and meetings. Conference tables may be arranged in a variety of ways to meet your needs. This room is equipped with smart technology allowing for interactive presentations, large projection screen, theatre-style sound system and wireless Internet. Located on the third floor of Rooney Library, this room will seat 80 people at tables or 120 seated theatre style.
---
Catering
All catering services are provided through Bon Appétit. To schedule an appointment to plan your event, call 812-535-4285 or email bonappetit@smwc.edu.