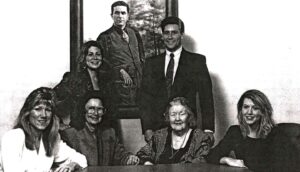 By Dianne Frances D. Powell
During her 83 years, Mari Hulman George touched many lives in the passion she expressed for auto racing, the arts, animal care and philanthropy, and the love she had for family.
At Saint Mary-of-the-Woods College, her name will always be remembered for the transformational gift she made in 1989 establishing one of SMWC's signature programs, the Mari Hulman George School of Equine Studies.
In a prophetic letter dated Oct. 26, 1989, Barbara Doherty, SP '52, then SMWC president, wrote to Hulman George: "I am truly confident that the school will result in adding yet more renown to the college and I am pleased that your name will be connected with that renown in perpetuity."
Hulman George died on Saturday with her family by her side, and her legacy lives on in many ways, including through SMWC's equine alums and students. Her loved ones and friends gathered on Thursday for her funeral at St. Benedict Catholic Church in Terre Haute. The Madrigals, SMWC's elite ensemble, sang during the Mass; Michael Boswell, associate professor of music, led the responsorial psalm.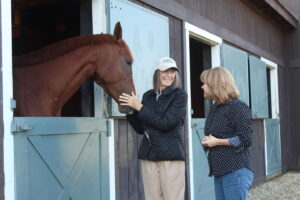 SMWC President Dottie L. King, Ph.D., her husband Wayne, Vice President of Advancement and Strategic Initiatives Karen Dyer, Equine Facilities Manager Angie McMillin and Equine Studies Department Chairperson Sara Schulz also attended the event.
Hulman George's connection to The Woods ran deep. Her mother, Mary Fendrich Hulman, graduated from the Academy (now SMWC) in 1923. She was the mother of alumna Josie George '94, mother-in-law of Laura Livvix George '94 and the cousin of Ginger Smith '89. Hulman George received an honorary degree from SMWC.
"Mari Hulman George made herself a significant part of the Saint Mary-of-the-Wood College family," said President King in a statement. "Our shared love of horses and commitment to education provided a natural fit that added to our connection through family… Our hearts are saddened today and our prayers will continually be with the Hulman George family."
The news of Hulman George's death brought members of the SMWC community to remember her kindness, and many of them shared their opinions on social media.
"My daughter is enjoying her equine education because of her gift," a Pomeroy parent posted on Facebook.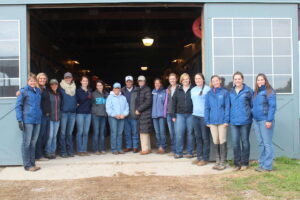 "She was a wonderful lady who gave us all an unbelievable opportunity in college to pursue our passion. She will be greatly missed but her memory will live on through the SMWC program," another wrote on SMWC's Facebook page.
Born Mary Antonia Hulman on Dec. 26, 1934 in Evansville, Hulman George served as board chair of Hulman & Company, the Indianapolis Motor Speedway and the IMS Foundation. Under her tenure, IMS and the Indianapolis 500 grew to attract worldwide interest. She attended primary and secondary schools at St. Benedict School in Terre Haute and the Ladywood School in Indianapolis. Afterward, she attended Purdue University.
In addition to bearing the name of its benefactor, SMWC's equine studies also conducted the Mari Hulman George Thoroughbred Adoption, which matched retired thoroughbred track horses with new homes and second careers.
"[I'm] Glad to have had the opportunity to meet her," Debra Powell, Ph.D., associate professor of equine studies, wrote on Facebook. "A wonderful caring woman with a passion for providing the best for her equine and canine companions and sharing that compassionate love with all of us here at SMWC!"
"God bless and keep you."