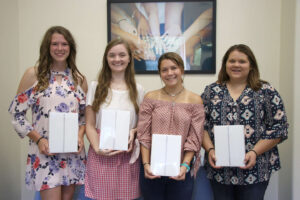 Earlier this fall, Saint Mary-of-the-Woods College welcomed outstanding students to its elite group of Saint Mother Theodore Guerin Scholars. The Saint Mother Theodore Guerin Scholarship, which carries a full-tuition benefit, is SMWC's highest and most prestigious award.
Indiana students Katherine Ginder of Carmel, Caitlyn Leohr of Clay City, Kaylie Meehan of West Terre Haute and Brooke Stateler of Shepardsville received full-tuition scholarships for the academic year 2018-19. They also received tablets as part of the award.
Two of the scholars, Stateler and Meehan, chose nursing as a major. Leohr is majoring in equine studies while Ginder chose elementary education.
"It [SMWC] has always inspired me and has shown that I can transform a simple idea and make it into something beneficial. Since I am from the area, Saint Mary-of-the Woods College is spoken highly of and I wanted to be a part of the tightly knitted community," Stateler said.
"The core words it is built upon attracted me even more. I believe very strongly in sustainability, social justice and women's issues. This college I believe will give me more opportunities to build my networking and allow me to give back to my community through clubs."
Four students are awarded the scholarship every year. Other accomplished students are also invited to join the program to form a community on campus to carry on the values of Saint Mother Theodore herself: faith in Providence, quality education, persistence in service, reflection and mentorship. Other freshmen who joined the program this year are Maesa Myers of Hillsdale, Autumn Wilson of Culver and Hannah Wonders of Jasonville.
---
The following is a full list of students currently in the program:
Kristin Foster
Taylor Gardner
Katherine Ginder
Bridget Gutish
Emily Hansen
Audrey Kinne
Caitlyn Leohr
Mannah Mace
Allison Mauk
Marissa McCalister
Kaylee Meehan
Madison Miller
Maesa Myers
Brooke Stateler
Caroline Steinrock
Allee Taylor
Logan Thralls
Autumn Wilson
Hannah Wonders
Elizabeth Yeazel