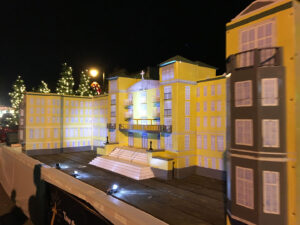 By Dianne Frances D. Powell
Creativity, community and Christmas spirit kicked off the holiday season in downtown Terre Haute on Saturday as thousands of people enjoyed the Light Your Way Christmas Parade hosted by Saint Mary-of-the-Woods College (SMWC), in partnership with Miracle on 7th Street.
But behind the bright lights, dance moves, candy and familiar characters of the season — from Santa Claus to Olaf (of the Disney movie, Frozen) — were the efforts of SMWC students Karah Ellis and Maddie Stuck, both of Terre Haute, who worked tirelessly in the last few months to organize the holiday event. The student-led parade was one of many leadership opportunities students can be a part of while at SMWC.
In an interview with WTWO-TV, Ellis said it is inspiring to be a part of a community that embraces such an event. The festivities remind everyone of the importance of family and love for each other and the community, she said.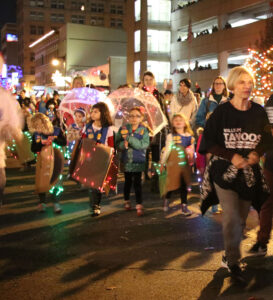 More than 100 members of the SMWC family proudly walked in the parade surrounding SMWC's float: a model of the majestic Le Fer Hall, one of SMWC's historic buildings which is currently used as a residence hall. SMWC President Dottie L. King, Ph.D., and her husband, Wayne, served as grand marshals. Co-chairs Ellis and Stuck carried the "Light Your Way" banner during the procession.
More than 70 float entries brought their A-game to the parade each vying for awards of the night. Entries from high schools, churches, non-profit organizations, local businesses and colleges and universities all spread holiday cheer, but in the end, three took home awards:
Best Overall: Teresa's School of Dance
Most Creative: Girl Scouts of Central Indiana
Most Lights: Terre Haute Regional Airport
The anticipated holiday event this year added a feature aiming for inclusivity. A sensory friendly block was designated along Ninth Street, from Cherry Street to Wabash Avenue, to allow individuals with sensory sensitivities to enjoy the festivities. Parade participants were instructed not to distribute food and play music while passing through the area.
See more on Flickr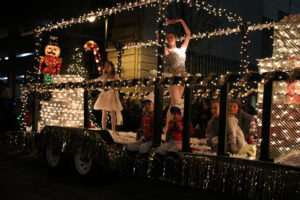 ---
Additional Coverage
Tribstar
Lighting the way to the holidays
WTWO
Festivities Downtown For Miracle on 7th Street
WTHI
Miracle on 7th Street continues with Light Your Way parade
Light Your Way parade held in downtown Terre Haute