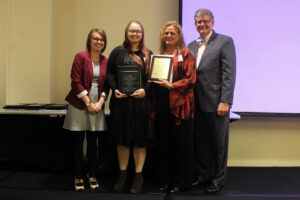 A Saint Mary-of-the-Woods College student was among 30 first-generation college students from Indiana's independent colleges and universities who was celebrated Nov. 4 for outstanding achievement in the freshman year and successfully advancing toward completing a bachelor's degree.
Sophomore Emily Stattner of Cloverdale was recognized during the 28th Realizing the Dream banquet in Indianapolis organized by Independent Colleges of Indiana (ICI). Stattner received a $2,500 check to help with college costs; a teacher she identified to be "most influential," Susan Jordan of Cloverdale Elementary School, was awarded a $1,000 professional development grant.
"Made possible by a grant from Lilly Endowment Inc. to the Independent Colleges of Indiana, the event recognizes first-generation students attending ICI campuses, along with their inspirational teachers and families" according to ICI. They are recognized for "realizing the dream" of being the first in their families to go to college as well as academic achievement during their first year at college.
"Realizing a dream takes commitment, hard work, and, most often, a helping hand from family and others. … One out of every three students on ICI campuses is first-generation. Generous financial aid provided by the campuses themselves, combined with state and federal grants, makes a private college education a possibility for all students in Indiana," ICI said in a news release
"We are so grateful to the Lilly Endowment for making this inspirational program possible," says David W. Wantz, ICI president & CEO.  "We are proud, too, that because of the higher graduation rates of our ICI colleges and universities, these students are significantly more likely to realize the dream of completing their degrees in four years."