With her family – and her loyal dog, Sugar – on the sidelines, Hannah Rogers was off. She began by cantering down the ring along the poles for the timed event at the Saint Mary-of-the-Woods College (SMWC) equestrian camp.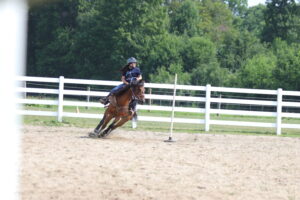 Rogers quickly motioned for her horse to turn around the pole, and then she began maneuvering them, keeping her speed.
She will be a high school freshman this year in Worthington, Indiana.
She has been competing in barrel races with camp instructor and SMWC equine facilities manager, Angie McMillin, where they participate in local and out-of-state shows.
Rogers has known McMillin for almost her entire life – Rogers' brother and McMillin's son race sprint cars together. Rogers has been riding for about nine years, and this was her third or fourth year at SMWC's camp.
Although she does compete, she says the camp still teaches her a lot.
"There's always something new to learn when you ride horses. Every time I come here, I learn something and keep improving on something that I need to improve on," she said, reuniting with Sugar. While at camp, she stays with McMillin, so she hadn't been able to see her dog for the week.
And while staying with McMillin, Rogers is put to work. They go to the barns early to clean and get the horses ready for the other campers. It's also a good time for the two to catch up.
"It's a great bonding time for her and I. She comes home with me and rides my horses, which is really cool," McMillin said.
Seeing Rogers' improvement is one of McMillin's favorite parts of the experience.
"It's awesome to see the development and growth. She's very competitive when she walks into the ring. That's been a really cool evolution to see," McMillin said.
Rogers wants to be a large animal vet and is considering The Woods when she graduates from high school.
This year, the camp was structured a little differently. The advanced and intermediate campers were able to choose what interested them most – whether it was western, hunt seat or timed event. In previous years, the campers were all taught the same thing, McMillin said.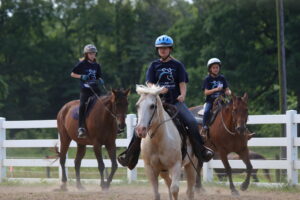 "Everybody got to break into their own individual concentration in what they were interested in," she said. "They could concentrate on what they really like to do."
Also new this year was an activity where they made posters. The campers picked a magazine and found something they didn't know about horses and then made a poster about what they learned. Topics ranged from diseases that affect horses to how to make a horse comfortable while being ridden. She said it went over well, and they will most likely continue it at future camps.
Overall, McMillin said the camp went well. "Thank you all for letting your children come," she told parents after the Friday morning event that showcased what the campers practiced. "I think they all learned a lot."
Sara Schulz, assistant professor of equine studies and western coach, along with SMWC students helped with the weeklong day camp.
A photo gallery of the camp can be viewed here.