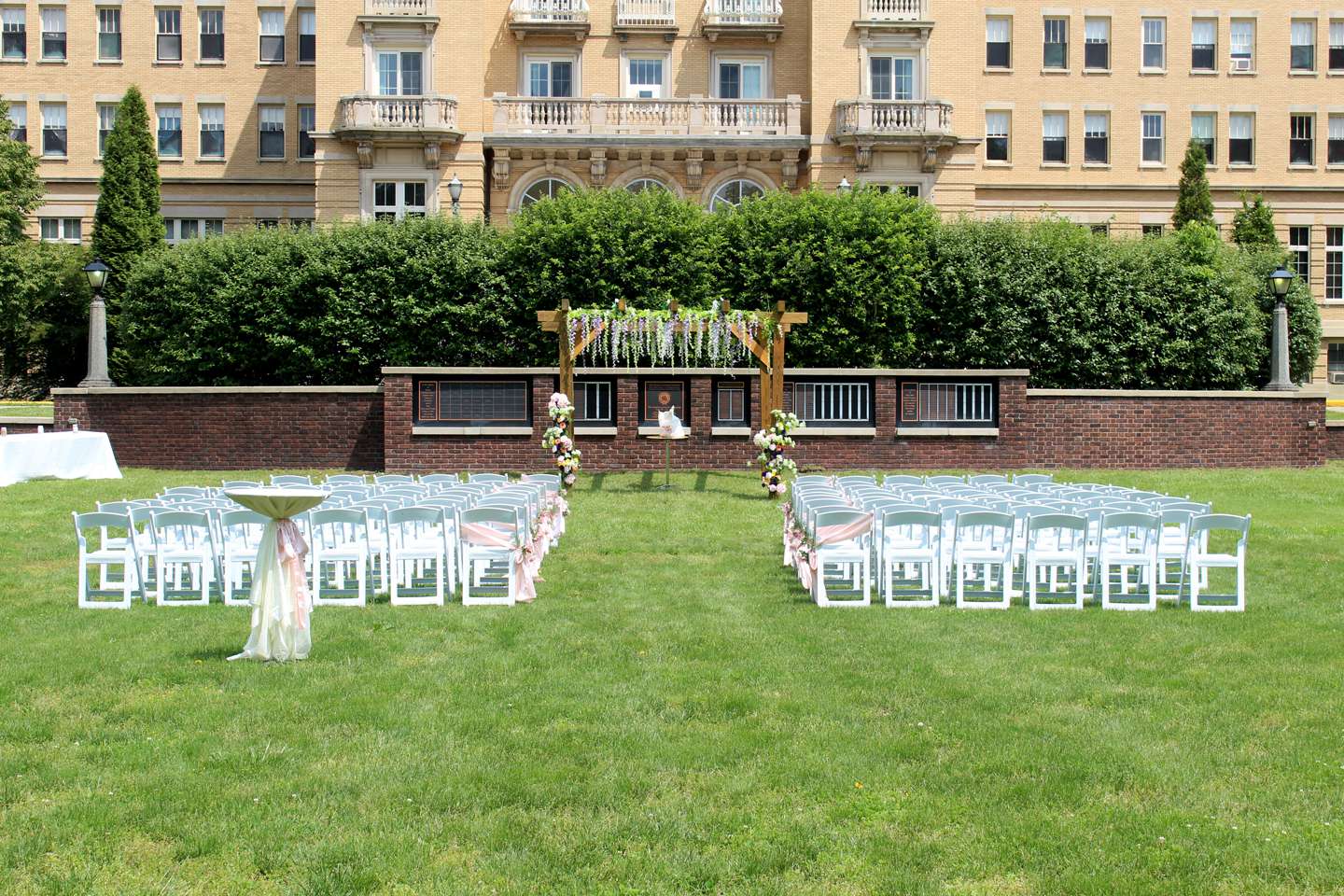 Sunken Gardens, Le Fer Hall
Capacity: 250, Rate: $350
Located just outside of Le Fer Hall, the sunken gardens are a beautiful and large outdoor area, perfect for outdoor weddings and specialty events. The space is surrounded by a number of Saint Mary-of-the-Woods landmarks such as Le Fer Hall and The Avenue and can accommodate 250 guests.
Guerin Courtyard, Guerin Hall
Capacity: 35, Rate: $250
Located in the center of Guerin Hall this space is decorated with nice benches, shrubbery and landscaping. Perfect for a small get-together or intimate ceremony in a lovely outdoor setting, this space has capacity for 35 guests.
Patio, Guerin Hall
Capacity: 100, Rate: $200 ($300 total for both Patio and Rotunda)
Located directly outside of Guerin Hall, the Patio can be used in a number of different settings from ceremony to reception. Tables and chairs may be used throughout the space giving it a much more inviting atmosphere. This space can seat 100 guests. The Patio is directly connected to the Guerin Hall Rotunda, and these spaces can be reserved together for a discounted price.
Anne's Terrace, Sports Center
Capacity: 100, Rate: $500
Anne's Terrace is a beautiful outdoor stone patio. The patio lends itself well to outdoor ceremonies or gatherings as it sits between the parking lot, Knoerle Center, Goodwin Guest House and Rooney Library. Anne's Terrace is directly connected to Ariens Atrium, and these spaces can be reserved together for a discounted price.
Catering
All catering services are provided through Sodexo Services, Inc. To schedule an appointment to plan your event, call 812-535-4285 or email sodexo@smwc.edu. For more information, visit the Sodexo website.