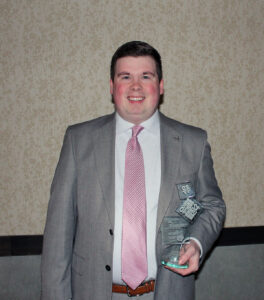 By Dianne Frances D. Powell
At the age of 27, Anthony "A.J." Dinkel can count himself among those who are lucky enough to have discovered a passion in life: the arts.
This passion drives Dinkel's role as technical director and stage manager for the Department of Music and Theatre at Saint Mary-of-the-Woods College (SMWC), his leadership in the Community Theatre of Terre Haute, involvement with the Indiana Community Theatre Association and other organizations, and leisurely pursuits.  It is also clearly displayed on the walls of his office in SMWC's Conservatory of Music, which are decorated with his prized collection of playbills and autographed photos of his favorite artists.
"I feel like I'm an advocate for arts in our community," Dinkel said. "I think the arts, whether it is music, theatre or dance [are] really important to our culture and our community." Those who are exposed to the arts become well-rounded, critical thinkers, he added.
This advocacy for the arts at SMWC and beyond earned him a place in this year's class of 12 Under 40, an award given to a dozen young professionals who are making significant contributions to Terre Haute through their work and volunteerism. He received the award Tuesday at a gathering in Terre Haute.
"There have been very few times in my life I've been speechless" but reading the e-mail about his selection to the 12 Under 40 class rendered him so, the outgoing Dinkel admits. He said he still finds his selection unbelievable because there are so many members of the local community "doing wonderful things." More than receiving the individual honor, it is "more important to me [that] somebody from the arts was recognized," he said.
Gail Hayes, Dinkel's colleague at Community Theatre of Terre Haute, praised his theatre experience, skills and ideas, particularly in his role as chair of the organization's drama committee, the group which oversees plays for upcoming seasons. She writes in her nomination, "For someone so young, AJ exhibits no trepidation at working with fellow volunteers much his senior, who've been doing things the same way for decades in some instances."
"AJ presents his case with smart words and a friendly manner, instilling confidence in those who are listening."
A graduate of Terre Haute South Vigo High School, Dinkel started working in theatre at a young age. He has experience in a variety of theatre roles including director, producer, set designer and builder and recently, actor. He studied music in college but later discovered theatre to be his true calling.
He pursues this calling every day and shares his passion with students at SMWC, where he oversees the technical elements of theatre productions, including lighting, sound and set; he manages the stage during productions; coordinates the schedule for the Cecilian Auditorium and assists with technical aspects of campus events.
"This is my 12th year doing theatre and I'm still not tired of it. Seeing everything come together is still really amazing," he said.
"It's given me my place in the world."