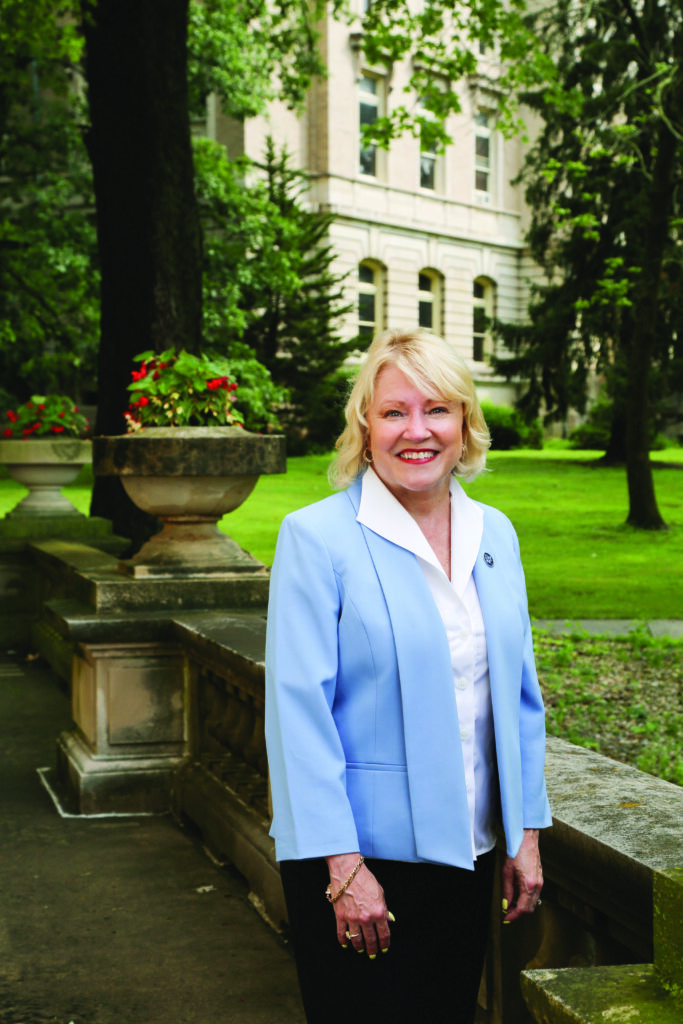 As we celebrate Foundation Day this week, it is daunting to find a meaningful message that encompasses a legacy that spans 182 years! As I pondered this reality, it occurred to me that the galvanizing and important point is that we are growing, thriving and offering high-quality education to a new generation of students. The original mission of Saint Mother Theodore Guerin continues to evolve to meet the needs of students in ever-new ways. As other schools founded by Mother Theodore and Sisters of Providence have opened, grown, waned and eventually closed, Saint Mary-of-the-Woods College has remained doggedly resilient and resourceful. The blessings of Providence have remained with us. So too has the devotion and generosity of passionate alumni who are beneficiaries of this unique and powerful Woods education and who have become benefactors for future generations.
The Foundation Day Celebration at the College will begin appropriately with a prayer service. It will be followed by a facilitated interactive dialogue focused on inclusion and fostering true belonging. Belonging is the theme of our academic year and we are challenging ourselves to be both reflective and intentional in order to create a Saint Mary-of-the-Woods College experience that is more than welcoming to the most diverse group of students in the school's history. The afternoon will be filled with acts of service throughout campus and the Wabash Valley.
Our educational mission has always embraced the call to expand access and to change attitudes, one student at a time. In 1840, the expansion was extended to young women and what they were capable and meant to accomplish. Through the early days of the College, higher education curricula included entry into new professions for women. Distance education and graduate degrees continued the forward momentum of opportunity for new groups of students. In 2022, the traditional campus program includes 28% students of color, 30% male, and nearly 50% are student-athletes. Our focus on the idea of "belonging" is creating rich and meaningful discourse; my prayer is that this creates a haven for people of diverse cultures and ideas to come together in loving and purposeful ways to create a more unified world.
As the makeup of the student body has changed through the years, the core of the mission has remained constant. High quality education, high expectation of graduates, great love for God, and great love for one another are unifying constants in the Saint Mary-of-the-Woods College experience. Saint Mother Theodore exhorted, "Grant, O my God, that all who dwell in this house may love thee much, may love one another and may never forget why they came here," and we do our best to live up to those expectations.
As you ponder your own Woods experience, I pray that you are blessed with a great sense of gratitude and peace. Saint Mary-of-the-Woods College is truly a special gift! We are grateful for its founding story and the decades of evolution and persistence that have created The Woods of today!
Our need for virtue is greater than for learning.
Saint Mother Theodore Guerin