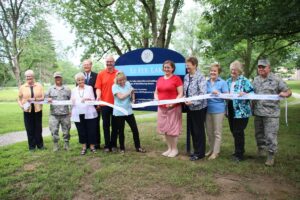 A newly-revitalized outdoor space has been blessed and rededicated on Thursday at the campus of Saint Mary-of-the-Woods College (SMWC).
The popular spot, Le Fer Lake, is once again officially open for students, faculty, staff and community members to enjoy. A half-mile walking trail now surrounds the lake near the campus gate, just steps from the students' residence hall.
This campus improvement will positively affect academic programming and student experience at The Woods, Janet Clark, Ph.D., vice president for academic and student affairs, said during a brief ceremony near the lake. Before the restoration, students were involved in the inventory of plants, trees, lake life and water quality as part of their classes, she said. Students in the Oakley Innovation Academy, SMWC's summer camp for middle schoolers, have also taken part in these activities.
With the restoration work completed, students — particularly those studying biology and environmental science — now have more opportunities for hands-on learning, Clark said.  "We are really blessed to have this natural habitat in our front yard," she said. "It's wonderful to have this living laboratory close by for the students to do undergraduate research projects with. They'll continue to study it."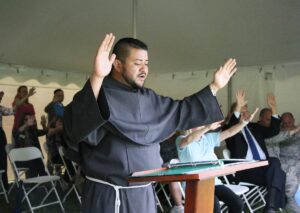 The completion of this phase is a milestone for the Le Fer Lake project. It was a vision SMWC President Dottie L. King, Ph.D., has had since becoming president eight years ago. It demonstrates SMWC's commitment to its students through providing more opportunities for science, technology, engineering and math (STEM) education, wellness and outdoor activities. This project is also part of the College's continued local community outreach.
"You are always welcome here," King said to the ceremony's attendees, which included donors, local public officials and members of the SMWC community. "It's really our intention to bring more people to this campus to enjoy what we've enjoyed for a long time."
King said from its inception, the effort has been focused on creating more educational opportunities for students, and a grant from the Hollie and Anna Oakley Foundation was instrumental in getting it started. Out of this grant came the Oakley Innovation Academy summer camp.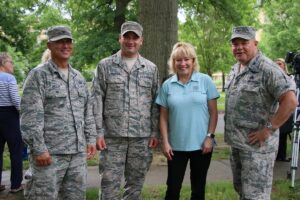 But this project is also at the core of one of the values SMWC embraces: sustainability.
"Our history with the Sisters of Providence as our foundresses make us really value creation," King said. "We believe that by honoring creation, we honor God. For us, sustainability is important for that reason. We care about the future of mankind."
Through the lake, SMWC is creating a sustainable habitat for plant and animal wildlife, a place for students to study and maintain, and a space for all to enjoy the beauty and serenity of the lake, King said.
With hands extended, Friar Mario Serrano led the blessing. Through water, the spirit of the Provident God is alive, he said. "May the blessing and rededication of Lake Le Fer remind us of Christ, the living water. We are called into the mission to love and then to teach, as Saint Mother Theodore Guerin eloquently spoke of," he said. "We pray for healing blessings on this water."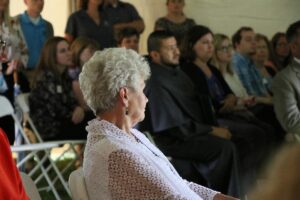 In addition to the creation of the walking trail, other work has included repairs to the dam and the removal of invasive species. Last year, a concrete filled-spandrel arch pedestrian bridge — deemed unsafe by structural engineering assessments — was removed with the help of the 181st Intelligence Wing at Terre Haute Regional Airport. The wing's civil engineering unit demolished the bridge and dredged the lake. Last month, SMWC thanked the volunteers from the wing with a special luncheon.
Now, the beautification begins with benches and picnic tables planned to be placed with help from volunteers of the upcoming United Way of the Wabash Valley's Serve the Valley initiative. Future plans include the installation of a dock and outdoor classroom, planting of Indiana-native species and restocking the lake in partnership with the Indiana Wildlife Federation. An application is also in process for SMWC to be designated a Tree City USA.
The Le Fer Lake project has required faith, patience and trust in donors, partners and friends, "and we are appreciative," said Karen Dyer, vice president for advancement and strategic initiatives. Donors and partners were recognized at the event, including:
Hollie and Anna Oakley Foundation
Vectren Corporation
Estate of Mary Hanley '50
Sisters of Providence
Anthem Blue Cross
Vigo County Commissioners
Vigo County Solid Waste District
Vicki Kosowsky, Rachel Leslie, Dennis Tarasi, Susan Dolle, McKenzi Kumpf, Kristy Fry, Zach Whitkanack, Chris Lozier and Rob Jean.
View more photos on Flickr
---
Additional Coverage