It's been nearly 100 years since Saint Mary-of-the-Woods College opened a new residence hall. Today, Dottie L. King, Ph.D., president, led the official opening of the College's newest facility to house students, Les Bois Hall. The structure is a multi-use facility, featuring a new dining hall — which was named the Barbara Doherty Dining Center and blessed in May — along with a market and bookstore.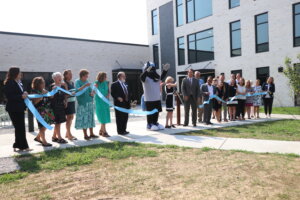 President King announced the building name during the ceremony, which had been kept a secret throughout the construction. Les Bois — pronounced "lay bwa" — means "The Woods" in French, and was taken from the name of the College's yearbook.
"This is truly a day for us to celebrate and look to the future," King said. "It holds for us a promise for future generations of students who will tell new stories and have new experiences in a new building, while still appreciating everything that came before."
Terre Haute Mayor Duke Bennett shared his congratulations about the new building, commenting that The Woods growth is an important part of the growth of the entire community. Terre Haute Chamber of Commerce President Kristen Craig '03, '16G joined King, Onyx the mascot, State Representative Tonya Pfaff '90, SMWC trustees and special guests in cutting the ribbon.
King was excited to share the name and opening with the students, faculty, staff and friends who attended the event. Guests and students enjoyed building tours and lunch by new food vendor, Bon Appétit, offered in the Doherty Dining Center.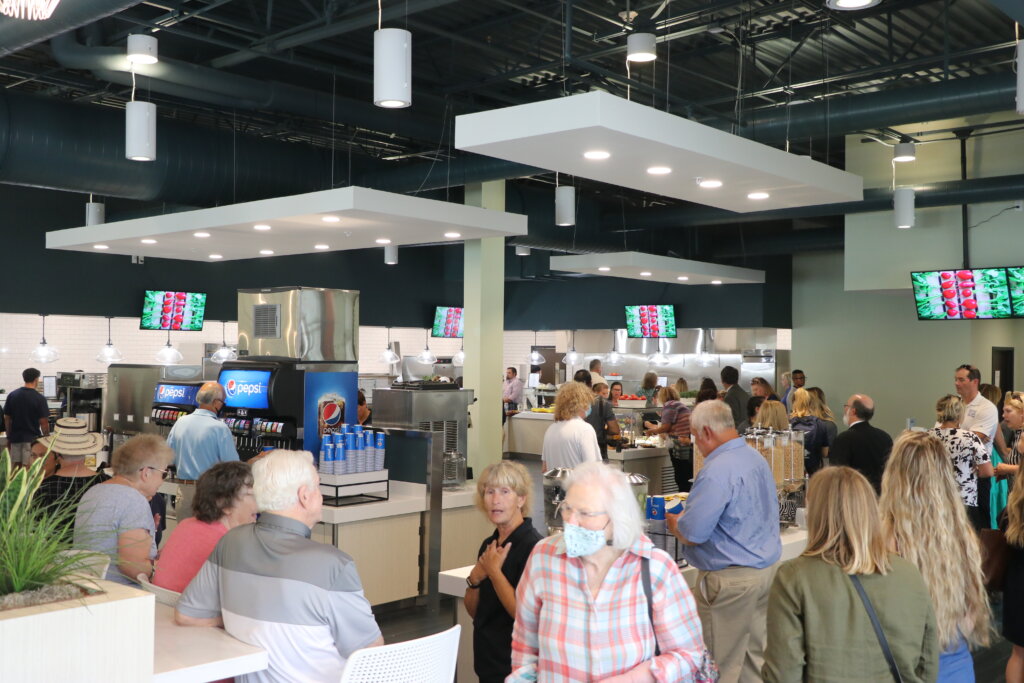 Ground was broken on the $15 million building in July 2020 and will soon be ready for students to move in for the upcoming fall semester. The opening of Les Bois Hall adds another 92 beds to the more than 300 beds already on campus. The campus bookstore, offering college gear and books, will be moved to the new facility from its present location in the lower level of Hulman Hall.
The project was made possible through partnerships, including a lead partnership with University Housing Solutions (UHS) as well as MKC Architects, Adena Corporation and Sycamore Engineering. Jim Schmidt, president of UHS, announced a $500,000 contribution during the groundbreaking of the building in 2020.
"Dottie believes, and I believe, it is Providence that brought us together," Schmidt said. "I think it's Providence our companies have the same mission, and I think the building is a result of Providence. It's absolutely stunning. This is not just a place where students come to live and learn — it's a place where students come to learn to live."
Matthew Teismann, principal and director of architecture at MKC Architects, hopes the new building symbolizes the beliefs the College was founded on.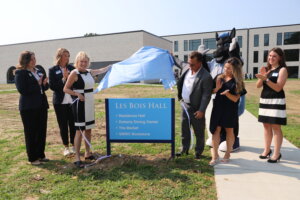 "Its design is intended to embrace core aspects of Catholicism — faith, family and community," Teismann said. "The design of this new residence and dining hall enhances the historic and rich context of campus yet is emblematic of a 21st Century learning institution. Our building is there for not merely a place to build dreams, but a shared vessel for belief."
SMWC student Katrina Strow shared during the ceremony that she is very excited to live in and build new traditions in the new building. "The walls within will certainly hold students, and also tears, conversations over dinner, Pomeroy Pride gear in our new bookstore and countless sleepless nights studying for final exams," she said.
King shared her thanks to the Sisters of Providence for their legacy, love, prayers and faith in the College that has led us to this day.
The facility features suite-type rooms equipped with mini kitchens, living rooms and bathrooms. The new dining center will have a 150-person capacity and will be a hub for the campus community.
In the spring, Bon Appétit was chosen as the new food service provider for SMWC. Bon Appétit is known for its culinary expertise, including small-batch scratch cooking, local sourcing of ingredients and a commitment to socially responsible practices.