By Dianne Frances D. Powell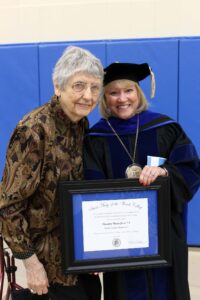 Dorothy Weinz Jerse has a number of achievements during her 91 years to justify nearly a dozen community awards, not least of which is the Sagamore of the Wabash from Indiana Governor Evan Bayh in 1990.
This Terre Haute resident, a strong and outspoken proponent of women's empowerment and racial equality, recently received yet one more recognition: The 2018 Distinguished Alumni Award from her alma mater, Saint Mary-of-the-Woods College. The award honors both the recipient and the prestige her accomplishments bring to the College. It is the highest honor bestowed by the College upon a graduate.
Jerse officially received the award from President Dottie L. King, Ph.D. during SMWC's 183rd Commencement on Saturday, but in the company of family and friends, the accomplishments of this community leader, author, activist and 1975 graduate of SMWC's Women's External Degree (WED) program (now known as Woods Online), was celebrated the night before at the Distinguished Alumni Banquet.
On that night, this Woodsie received a unique gift: her very own Woods Ring — featuring a deep black rectangular onyx stone carved with the emblem, SMW — the most recognizable symbol of the College. "It was a surprise!" Jerse said.
In an impromptu speech at the event, Cindy Hux Martin '78, a 2014 recipient of the award, said Jerse was the "pick of the litter" and "most deserving" of the award. She has known Jerse since she was a student at SMWC and describes her as "a gentle warrior of Terre Haute."
Born in roaring '20s Chicago (1926 to be exact) and raised in Des Plaines, Illinois, Jerse moved to Terre Haute with her husband, Bill, and four children in 1964. She brought with her a couple of years of accounting courses from the University of Illinois in Champaign-Urbana, a few years of work experience and transcripts from other colleges she attended, a deep love for her family and a curious, hardworking nature.
When the opportunity arose to complete her studies through the WED program, she took it. She graduated from WED two years after the program was founded at the age of 49, one year after the college graduation of her second child. Her degree concentrated on American history and communication. "Believe me, I was far from being a high school senior looking for a college. I was a second-semester college junior, in my late 40s, working part-time with two children still at home," Jerse said in her acceptance speech. "As I left for the weekend orientation, I said to my husband, 'If this is a buy-a-degree program, I will be home by noon.'"
The distance program — which is now in its 45th year — offers anything but a purchased degree. "I spent many, many hours in the library on-campus. One day, an employee brought me cake and ice cream. She explained someone was celebrating a birthday and they wanted to include me. Would this have happened at the larger universities where I had attended? No. The Woods was different."
Empowered by her Woods degree and with her children grown, Jerse set her community involvement into overdrive.  She started a small business, The Bridal Cottage, with three other women. She also became a curator for the Vigo County Historical Society, and after eight years was named executive director of the Terre Haute YWCA leading a $1.9 million campaign to expand the YWCA's building and programs. "We were told no woman's group in Terre Haute could raise $1 million. …The expanded facility was opened without one cent of debt and I retired in 1990," Jerse recalled.
But retirement only marked the beginning of a very successful career for Jerse as a book author and freelance writer, particularly of Vigo County and Terre Haute history. Her weekly column in the Tribune-Star (Terre Haute), Looking Back, ran for 25 years and her most recent book, "On This Day in Terre Haute History" was published in 2015.
Throughout her career, she has conducted nearly 2,000 interviews with a variety of sources including everyday workers — her "heroes." She credits her SMWC academic advisor Patrick Harkins for giving her the confidence to write.
In addition, Jerse is a selfless volunteer who has served in leadership roles in a variety of organizations promoting the causes she's passionate about including Girl Scouts, United Way, the Community Relations Board of the U.S. Penitentiary and the SMWC President's Advisory Board (1992-1998). She was an active participant and creator of local programs and discussions about women's issues.  Volunteerism is just part of her DNA. "I always feel you're in a community, you need to be in the community" not just an observer, she said.
Jerse is thankful for her active life in Terre Haute for the last half a century, but out of her accomplishments, Jerse is most proud of raising four kids who became engineers, educators, and authors.
Mary Jerse Schwartz, Jerse's eldest daughter and second child, says her mom's volunteerism in Terre Haute started at school and through organizations her children were involved in when they were growing up. "As they needed brownie leaders, cub scout leaders, she got more and more involved," Schwartz said.
From her mother, she learned resilience, problem-solving and being "nice" to people. She remembers getting in trouble when her mom got word that she hadn't been nice to somebody. Her parents taught, "If you don't like something, don't sit around complaining. Do something about it," Schwartz said.
One of Jerse's passions can perhaps give a glimpse to her approach toward others and the lessons she taught her children: collecting valentines.
She started her collection in the 1970s and just fell absolutely in love with it. By 1990, Delta Airlines' Sky Magazine was writing about her 1,400-piece collection (She was actually given a copy of the magazine by Barbara Doherty, SP, '53, 13th president of SMWC, who found it during a flight). She told the magazine valentines are authentic forms of social history because they document the times in which they were made.
Jerse lost many pieces during the 2008 flood in Terre Haute but was able to save enough to continue to share her joy in her collection. She has given more than 120 talks about her collection in Indiana and Illinois. "I love Valentine's Day!" she said, adding it should be celebrated every day of the year.
"Collecting Valentine's fit right in with the way I feel: We need more love [in the world]."
See more photos on Flickr