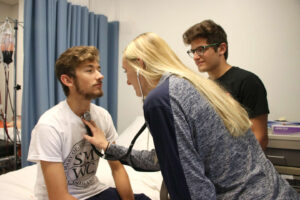 By Dianne Frances D. Powell
Nursing is decisively the top choice for students at Saint Mary-of-the-Woods College and is one of its fastest growing majors.
Data from the SMWC Office of Institutional Research show nursing as the highest declared individual campus major for the last three fall semesters. In the fall of 2016, months after the program launched, 54 campus students declared nursing as their major. This number jumped to 83 the following year and this year, there are 106 declared nursing majors.
While there are a variety of reasons why more and more students are choosing nursing, interest in the major has increased because of high demand in the job market. The Bureau of Labor Statistics projects growth in the RN workforce from 2.7 million in 2014 to 3.2 million in 2024, an increase of 439,300 or 16 percent. This, combined with the need for 649,100 replacement nurses in the workforce, brings the total number of job openings for nurses to 1.09 million by 2024.
SMWC sophomore Parker Nuest of Hebron cited a personal interest in nursing, a family history in the medical field, increased nursing job prospects and versatility of nursing as a profession as reasons why he chose this major. This SMWC cross country athlete wants to be a nurse anesthetist.
But Nuest is not alone in either being a man in a major dominated by women but also in the hopes of becoming a nurse anesthetist. Nuest's best friend and fellow cross-country athlete Jacob Turner of West Terre Haute shares the same goal. Turner says he wants to help people feel comfortable going into surgery.  He says he intends to be the best person he can be to provide the best possible patient experience and combat the stigma associated with going to the hospital or the doctor's office.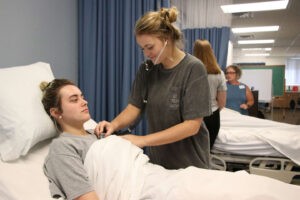 Both students — the only male nursing students in the class of 2021 — both "love" the nursing program and speak highly of its faculty who all have extensive field experience. "I haven't had a single bad experience with a professor. …They're on your side. They'll do anything in their power to make sure you succeed," Turner said.
This type of support means a lot to the students, Turner said. "This just makes The Woods that much more special," he said.
The effectiveness of SMWC's student-centered approach is reflected in outcomes from recent graduates. One hundred percent of the May 2017 graduating cohort are employed as nurses.
SMWC launched the nursing program in 2015. It currently offers two pathways for students to obtain a bachelor's degree in nursing: the traditional bachelor of science in nursing (BSN) degree which is designed for those who do not have nursing experience and the RN to BSN program, which enables licensed registered nurses to earn the BSN. The RN to BSN program is completely online and enrollment for October classes is currently open.
SMWC is also home to a variety of other health-related majors and programs including the health and wellness major, also housed in the nursing department, as well as the Master of Healthcare Administration (MHA) and the Master of Science in Nursing (MSN) with Family Nurse Practitioner concentration, which launched this year.
Unlike other graduate programs in nursing, which often require prior nursing experience for admission, SMWC accepts registered nurses coming directly from an undergraduate nursing program to its MSN program.
To learn more about SMWC's health-related programs, visit the Nursing Department.