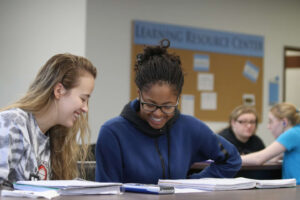 By Dianne Frances D. Powell
Saint Mary-of-the-Woods College is bringing in students to its picturesque campus and equally important, data show it is retaining them, graduating them, and helping them succeed beyond college.
SMWC's Office of Institutional Research reports fall 2018 enrollment in its campus-based program (which does not include online and graduate students) is estimated to be at 440 students, the highest since 1969. This shows a continuing upward trend over the last four years: 291 in 2015, 320 in 2016 and 377 in 2017.
This fall's new student enrollment — which includes first time freshmen and transfer students — is expected to be slightly over 200 students, a 17 percent increase over last fall, which also reflects an upward trajectory. The new student enrollment in 2015 was 97; it rose to 117 in 2016 and 170 in 2017.
This growth is a direct result of thoughtful decisions and a series of strategies made possible by teamwork throughout the entire campus — from the faculty, staff and current students to the board of trustees and the alumni. These strategies include SMWC's 2015 decision to become coeducational, the addition of nursing — SMWC's top major — that same year, and the introduction of new athletic teams and club sports. The redesign of the new SMWC website along with investment in digital marketing approaches all support recruitment.
But at the heart of SMWC's success lies a key approach practiced in all areas of the campus: personal attention to students and their families.
Brennan Randolph, vice president for enrollment management and institutional technology, said the admissions office enjoys a seasoned staff and little turnover, which helps provide the expertise to help students discover the value of an SMWC education. The offices of admissions and financial aid work collaboratively resulting in a people-centered approach that sets SMWC apart. The staff in admissions and financial aid help families understand SMWC's mission, identity and ways to make this educational opportunity possible, he said.
Once students are in, they tend to stay. In higher education, increasing enrollment is typically paired with a decline in student retention, but this is not happening at SMWC's campus program. Instead, retention is on a slight upward trend.
First to second year retention for first-time, full-time students is up from last year, with 73 percent estimated to return compared to 66 percent last year, according to the Office of Institutional Research. Retention is also expected to be slightly up for all campus students, with 79 percent estimated to return compared to 77 percent of students who returned last year.
Janet Clark, vice president for academic and student affairs, attributes this improvement to the academic and residence life support currently in place at SMWC. She says the faculty and staff regularly monitor a student's academic performance and intervene as early as possible.
"Because of our small class sizes, faculty and staff understand when the student is struggling and are able to make a difference. They can sometimes recognize it before the student recognizes it," Clark said.
Two years ago, the college completed the renovation and expansion of the Learning Resource Center, an intentional move to meet the needs of today's students. It is home to the accessibility and tutoring services, college success courses, and writing and math centers.
"The Learning Resource Center (LRC) is one hundred percent dedicated to student success above all else," said Director Christina Gunderson. Last spring, walk-in usage for the LRC was nearly 1,100. "This year, we will have a huge influx of athletes using our space because … all new athletes are required four hours of study tables a week," she said.
SMWC's curriculum includes foundational writing courses and college success courses. The college success courses, in particular, equip freshmen with the skills needed in college such as time management, study tips and career exploration. Gunderson, who teaches some of those classes, said she also guides her students to the major that best fits their talent, interest and personality. Gunderson's students are required to spend at least an hour a week in the LRC as part of a college success strategy. In addition, there are also seminars and special events during the academic year geared toward helping all students in college and beyond.
The Woods also has efforts in place to help specific segments of the population succeed. First generation college students in the 21st Century Scholars program — which the college calls Pomeroy Scholars — works with a coordinator and an academic advisor to ensure they complete the required 30 credit hours per year to remain eligible for the award. They are also required to spend two hours per semester to engage in student and community activities.
Clark and Randolph both said improvements in campus facilities and services also impact retention. Recently completed and other planned renovations in the residence hall, student-friendly dining services, more campus activities and keeping students informed about these activities all enhance student experience.
These academic and social experiences help students aspire higher in life and at work. This shows through other student data tracked by SMWC.
The college's four-year on-time graduation rate has steadily increased over the last several years. According to most recently available data, students who started as freshmen in 2013 had a graduation rate of 46 percent, which is higher than SMWC's three-and five-year averages both at 43 percent.
A survey of this May 2017 graduating class shows 94 percent of responding graduates reported being employed or seeking to further their education within one year of graduation.