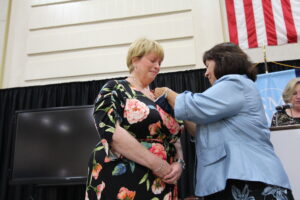 With the rise of the pandemic, the importance of healthcare workers and the realities of dangers and challenges in that field of work have been in the forefront. On July 24, 26 Saint Mary-of-the-Woods College (SMWC) graduates of the nursing program were officially pinned, an honor designated for nursing graduates stemming back to Florence Nightingale. Assembling in Hamilton Arena, these Bachelor of Science in Nursing (BSN) graduates were supported by family and friends in attendance.
President Dottie King, Ph.D., opened the celebration with a few words and the opening prayer. Yeijin Yeom, Ph.D., RN, CNE, an assistant professor of nursing presented the welcoming address and was joined by Marcia Miller, Ph.D., RN, the chair of the nursing department in the ceremony.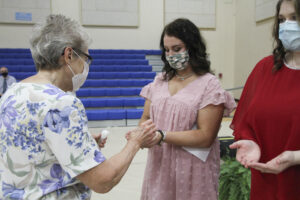 The ceremony included awards for faculty, friends and for students and were presented by Miller and Yeom. The first award given was the Friends of Nursing Award presented to Dr. Roland Kohr who over the years has taught hundreds of nursing students through his work in pathology. The Outstanding Instructor Award was presented to Andrew Delnat, MSN, RN for his role in working with the nursing students. The Outstanding Scholarly Project awards went to Kristiana Hickenbotham and to Katlin Schmittler.
Before the official pinning began, Sister Betty Hopf of the Sisters of Providence blessed the hands of the graduates. While the Sister doing the blessing of the hands usually rubs oil into the hands of those being pinned, this year she just put a drop of oil onto their palms to keep better physical distancing. She adorned the graduate with the blessing, "May the work of your hands bring healing to all you will touch," for the work that they would be doing in their newly chosen career.
After the hand blessing, each graduate was called to the stage and the SMWC nursing pin was fastened by a family member, friend or mentor. Each graduate was introduced to the audience along with their plans. Even in the midst of the challenges and risks, many are going on to work in ICUs, ERs and in local hospitals while some are moving on to graduate studies.
Miller's address to the students centered on the word that she had chosen to symbolize improvement for the nursing department – "resilience."
"Resilience is also about taking care of yourself in mind, body and spirit," she said. "We are relying on you to be the next leaders and change agents by being the nurses who integrate new evidence-based practice into daily patient care, who reforms health policy, and who advocate for social justice."
Sara Fields addressed her fellow classmates with words of encouragement as they ready themselves for the work that they will do in the world.
In Miller's conclusion to the graduates she said, "One of my favorite quotes of Saint Mother Theodore Guerin is 'We cannot do our work if we stay in the nest.' It is time for you to leave this nest, we have every confidence that you are ready to do your work."
View more photos on Flickr