Saint Mary-of-the-Woods College student-athletes enjoyed much success this semester as several of them bagged championship trophies for The Woods.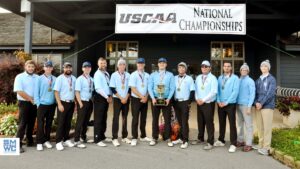 The Pomeroys were off to a great start in October with the SMWC men's golf team capturing the USCAA men's golf national championship for a second consecutive year.
Colton Kuppler, a senior from Fairbanks, was named 2019 USCAA Individual National Champion with a score of 69 (-3) at the 2019 USCAA Men's Golf National Championships. In addition to receiving this honor for the second time in his athletic career, Kuppler was also named USCAA Men's Golf Student-Athlete of the Year, USCAA National All-Academic and First Team USCAA All-American.
Head coach Abe Nasser said Kuppler is the epitome of a student-athlete. "He excels in the classroom as much as he does on the golf course. He will continue to do great things after his time with SMWC has passed," he told SMWC Athletics.
The SMWC women's cross-country team followed suit with its own national championship title in November at the match in Virginia Beach, Virginia. "It was exactly what we wanted and we were super excited to celebrate our win. We did exactly what we hoped and trained for and I'm so proud of our girls for how we competed. I wouldn't have asked for a better race!" said Kayla Coryea, who finished as the USCAA individual champion runner-up. The sophomore from Plainfield broke the College record with this finish.
In addition to Coryea, Zoe Trausch of Terre Haute, Breanna Barger of Crothersville and Kendyll Schulz of Bloomington, all finished the 6K as USCAA First Team All-Americans. The men's cross-country team finished in fourth place.
Because of these accomplishments by the golf and cross country teams, and the points gained from showings by volleyball and soccer teams this season, SMWC tops the 2019-20 USCAA Director's Cup standings. USCAA Director's Cup points are awarded for the number of sports offerings, attendance at the national convention, and results from national championship events. The standings will be updated after the 2020 USCAA national basketball championships.