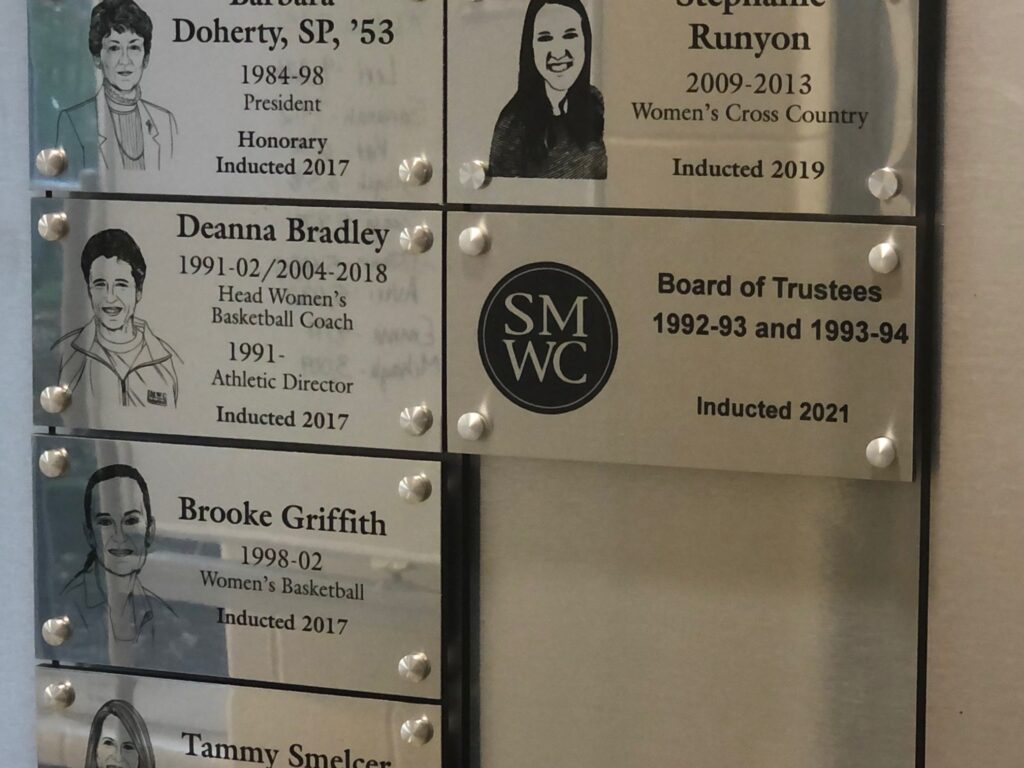 On Thursday night, Saint Mary-of-the-Woods College announced the most recent class of inductees into the SMWC Athletic Hall of Fame. During the banquet attended by more than 100 guests, President Dottie L. King, Ph.D., recognized the Class of 2021, which consisted of the SMWC Board of Trustees for the academic years 1992-1993 and 1993-1994. These 38 individuals were members of the board of trustees that made the vital decision to create scholarship athletics beginning with the women's basketball team and the softball team.
Brennan Randolph, vice president for enrollment management and institutional technology, served as the event's emcee. Emma Saunders, a sophomore women's basketball player from Terre Haute, offered comments about the importance of the decision made, not only for her but all other student-athletes that have played at SMWC since then. "Woods athletes receive a college education and continue to play at a competitive level in a sport they love," Saunders said. "Your work and pivotal vote you took more than 25 years ago made our Woods experience possible."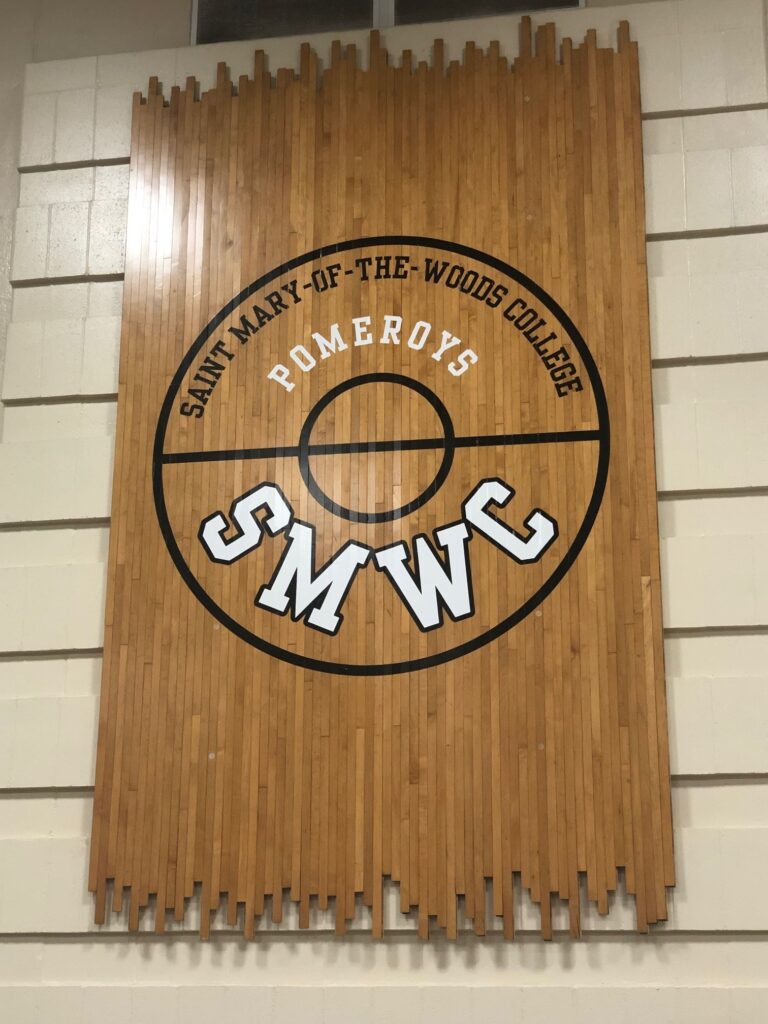 President King then offered remarks about the choice made by those trustees. "The decisions that were made to add scholarship athletics were a historic decision — a gym floor that would be talked about for the next twenty-some years, for strengthening the College at a time it was most needed, making The Woods competitive with other institutions, and finally, for setting in motion a ball that has never stopped rolling as we add men's basketball, sprint football and men's volleyball with a total of 16 athletic teams."
Several of the inductees attended the celebration and were presented with plaques listing the names of the inducted trustees.
Inductees Sue Hamilton '66, '90G and her husband, Wayne, spoke about being trustees during this time. The decision to have scholarship athletics was not a simple one. One of the issues was the gym floor, calling it "atrocious" mainly because it was warped. They told the story of how one of the trustees had a hat on, and they literally took the hat and passed it around to each trustee. "We raised $5,000 and were able to replace the floor," Wayne concluded.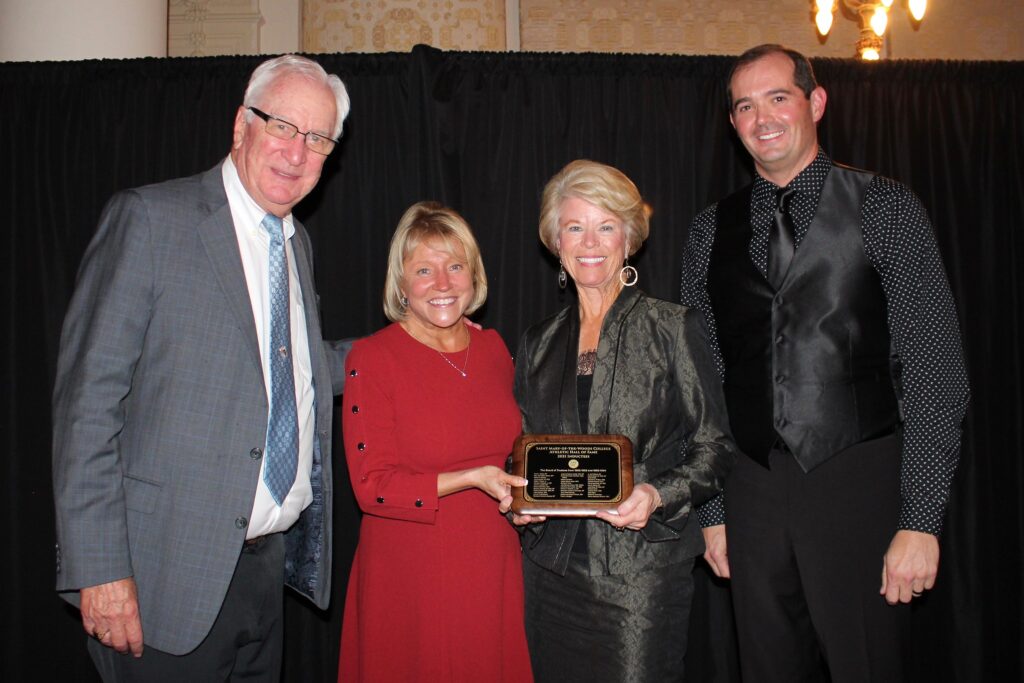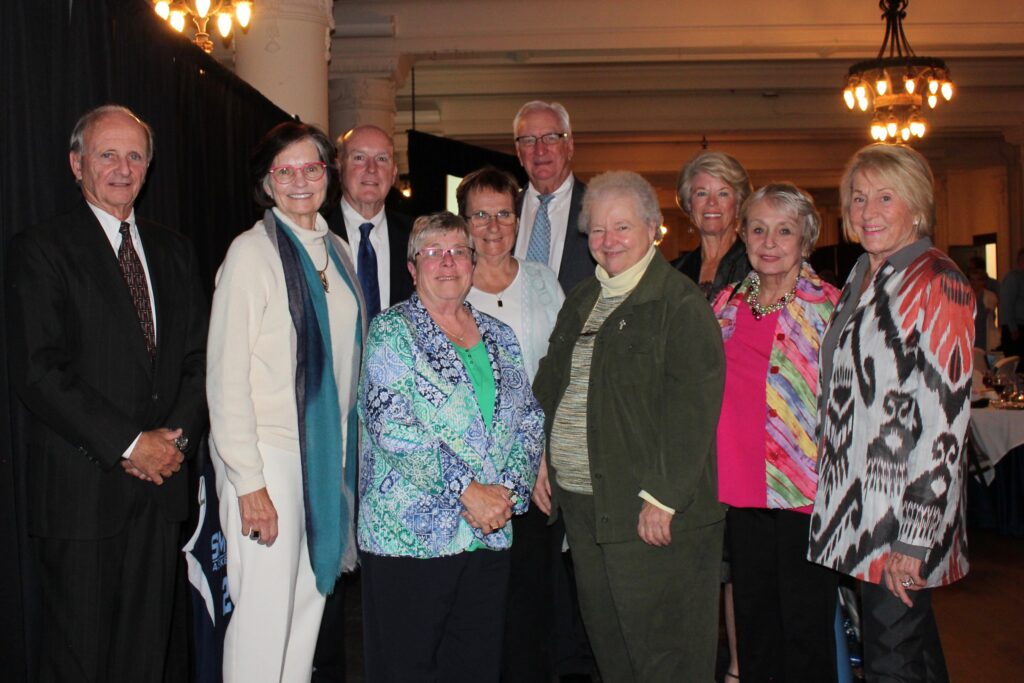 The SMWC Athletic Hall of Fame was created in 2017 and honors 11 other past inductees.
The members of the Board of Trustees that were inducted into the SMWC Athletic Hall of Fame are:
Mary Ellen Backer, 1963
David L. Bailey, RIP
Mary Add Wilson Baker, 1971
Marion W. Blalock
Joyce Brophy, SP, 1962
Walter P. Bruen, Jr.
George A. Buskirk, Jr., RIP
John D. Corbett, RIP
Monica Dell'Osso, 1971
Barbara Doherty, SP, 1953, RIP
Phyllis Dudenhoffer, 1989, RIP
Josie George, 1994
Larry B. Gildersleeve
Reverend Andrew Greeley, RIP
Julianne Fischer Haefeli, 1951, RIP
Susan Eichmuller Hamilton, 1966, 1990G
Wayne Hamilton
Jeanie Reime Heller, 1970
Richard R. King
Julia Rooney Ladner 1951, 1989G
Lawrence Ann Liston, SP, 1966
Francis J. McKeon, Jr., RIP
Reverend James E. Michaletz, RIP
John David Mooney
Martha Leinenbach Moore, 1961
Frank J. Morgan
Jack Nickert, RIP
Nancy Nolan, SP, 1959, RIP
Doris Parker
Maureen K. Phillips, 1966
Carmen Piasecki, 1970
Nancy Reynolds, SP, 1965
Lee A. Roads, RIP
Julia Shea, SP, 1956, RIP
Richard Smith
Virginia Smith, 1989
Gary Sojka
Robert W. Spanogle
Nancy Kotowicz Williams, 1960