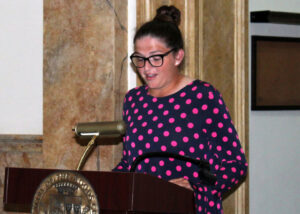 It was a night of recognition and gratitude.
The Saint Mary-of-the-Woods College Alumni Association Board of Directors joined friends of the College, faculty/staff members and students on Friday at Guerin Hall's rotunda for a celebration recognizing local and new scholarship donors, and their recipients.
The dinner began with welcome remarks from Barbara Brugnaux '70, chair of the SMWC Board of Trustees, followed by prayer led by Janet Clark, Ph.D., vice president for academic and student affairs.
One-by-one, scholarship representatives/donors were recognized and scholarship recipients were presented with certificates by Karen Dyer, vice president of advancement and strategic initiatives and Darla Hopper, associate vice president for financial aid and admissions. A new scholarship, The Kathy Kloiber Pacana '83 Endowed Scholarship, was introduced at the event with student Kaileigh Pruitt as its first recipient. Eligible students for this scholarship are student-athletes majoring in theology or nursing.
Mannah Mace, a senior from Brazil, Indiana, offered words of appreciation to the Alumni Association Board and the donors. "Your dedication to serve and give back to SMWC inspires me to do the best that I can to one day be able to give back in the same capacity," Mace said.
"Thank you for all that you've done because without you, SMWC students will not be able to carry out the legacy that we all love and cherish."
The following scholarships, recipients and donors were recognized:
Class of 1987 Endowed Scholarship
Recipient: Aundreya Corwin
Representing the class of 1987 were Lisa Eilbracht '87 and Susan McDowell '87
Mary Alice Shannon Klueh 1948 and Duane Klueh Endowed Scholarship
Recipients: Sophia Ricard and Abbigal Roberts
Donor: Duane Klueh
Jane Baker Hahn 1954 Endowed Scholarship
Recipient: Jayla Rogers
Donor and representing her family, Kathy Hahn Keiner '83
Pamela Hodapp Hollenbeck 1968 Endowed Scholarship
Recipients: Catherine Larson and Autumn Wilson
Donor: Paul Hollenbeck
Kathy Kloiber Pacana '83 Endowed Scholarship
Recipient: Kaileigh Pruitt
Representing the anonymous donor, SMWC Athletic Director Deanna Bradley
Sister Sue Pietrus Memorial Endowed Scholarship
Recipient: Allee Taylor
Representing the Sisters of Providence was Sr. Joan Slobig '64
Saint Mary of-the-Woods Indianapolis Alumni Club Endowed Scholarship
Recipient: Abbigal Austin
Indianapolis Alumni Club and SMWC Alumni Board of Directors President Jan Lorenzano attended on behalf of the club.
Saint Mary-of-the-Woods College Terre Haute Alumni Club Term Scholarship
Recipient: Alexis Allen
Kymberli Payonk '86 and Barbara Brugnaux '70 attended on behalf of the club.
Sisters of Providence Saint Mother Theodore Guerin Endowed Scholarship
Sara Langenberger
Representing the Sisters of Providence was Sr. Joan Slobig '64
Jim and Marilynn Sonderman Endowed Scholarship
Recipient: Sasha Worley
Representing the Sonderman Family were Amy Sonderman Woods '90, her daughter Julie Woods, and niece, Shannon Sonderman '18.
View more photos on Flickr