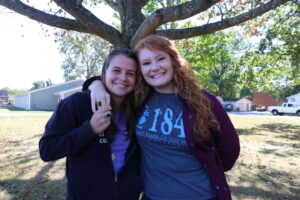 By Dianne Frances D. Powell
What starts out as friendship grows into a deep family connection.
Such is a statement relatable to generations of Saint Mary-of-the-Woods College alumni in describing the relationships they formed during their time at The Woods. It is also one that Lauren Sullivan Meyer, a 2009 business administration graduate, articulated during an interview Saturday at SMWC Homecoming. "We're still connected to The Woods," she said.
Even though she graduated 10 years ago, Meyer said she still communicates with professors, particularly related to career matters, and she keeps up with updates about her friends.
Meyer places a high value on her Woods family, which is why despite being busy with work and family the Terre Haute resident makes an effort to attend Homecoming annually. She remembers missing only one Homecoming since the event began at The Woods 12 years ago. She enjoys seeing friends and classmates. "It's something I look forward to every year," she said.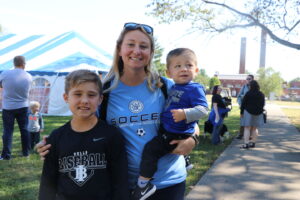 The former SMWC soccer athlete brought her two sons with her to the event in order to educate them about her Woods experience and to open their minds to SMWC being a possible choice for college. It's important for her to share this with her kids especially now that SMWC is a co-educational institution, she said. She wants them to understand the benefits of attending a college like SMWC. "I do better in smaller settings so, I was able to excel [at The Woods] …The relationships you build are just deeper."
These relationships not only form among classmates but also between alumni and current students. Carly Miller, a sophomore equine training and instruction major from West Union, Illinois, and a member of the equestrian team, thought it was "exciting" that alums and visitors attending Homecoming got to see the equine students participate in the equestrian shows on Saturday and Sunday. Connecting with equine alums and learning from them is important to her.
In addition to the equestrian shows, more than 600 people enjoyed Homecoming events and activities including a women's volleyball game, women's and men's soccer games, wagon rides, food, music and games around the "Beer & BBQ Tent," shopping for Woods gear at the bookstore and tours of favorite campus sites. Onyx, SMWC's new mascot, interacted with attendees at various events.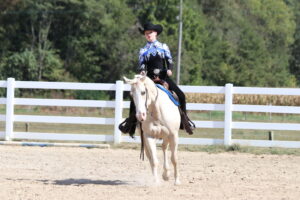 A two-hour concert by the Saint Mary-of-the-Woods College Chorale, Woods Vocal Ensemble, and Concert Band capped Saturday's festivities. The packed Cecilian Auditorium was treated to a fantastic performance of "42nd Street/1 St Mary of Woods Coll" by the Saint Mary-of-the-Woods College Chorale and Woods Vocal Ensemble. The lyrics for the piece, aligned with this year's Homecoming theme, family, were written by Michael Boswell, associate professor of music and director of choirs.
SMWC Madrigals performed several songs including "Will the Circle Be Unbroken" by J. David Moore, which the group delivered in the final round, known as premier competition, of the 2019 Mayo International Choral Festival in Ireland before being proclaimed its winner.
Under its new director John McIntyre, professor of music, the Concert Band played crowd favorites including classics like "We are family," "The Sound of Music" and the popular country rap and pop song, "Old Town Road," released this year.
"It feels really good to be back," said Nathan Stroup, a 2019 humanities graduate. The first year law student spent his fall break attending his first SMWC Homecoming. He was so happy to "see familiar faces," and visit the shrine of Saint Mother Theodore Guerin and the Blessed Sacrament Chapel. "I still feel a strong connection to The Woods," he said.
View Homecoming photos on Flickr
View Spirit Week photos on Flickr
---
Additional coverage