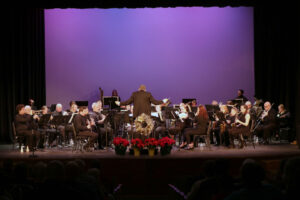 The Saint Mary-of-the-Woods College Concert Band will pay tribute to five beloved and remarkable former music faculty with a concert at 7 p.m. on Feb. 27 in the Cecilian Auditorium.
The concert entitled, "Tribute (to those who brought us here)," will feature music especially selected to honor the contributions of women who have made a lasting impact on SMWC's music programs: Marian Krajewska Bates, a voice professor at SMWC for 35 years; Marie Brendan Harvey, SP '51, founder of the SMWC Chorale and Madrigals; Cecilia Ann Miller, SP '52, who served in the music faculty for 15 years; Sue Pietrus, SP '72, director of choirs for 28 years; and Martha Steidl, SP '47, who taught music at the College for 30 years before continuing her ministry for 10 years in the institution's distance education program.
Under the direction of John S. McIntyre, professor of music, the SMWC Concert Band will treat audience members to a range of music selections — from Bach and Beethoven to Irish tunes and The Beatles. The Band's special guest artist will be The Crossroads Brass, a musical group based in the Wabash Valley.
The event is free and open to the public.