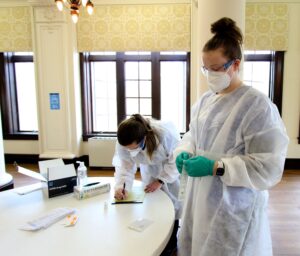 As students prepare to head home for the remainder of the fall semester, Saint Mary-of-the-Woods College (SMWC) is now offering free rapid-result COVID tests prior to students leaving campus. The tests will be available Nov. 19 and Nov. 20. Students leave campus Nov. 20.
SMWC nursing students were trained to administer the BinaxNOW tests. Christine Delnat, Ph.D., director of the RN-BS program and associate professor of nursing, said that having students give the test was a valuable learning experience for them.
"It's an opportunity for the students to provide a service to our community," she said. "They helped to set up the clinic, and also learned about the organization of the clinic which allowed them to be involved at all levels."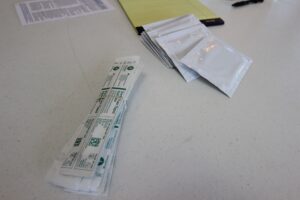 The Indiana Department of Health and the Independent Colleges of Indiana supplied the tests. With these uncertain times, College officials thought it was important to offer the tests. The test takes approximately 15 minutes to receive results.
"We are pleased to be able to offer free rapid COVID tests to the students before leaving for the break," said Janet Clark, Ph.D., vice president of student and academic affairs. "We are grateful to the Independent Colleges of Indiana and the Indiana Department of Health for helping to keep our students safe."
Students will take a week for fall break before taking finals virtually. Students are set to return to campus in-person for the spring semester beginning Jan. 11, 2021. Campus will continue its current protocols of wearing masks, physical distancing and sanitizing common areas.