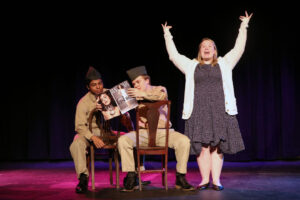 Follow the journey of a woman with a facial scar who embarks on a cross-country bus trip for healing — and discovers the true meaning of beauty— in a musical to be presented by the Saint Mary-of-the-Woods College Department of Music and Theatre.
Starring SMWC students and members of Terre Haute's theatre community, "Violet" is scheduled to grace the stage of SMWC's Cecilian Auditorium at 7 p.m. on Nov. 8; 7 p.m. on Nov. 9; and 2 p.m. on Nov. 10. Music therapy major Allee Taylor of Morgantown will play the lead role, Violet, supported by music students Jacob Reinhart of Merrillville as Monty and Michael Natt of Terre Haute as Flick. Students Nicole Hollowell of Merrillville and Tiffani Nunn of Fort Wayne are also among the cast members.
With a score from Tony-winning composer Jeanine Tesori, and book and lyrics by the acclaimed Brian Crawley, the musical tells the story of Violet who travels across the Deep South in 1964 to obtain the touch of a TV evangelist whom she believes could heal the visible scar across her face inflicted by a wayward axe blade. Although she is unable to remove the physical scar, Violet is able to repair scars lying beneath her skin.
"This show has a strong message about forgiveness and love that I felt would be appropriate for this place [SMWC]," said Director Karen Crispin on why she chose "Violet" for SMWC's fall musical. "We all have scars. Many of our scars are not visible to others, but we carry them inside. Each of the main characters in this show also has a scar to live with and, like Violet, they must learn that they are more than those scars. Violet's scar has made her a stronger person whether she realizes it or not, and I think this is true for all of us."
Winner of the Drama Critics' Circle Award and Lucille Lortel Award for Best Musical when it premiered Off-Broadway in 1997, and then on to a Tony-nominated Broadway debut in 2014, the musical features show-stopping anthems, ranging from American-roots to folk to gospel.
Other cast members include guest performers Zene Colson, Heather Williams, Sadie Herring, Will Buchanan, Eliza Blower and Damien Martin. Tickets are $12 for adults and $8 for area high school and college students. Admission is free for SMWC students, faculty and staff as well as Sisters of Providence and staff.
Purchase tickets