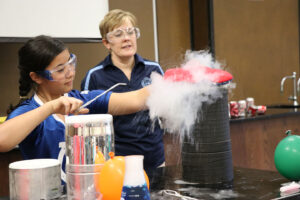 For the 10th consecutive year, Saint Mary-of-the-Woods College will host a conference aiming to nurture girls' interest in science, technology, engineering and math (STEM).
The conference, Expanding Your Horizons in Science and Mathematics, is 9 a.m. to 3 p.m. on Oct. 28 at SMWC's Hulman Hall. Open to young women in grades 6-8, EYH offers a day of hands-on activities and interactive workshops to inspire participants to consider careers in STEM.
The need to encourage more women to choose STEM careers remains, said Janet Clark, Ph.D., vice president for academic affairs at SMWC and co-organizer of the event. SMWC continues to proudly host EYH — which is part of a unique nationwide network of STEM conferences —because of its commitment to preparing women to be leaders, particularly in fields where they are underrepresented, she said. The fostering of math and science at an early age piques their interest and expand girls' knowledge and ability.
Nine workshops led by female STEM role models will cover topics including chemistry, biology, astronomy, forensics, engineering and sustainability. The conference includes a walking tour of SMWC and a science demonstration show. A separate program for parents and guardians will run concurrently with the workshops. The program aims to equip adults with knowledge and skills to support young girls' STEM goals.
In honor of its 10th anniversary at SMWC, a national consultant in STEM education and technology integration has been chosen for the event's keynote speech. Ginger Lewman works with Education Services and Staff Development Association of Central Kansas, a non-profit education service center, in inspiring and assisting educators as they determine the in's and out's of project/problem-based learning, STEM, technology integration and gifted/high-ability learners.
Sponsorship by Duke Energy has made several scholarships for local attendees possible, Clark said.