Life can be ruff, but for Saint Mary-of-the-Woods College (SMWC) students it's about to get a little better. Sadie, a 4-year-old golden retriever has joined the SMWC staff as the official therapy dog on campus.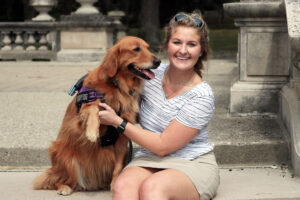 Sadie, a sweet-natured pup who just wants attention, will be on campus to assist students two days a week in the afternoons. Students are able to book 30-minute sessions with her through the Campus Counseling Center. This will help students with any stress they might be dealing with. Interaction with a therapy dog can help reduce loneliness, stress, anxiety and to help elevate mood.
Sadie belongs to Samantha Robinson, associate director of campus life, who had Sadie complete therapy dog readiness classes. Robinson, campus counselor Kalista Lawrence and Lisa Behringer '16 have been certified to handle Sadie while she is on campus.
After successful "Pups on the Lawn" events, campus officials decided that having a College therapy dog would benefit the students, faculty and staff. This makes SMWC the only institution in the Wabash Valley with its own therapy dog, and one of the few institutions in the state.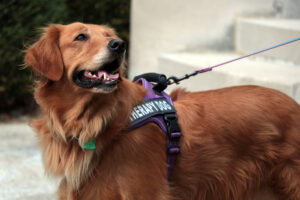 "That's how we knew we needed our own therapy dog," Lawrence explained. She said at previous events with the dogs, she saw "almost instant mood boosts" to students who were participating. She knew it would be beneficial to students for the College to have their own pup on call.
Sadie has already started her shifts with students. With her tail wagging and her tongue ready to lick, she has been welcomed with open arms.
Robinson says that Sadie has always had a calm, go with the flow personality, which made certifying her as a therapy dog a no-brainer. This also allowed the College to move forward with the project quicker – obtaining a therapy dog through the state can be a long, expensive process. With Sadie, she is always close to home.
Although Sadie is a great dog, that doesn't mean becoming a therapy dog was easy. "Due to COVID, the therapy dog training classes and certification process was very strenuous," Robinson said. "Sadie took some adapting to the situation considering she hadn't seen people with masks."
The College has several goals when it comes to the program, one being reducing stress and anxiety. The program also aims to create a more relaxed and inviting atmosphere within the college campus. This program also works to provide a therapeutic outcome for students that staff and faculty may not be able to offer.
"She gets a ton of attention from students, faculty and staff, but she recognizes when she needs to give people attention," Robinson said about her golden.
When Sadie isn't on official therapy dog duty, she loves going on short walks with her German Shepard sister, Zelda. Her favorite color is purple, like her mom, and enjoys chicken and apples with peanut butter for a snack.
Now it's just the challenge of figuring out how to fit her with an Onyx Ring…
---
Additional Coverage