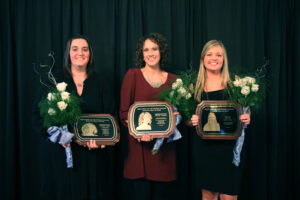 Three incredible women and former student-athletes who have had a lasting impact on Saint Mary-of-the-Woods College (SMWC) athletics were inducted into the SMWC Athletic Hall of Fame on Saturday.
In a series of events attended by SMWC staff, faculty, students and inductees' family and friends, the College recognized the athletic accomplishments of Erin Pugh Lucas '11, Stephanie Martoccio Hughes '02, and Jamie Christopher Thomas '02. Smiles, hugs and applause filled the day culminating in a banquet to honor the inductees.
Athletic Director Deanna Bradley said the three inductees represent SMWC well. In her closing remarks, Bradley said she was pleased to have had the opportunity to either watch or coach these exceptional women in a variety of sports at the College. She said she enjoyed seeing them back on campus and hearing about what they have learned from their SMWC experience.
The inductees each took to the stage to thank their families, friends, coaches and The Woods community for facilitating their growth and shaping them to be the women they are today. They also all shared fond memories from SMWC.
Lucas, who was a member of the Pomeroy women's soccer team, was a three-time United States Collegiate Athletic Association (USCAA) All-Academic team member and two – time USCAA First Team All-American. She holds the career record in goals with 43.
Born and raised in Terre Haute, Lucas said being able to play at The Woods was a "dream come true." She cherishes her time at The Woods, chief among them the opportunity to play in the national tournament in 2009 and 2010.
"It was definitely an experience I will never forget," Lucas said of her time at SMWC. "You get top rated education and if you're involved, that's what makes it that much better. It's a memory I will cherish forever and no one can take that away."
She said being named to the second class of the SMWC Athletic Hall of fame was an honor. "This place will always be home," Lucas said.
As a member of the Pomeroy softball team, Thomas was named a USCAA All-American for three years and was instrumental in helping SWMC win two National Small College Athletic Association (NSCAA) championships. She holds 13 single season hitting records and eight career hitting records. Thomas' stolen bases record of 31, set in 2001, stood for 16 years.
Thomas said she had an amazing four years at SMWC. "I had so much fun here. I love that every professor knew my name and knew my face, and I wasn't just a number," she said.
"I have so many friendships still today with all the people I played softball with. It's a great college and a great four years of softball."
Now a second grade teacher in Terre Haute, Thomas said she shares with her students the value of hard work both in the athletic field and in the classroom, an important lesson she learned at SMWC.
Inductee Hughes, who was recognized for her basketball record, also spoke about values such as discipline and responsibility, basketball lessons which are also important in life. Hughes was a member of the basketball team led by SMWC Athletic Hall of Fame member Bradley. She was a USCAA First Team All-American (99-00) and holds four single game records, seven single season records and five career records.
Her advice to prospective and current athletes?
"Never give up. It's tough… but stick with it. Go out there, play with heart," she said.
"Just enjoy your four years because it [time] goes by so fast."
The names and faces of these inductees were added to the Athletic Hall of Fame wall prominently displayed in the Jeanne Knoerle Sports and Recreation Center. An unveiling and blessing led by SMWC President Dottie L. King, Ph.D., kicked off the celebrations on Saturday, followed by recognition of the inductees during halftime of the women's basketball game. SMWC winning against the University of Cincinnati – Claremont 109-71 made the day even more exciting for the Pomeroys. Refreshment Services Pepsi received the Pomeroy Partner of The Year recognition at the event.
The Athletic Hall of Fame was established in 2017 to pay tribute to SMWC's student-athletes, coaches, administrators and supporters of SMWC Athletics. The inaugural class included Bradley, Mary Joseph Pomeroy, SP, '21, Barbara Doherty, SP, '53, Tammy Smelcer-Welborn '02 and Brooke Griffith-Langford '02.
See more photos on Flickr