In honor of its acclaimed music program and its commitment to cultivating the next generation of talent, Saint Mary-of-the-Woods College (SMWC) selects the best and the brightest aspiring musicians to receive the Musician of Promise Scholarship every year.
Admitted, first-time (freshmen) women and men attending SMWC full-time in a music degree program may compete for the scholarship. This academic year, two students were awarded $18,000 toward the cost of tuition. They are: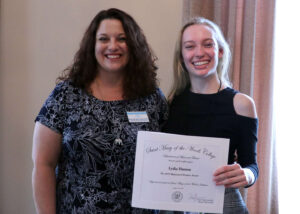 Lydia Huston
Vocalist Lydia Huston is an 18-year-old music therapy major from Carmel who identified SMWC's tight knit community as one of its best attributes. While a student at Highlands Latin School in Indianapolis, Huston was active in choir, handbell choir and drama club. She previously served as president of the service club and head of her school house. She participated in the Indianapolis Youth Chorale for three years, had her own cleaning business, and took voice and piano lessons for many years. She enjoys singing and playing music, going to antique and thrift stores, fashion and clothes, reading, and exploring new places. She was born in Illinois.
Fun fact: Huston has sectoral heterochromia, a condition in which part of one iris is a different color from its remainder. Her left eye is part green and part brown.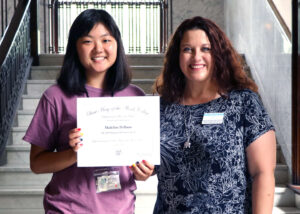 Madeline DeBaun
Madeline DeBaun, a pianist, says she loves SMWC's small class sizes; during her short time at The Woods, she has already grown "really close" to other freshmen in the music and theatre department. The 18-year-old music therapy major enjoys playing the piano, riding her horse, attending concerts and road trips with friends. A resident of West Terre Haute, DeBaun was involved in a lot of activities growing up including piano lessons and equine lessons. She volunteered for Terre Haute Youth Ministry, St. Patrick Catholic Church and St. Joseph University Parish, and participated in summer mission trips building and painting houses through the Catholic HEART Workcamp. She was homeschooled through the Seton Home Study School.
Fun fact: DeBaun was adopted from South Korea.
Students who wish to be considered for the Musician of Promise Scholarship should fill out an application to SMWC followed by an audition request form. All requirements including an audition, essay and an interview must be submitted by February 17, 2020.