By Karen Dyer
Vice President for Advancement and Strategic Initiatives
The history of Saint Mary-of-the-Woods reads like a well-worn, good book.
It begins with the story we all know – a journey into the wilderness of Indiana to establish a school – and, from there, it twists and turns throughout the burgeoning history of the state and our evolving nation.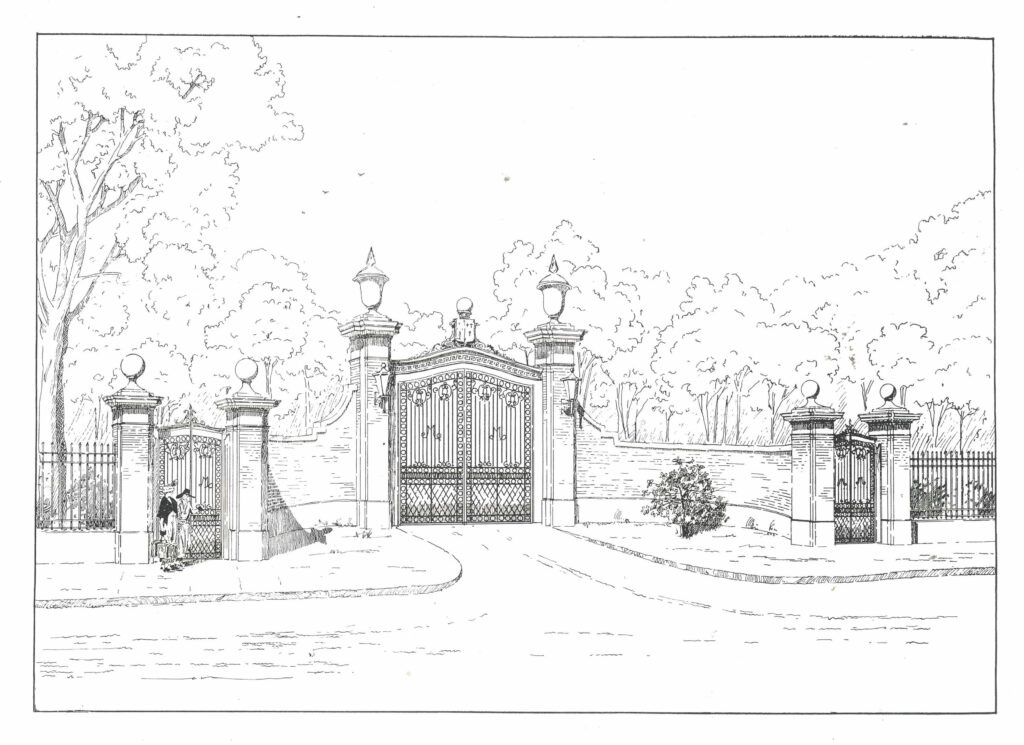 Its chapters are filled with stories we know and cherish, and many others which have been lost to time. Since 1840, students have persevered through the changing world around them — the Civil War, the fight for women's rights, two World Wars, a changing higher educational landscape and, yes, two pandemics.
Our story is one of commitment, innovation, change and persistence.
"It's clear that the College today has a strong connection to its past, its traditions and its founding – our past is treasured and respected. Our students love Mother Theodore and carry her story with them. I also believe that the College today must meet students where they are, fulfilling their educational needs, and this too is part of respecting our past," said Dottie L. King, Ph.D., president.
In respecting the past, we must understand that change is in our very nature.
Our story has grit and tenacity, too. Mother Theodore endured anti-Catholic sentiment from the 'Know Nothings' who worked against her in the late 1800s even as she was trying to grow the mission and build other schools throughout Indiana. Mother Mary Cleophus Foley made plans for a campus expansion to add Guerin Hall, the Conservatory and Le Fer Hall as part of the newly inaugurated College in 1909. Did you know that a 1920s master plan lays out the location for a new library to be built between Woodland Inn and the Grotto?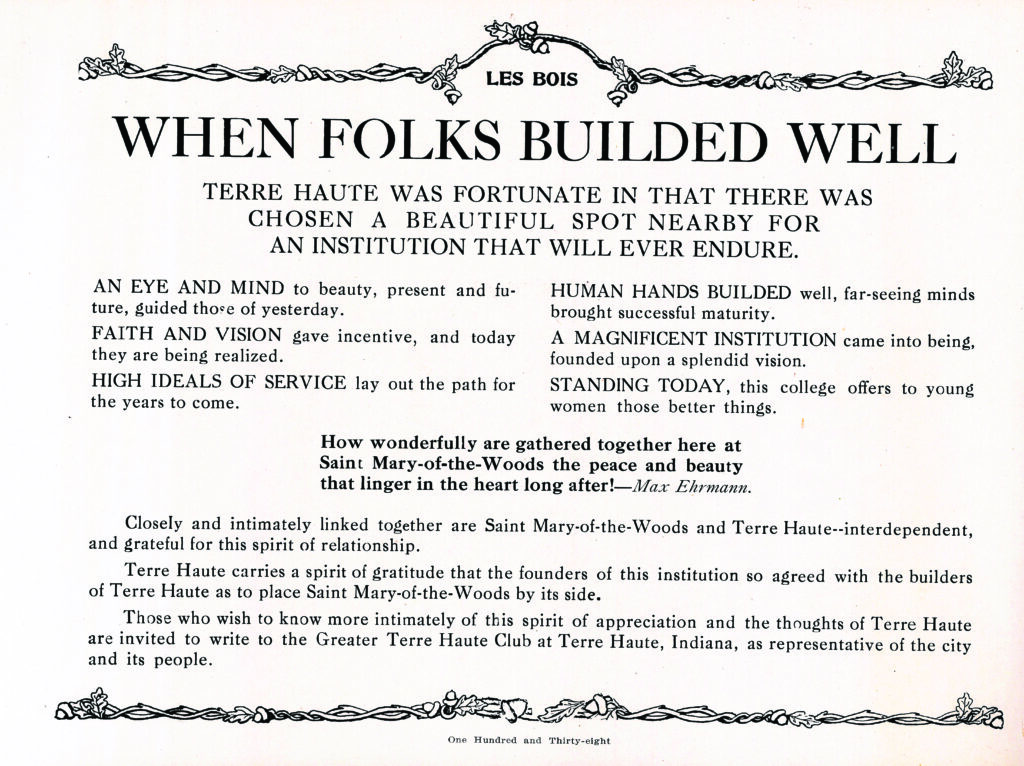 Students wrapped bandages and took first aid classes during World War I. They worried about air raids and were ready to retreat to the Conservatory bomb shelter (the basement underneath the auditorium) in the 1940s. In the 1960s, they worked to fight against racial injustices. And there is so much more.
"Mother Theodore was a pioneering woman, an innovator and a changemaker – called to a new world to bring the light of education to young women who were uneducated. From that time until now, she set a course for The Woods that we honor today with the launch of each new academic program, building and sports team. We are continuing her work and that of all those who have committed themselves to this mission by making sure that we innovate," she added.
King explained, "As I talk with our alumni throughout the decades at Reunion and when I travel, I am intrigued by the stories of student life during each of their times. It is so interesting to hear how the student experience has evolved just in the last 50 years from what they were allowed to wear, which sometimes included wearing pajamas under their academic gowns to mass, to curfew times and the type of classes that were offered."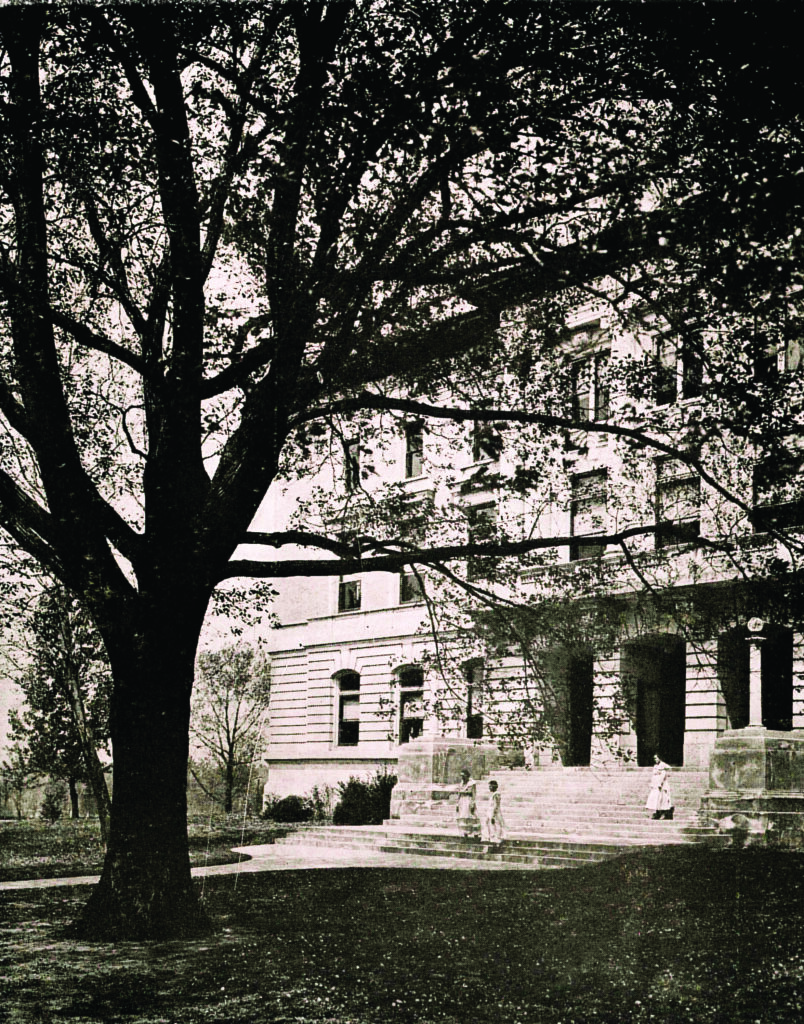 As the College works to implement its 2021 master plan, launched this spring, the leadership finds itself melding the past with the present, while planning for the future. The master plan addresses years of deferred building and infrastructure maintenance, and plans for new structures, classrooms and technology to serve the needs of today's students.
"Our Woods past is something to be treasured, studied and built upon. I think that's the way Mother Theodore would have wanted it," added King.
"I have come to believe that each student has their own version of The Woods that lives on in them no matter how much things change today. It's this essence of our Woods experience that all students and alumni share connecting them through space and time throughout the entirety of the existence of this place," she said, adding, "Even the name of the old yearbook has found a new home."
As this 180th year comes to a close and a new era begins, let us imagine how future opportunities, challenges, changes and innovations will form the basis for so many stories yet to be told at Reunions to come.
---
This story appeared in the 2021 fall edition of Onyx Anneau. View the full edition online.
---