When it comes to earning an online degree or on-campus degree, it's often asked is, "What's the difference?" If we're being honest, there aren't a lot of differences. However, when it comes to learning styles, personal preferences and cost, there can be countless differences found. Not sure what route to take? We are here to help. Here are some benefits and differences about earning an education through an online degree program or as a campus student. Luckily, Saint Mary-of-the-Woods College offers both types of programs.
Benefits of On-Campus Degrees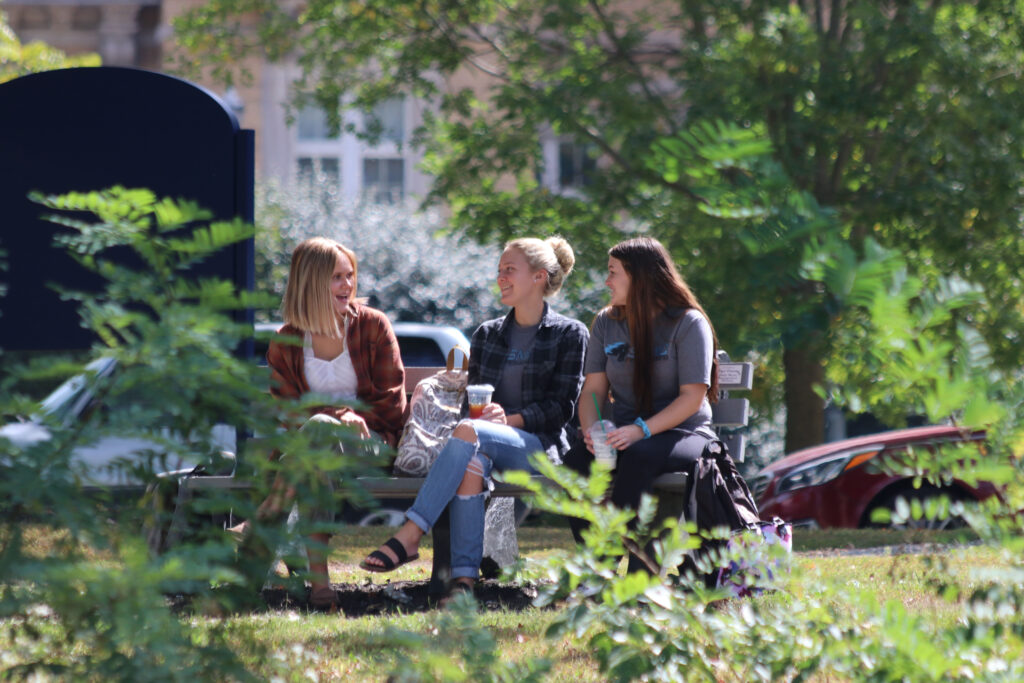 1. Wide range acceptance
On-campus experience is known as the classic college experience. One positive about degrees that are earned on-campus are that they are widely accepted by employers. Many have found that earning an on-campus degree has helped with their social skills, professionality and communication. These are a few reasons of why they are widely accepted. For example, you may not know a lot about a specific job position, but if you possess a great work ethic, strong communication and willingness to learn, employers will more likely give you the chance you adapt and learn.
2. It's part of tradition
Degrees earned on-campus are commonly known as the traditional way to go. There are a wide range of opportunities that come with campus experiences – from living in a dorm room, to hanging out in the lounges in your free time. Even building relationships among campus living students and those who commute every day. Specifically, SMWC's students are rooted through traditions like orientation, the Acorn ceremony, Big/Little week and Ring Day. At The Woods, you are exposed to several historical stories through these beautiful traditions that root from Saint Mother Theodore Guerin.
3. There's always help
Although on-campus degrees can seem to be easy for people who aren't as experienced with technology, they are still technology driven. One of the popular departments on SMWC's campus is the IT department. Students can easily receive help with wi-fi connections, USB cable ports, transferring files and more.
When it comes to SMWC, there's a plethora or resources. There's a low student to faculty ratio of 13-1; therefore, students have the opportunity to take advantage of office hours and appointments with their advisors and professors. There's also the Learning Resource Center on SMWC's campus to assist with students who need academic help, specific needs in regard to learning disabilities and even if a student just needs a quiet place to complete their work with no distractions.
Campus Ministry, counseling and the Campus Life team are always there for support. They offer sessions, supplies like paper or scissors and the staff are always there to help students.
SMWC's 24-hour security presence help parents feel better about their student living on campus. If a student has car trouble, such as needing a jump start or even keys being locked in a car, the security team has the proper equipment to help students.
4. If you're a social butterfly, this suits you
There are always social opportunities on campus at The Woods, which is one reason why students choose to live on campus. Students have opportunities to join clubs, academic organizations and sports teams. When pursuing an online degree, there aren't as many opportunities to get involved with the college on campus. SMWC does have opportunities like the Aurora Literary Magazine in which both campus and online students can be a part of.
Campus Life often hosts events during the evening and on weekends to help provide fun activities for students on campus to engage in on campus at SMWC.
"Being four hours away from home, I'm not able to go home very much compared to my peers, so the events on campus through the week and on the weekends are great. I'm able to engage more on campus and continue to build Woodsie relationships."

Ashley, Sophomore
5. You can ease your way into planning
When it comes to campus classes, it can be easy to work around your classes because they have set times. Because of this, it can be easy to set your priorities.
One benefit of being on campus at SMWC is that some sports teams have required study tables that are booked by their coaches in order to make sure they keep their academics.
There are also available appointments with tutors in the Learning Resource Center to help students with their classes. There's a large number of tutors for all subjects that range from biology, to finance classes. Many college students invest in a planner. Most laptops come with a calendar feature that students take advantage of too.
SMWC uses Outlook email, which has a calendar RSVP feature that many use for meetings and campus events.
Benefits of an Online Degree
1. Flex time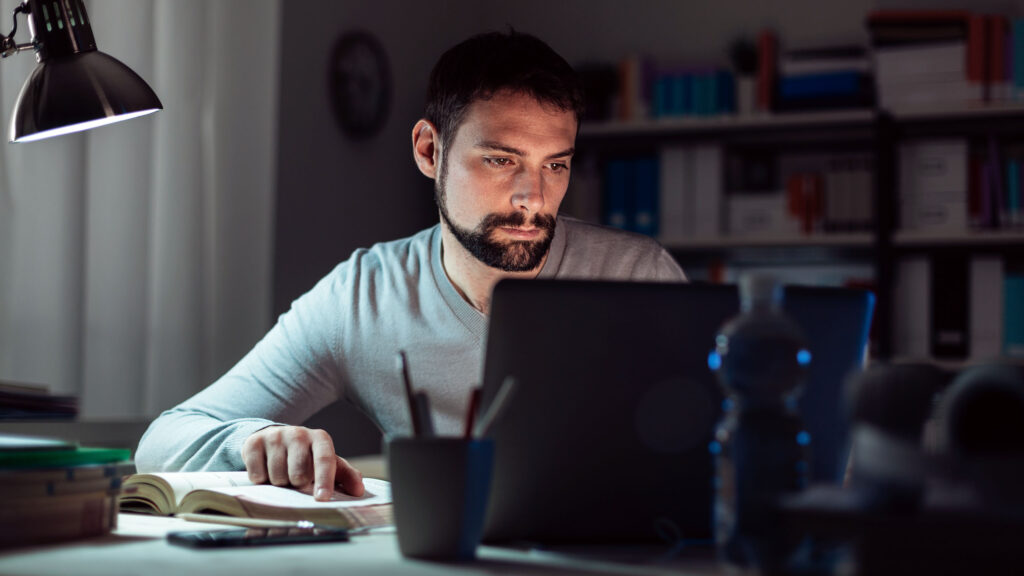 One of the major benefits of earning a degree through online degree programs is that you can form your own schedule around your priorities. For example, if you have a full-time job and need to do your course work in the evenings, there's a convenient way to fit classes into your schedule.
Unlike an online degree, on-campus degrees can be difficult because class schedules are not as flexible. Classes have set times, and it can be difficult to juggle student and work responsibilities. This is another reason why distance education is pursued by many adults who may have full-time jobs and/or families to take care of.
"The atmosphere at SMWC is more than just a place to gain an education, it is a place to gain a whole new family. As a Woods Online student, it was always hard to feel as though you could call campus your home, but I learned that if you took time to embrace the traditions and join in on the celebrations, you will feel as though you have become a part of something so much more than you ever expected. Completing my classes online was the only that I was ever going to be able to work full-time and raise my family full-time. Without SMWC online programs, I would not be where I am today. Between the faculty, the staff and the Alumni, I was successfully able to earn my under-grad and I will soon be graduating with my Master's and I could not be more proud to be a Woodsie and all that we stand for."

Christy Pearison
2. No location barriers
SMWC has a long history in online teaching that begin in 1973 with the launch of the Women's External Degree Program, now Woods Online. Earning an online degree is beneficial because of the convenience being online. There are no geographic barriers. You can be in separate states and earn your degree right from home. This also gives online students the opportunity to connect with peers from all around the world, while doing their work from their home.
3. Consistent costs
When attending a college online program, you know from the start that room and board costs won't be a factor in your education costs. This is one reason why many people choose to pursue their education online. Costs can fluctuate due to the cost of dorm amenities like bed sets, desk lamps and mini fridges.
Although the cost of college can vary, at SMWC, students know what the specific cost of their tuition and fees before they start the school year. More information can be found on our website.
4. You're the boss
Sometimes college students that live on campus have a difficult time with self-discipline. However, when it comes to students that earn online degrees, self-discipline is learned early on. If you have four online classes, you can choose to focus on two for a few hours each day, or get all your work done in a couple days for all classes. It's completely up to you on how you want to manage balance your workload.
5. Technology isn't the only one advancing…you are too!
It's inevitable that technology is continuing to advance. With this comes the feeling of falling behind. When it comes to completing your degree online, you are advancing alongside technology. With the different networks, software programs and submission processes, you are learning about them as you continue your education.
This helps build professional skills in technology that employers may be looking for. Those who earn an online college degree can have high professional skills with technology and strong work ethics can used to their advantage.
---
When it comes to online degrees, they are often categorized as an "easy" degree to get. However, as many students learned this year, online courses aren't always easy, but they are manageable. The COVID-19 pandemic caused schools, colleges and universities to close their doors and have students work remotely for the rest of the semester, including Saint Mary-of-the-Woods College. Many students struggled with this due to a change of lifestyle and working via online format. However, many campus students learned to overcome these challenges as they came to them, all while being in a culture shock of its own.
"I didn't realize that the week before Spring Break would be the last time I saw all my peers and professors. Moving out of Le Fer so abruptly was understandable, but still rough. As the semester went on, I was able to find my own groove by focusing on a couple classes a day. My professors went above and beyond when it came to communication and working with me if I had technology issues. I'm glad that there was still a sense of community, even when we were all miles away from one another."

Erika, Sophomore, Business Administration
"Community is foundational to the SMWC experience. I have been challenged this year to think about how to make online instruction a personal experience not only for my campus students but for my online students as well."

Meredith Williams, MBA, Professor
The ability to have flexible time and schedules is one factor that attracts interest for earning online degrees. Online degrees are very popular for parents, adults with careers who are pursuing a higher degree and even students who don't live in the area. SMWC has a large number of students who pursue their degree through online programs.
When it comes down to it, it's beneficial to earn a degree online and on-campus because you're still earning a Woods degree, a degree that means something to future employers. Everyone has their preferences, and it just depends what is best for you and the education you wish to pursue. Whether your lifestyle is more suited for an online degree experience, or hanging out around campus doing homework, SMWC's faculty and staff are determined to make it known that you have the support you need while pursuing your education.