Third in a Sustainability series: Saint Mary-of-the-Woods College is proud to embrace sustainability as one of its values. How are we living it?
---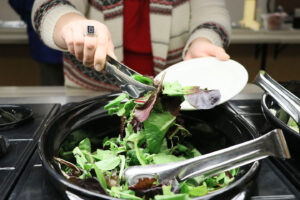 By Dianne Frances D. Powell
First, trayless. Then, reusable to-go containers. Now, reusable cups.
Environmental sustainability initiatives at Saint Mary-of-the-Woods College's Dining Services at Sodexo continues this fall with the introduction of 24-ounce reusable plastic to-go cups for use instead of the paper cups.
All new and returning students will receive reusable to-go cups for use in the dining halls in the form of a gift from Sodexo when they arrive at the residence hall in just a couple of weeks. The free cups will be distributed to faculty, staff and Sisters of Providence during the opening of the academic year. The cost to replace lost cups is $5.
Additionally, straws will only be available upon request at O'Shaughnessy Hall and the Oakley Student Center, where breakfast is served.
SMWC Dining Services at Sodexo General Manager Mary Harvey said sustainability practices are important to campus operations because the clients — SMWC and the Sisters of Providence — both embrace sustainability. SMWC lists sustainability among its values. "It's also good for the environment," she said, adding Sodexo is among the top sustainable companies.
In 2016, SMWC adopted trayless dining in an effort to promote healthier eating habits and lifestyles, and reduce waste in food, water and energy. The logic is simple: Customers' eyes are bigger than their stomachs; without trays, they can only get what they can carry. Other colleges and universities across the country have been shelving trays and since its implementation at SMWC, Harvey has noted a reduction in food waste.
Last year, under Harvey's leadership, Dining Services introduced reusable to-go containers. For the same lunch price, members of SMWC's community can bring in their container — also distributed at the beginning of the academic year — and fill it with food to eat elsewhere. Once they are done, they could bring it back to the dining hall in exchange for a fresh, clean one. The cost to replace lost containers is also $5.
This eliminated the use of Styrofoam. Harvey said the College used to go through approximately 250 Styrofoam containers per week. The landfill is now receiving that much less because of this effort.
Other sustainability practices by the dining services include:
Recycling cardboard, plastic and aluminum cans
Using local (50+ miles) products for meal preparations
Availability of napkins made of 100 percent recycled paper (Xprss Nap). They have no bleach and can bio-degrade in landfill. The napkins are in a napkin dispenser using 30 percent less paper than traditional napkin dispensing mechanisms.
Using Ecolab's Apex dishwashing system, which is designed to save water and energy, and minimize packaging and chemicals in water supply.
Disposing used oil using a program that recycles it into biodiesel and animal feedstock.